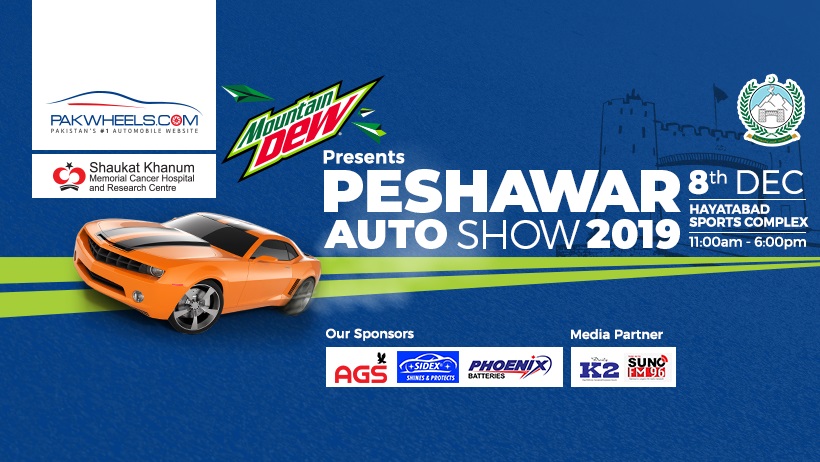 PakWheels.com 5th Peshawar Auto Show Concludes!
Mountain Dew brought PakWheels Peshawar Auto Show 2019 with the Support of District Administration Peshawar & Directorate of Sports.
PakWheels Auto Shows are the evolved iteration of the PakWheels meets, which the members used to arrange on their own throughout Pakistan. The roots lie in the same principle of people interacting with each other because of the common love and admiration for anything related to cars.
Inauguration Ceremony in support of Shaukat Khanum at PakWheels Peshawar Autoshow 2019:
The Peshawar Auto Show was the fifth auto show in the city, which was held on 8th December 2019 at the Hayttabad Sports Complex from 11:00 A.M  to 6:00 P.M. Other than this, understanding the social responsibilities, PakWheels.com, in support of Shaukat Khanum Memorial Cancer Hospital, helped in raising funds for cancer patients.
People came to see cars of various categories like,
Vintage

Luxury

Exotics

SUVs

Bikes

Modified
Peshawar's auto market is renowned for its wide range across Pakistan, and people found all sorts of vehicles that they did not find in markets of other regions.
Mountain Dew, AGS, SIDEX, and Phoenix sponsored the Peshawar Auto Shows 2019. Moreover, our media partners for these amazing events were Daily K2 and Suno FM 96. 
Find out what our sponsors have to say about their presence at Peshawar Autoshow:
As expected, there were thousands of visitors, out of which, some of them were there to showcase their cars and others to enjoy the fun-filled day with their families and friends. Yes, you read that right! The event was a mix of cars, bikes, food, and music.
Honey Raj performed at PakWheels Autoshow 2019:
Prize Distribution ceremony:
That's it from our side, drop your thoughts in the comments section below.