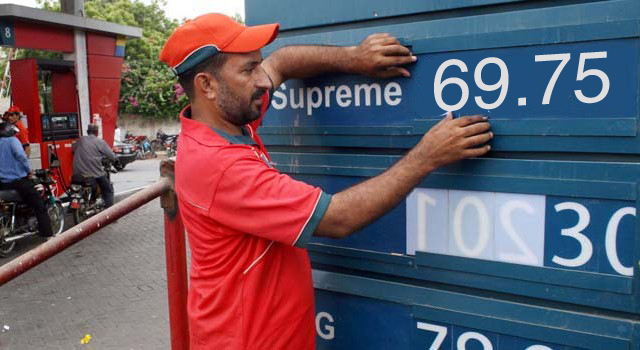 As you all know some cities of Pakistan have been facing severe petrol shortages since last week. According to the media and the politicians there are many reasons for that. Amongst them, the most understandable and digestible reason for this shortage is the mismanagement by the government, who is blaming the recent cut in fuel prices a reason for this mismanagement. According to some officials, due to lower fuel prices, people started consuming more fuel, resulting in a demand supply gap.
It is also learnt that the government is going to further decrease the fuel prices from February 1, 2015 to match the international level. After the upcoming decrease in fuel prices the price of petrol would reduce by Rs 8.75/liter, HOBC by Rs 11/liter,  diesel by Rs 8.7/liter and kerosene oil by Rs 5.5/liter.
OGRA will send a summary to Prime Minister at the end of this month after calculating the prices of imported oil once the 3 ships carrying fuel dock at the port of Karachi.
The new petrol price would stand at Rs 69.75/liter, HOBC at Rs 81/liter, diesel at 78.23 and kerosene oil at Rs 66.40. This is going to be one of the drastic reduction in fuel prices and after this reduction that petrol would cost far cheaper than CNG.
The oil prices in the global market have been declining due to the Sheikh-Shale Oil War in the recent months, and Pakistan also got its due reduction in fuel prices because of that.