Back in May, I wrote a piece on Suzuki Mehran's lookalike being made by the Chinese which went on to become the cheapest car of the country. If you might recall, the company behind Mehran's copy-cat, TT was one of China's largest company Zotye's subsidiary, Jiangnan. Chinese Jiangnan TT in addition to coming with a better interior came at a fraction of Mehran's price.
Now after some silent time in China's cloning circuit, Zotye is all set to return with a stunner, this time, taking on the Germans by making an almost perfect copy of the all-famous Porsche Macan! Long rumored Zotye T700 or SR8 which was initially leaked by online renderings finally looks to be nearing its launch in China. Unlike the Jiangnan TT and many other Chinese copies who at times forget copying the interior and remain focused on replicating the exterior, Zotye SR8 carbon copies the cockpit of Porsche Macan too.
How is the Exterior Similar?
The front is extremely similar of the two with the only exception being a slightly different grille pattern of the Zotye. The headlights are by far the only major differentiating factor of the two as SR8 has a single projector lamp accompanied by a strip style LED DRL (Daylight Running Lamp) while Macan comes with the traditional Porsche dual projector oval shaped head lights.
The rear end of Zotye SR8 may be deceiving in the first look but by comparing it with Macan side by side, the differentiating design factors can be noted which were, of course, left out by Zotye to use them as elements of defense if Porsche went to court but more on that later. The most easily noticeable bit is the license plate placement something which has always been a practice of copycats in China. Zotye has the licence plate cut-out on the rear hatch while Porsche houses the number plate on Macan's rear bumper. Moreover, the tailpipes on SR8 are rectangular as opposed to the circular exhausts of Macan. Tail-lamps despite seeing a decent amount of redesign still look pretty Porsche-esque. Other than these differences slight variations in rear reflector placement etc. are also noticeable.
How well has Zotye Copied Porsche Macan's Up-scale Interior?
Stepping inside, Zotye has again done a decent job in copying Porsche Macan. The center console, steering wheel, gear shift lever even the switch and air vent placement are indistinguishable of the two.
Engine Difference Draws a Fine Line between the Two!
To escape heavy taxes and to keep the price in check Zotye SR8 will allegedly come with a 2.0-liter Turbo engine which will produce 177bhp along with this a 3.0-liter V6 Turbo is also rumored to make its way. The base model of the Porsche Macan, on the other hand, while coming with a 2.0-liter Turbo engine like the SR8 has more horses in its wheels, 75 more to be exact!
So What About its Price?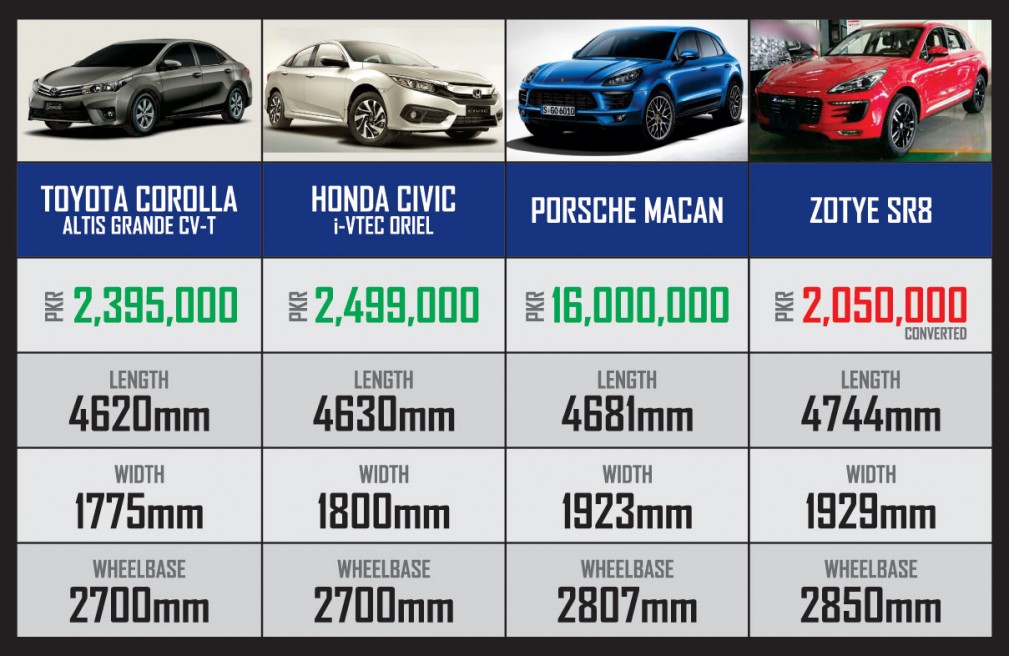 In Pakistan even at a promotional price tag of PKR 15.5 million, Porsche Macan is no match to the price of Zotye SR8 which as seen in the infographic easily beats our two stakeholders of the mid-range offerings, Toyota Corolla and Honda Civic both by nearly half a million rupees. However it needs to be noted that the price mentioned of the Zotye SR8 is converted from its price in China, so if Zotye ever intends to bring this as a right-hand drive car in Pakistan, import duties will be a factor to consider which could eventually push its price to PKR 4 million marks.
Will Porsche Take this Matter to the court?
Porsche has already expressed plans on suing Zotye over the to be released SR8 however it looks to be quite uncertain if Porsche will find any success with the lawsuit. As off and on Chinese automakers including Zotye themselves have evaded the scrutiny of law.