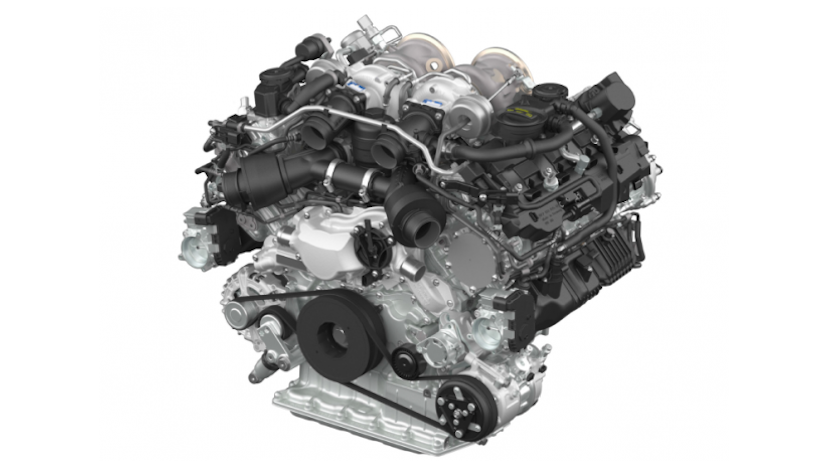 Porsche Reveals New Twin-Turbocharged V8 Engine For The New Panamera Turbo
Porsche, one of the leading German automakers, has launched a new twin-turbocharged V8 engine for the new the Panamera Turbo car. Porsche has started to design and develop engines for its parent company Volkswagen Group and the new twin turbo V8 was presented at the 37th International Vienna Motor Symposium with the statement, "newly developed V-8 turbo engine from Porsche".
Although it will be available in the new Panamera Turbo, the engine is not 100 percent Porsche developed. This V8 is loosely connected to Audi's turbocharged 3-liter V6 that was launched in the new Audi S4. Just like the Audi V6, this Porsche V8 will move around in the group for suitable vehicle application.
Also Read: Volkswagen Sales Ahead Of Toyota At The End Of Q1 2016 – Toyota Suffering Plant Stoppages
The new V8 engine means the current 4.8-liter V-8 engine available in the Porsche Cayenne and Porsche Panamera will be discontinued. But considering Porsche's track record when it comes to engines, one can be assured the new V8 won't be a slouch. Both banks of the V8 come mounted with a twin-scroll turbocharger on each side. The engine is rated at 550 horsepower which is available at 5750 rpm, and 568 lb-ft of torque from 1960 to 4500 rpm. The engine redlines at 6800 rpm. This puts the new V8 engine in the same league as the previous 4.8-liter turbocharged V8 in Panamera Turbo S.
The new V8 comes with "half-engine mode" where the ECU kills fuel feed to half of the cylinders in order to save fuel. The fuel saving mode turns on at low loads between 950 and 3500 rpm, and it can improve the fuel efficiency by up to 30 percent. Porsche has also pointed out to new V8 engine's capability to be used for a hybrid application.
The new V8 motor will be available in hosts of vehicles including the Lamborghini Urus, Porsche Panamera and Cayenne, premium Audi models and various Bentley models.