Karachi, despite being the financial capital and the epicenter of intermittent security operations by the government, remains a sprawling hub of civil disobedience. The provincial government is a fairy tale in Sindh, and the rage and despair of the public is getting worse by the minute. Plenty of comparisons are raised between Karachi and Lahore where development of infrastructure is done to ease people's live whereas here, our roads are still spillways of sewage; pedestrian walkways are the ground for brands to embarrass themselves by blocking them; dark corners are reserved as trash bins for entire neighborhoods; traffic lights and lanes are there as show pieces, and public transportation is a cry for mercy by the public.
We support this campaign against the VIP culture, and it should be a moment of total embarrassment for the government that people are afraid of one another within the city we all call our home. We say that we built the Air Force of UAE and our air force service men and women still serve in it, yet the ruler of Dubai travels alone in his cars with the significant registration number '1' plate on it, without any fear, and doubt on the governance he has created. Whereas here, our rulers have created a misery on the streets that one part of the poor is employed to fight against the other half.
Recommended Reading: You Rear-Ended Someone's Car, But It Isn't Necessarily Your Fault!
In all this rage and chaos that's surrounding the air of Karachi these days, it's only matter of when someone somewhere will do something stupid.
A girl met her unfortunate demise due to the hospital being under lockdown for the security of Bilawal Bhutto Zardari, who holds no seat in the government and is just a citizen. The result being, the people of Karachi, woke up, and today was the first proper sign that even with the guards on the back of your Hilux Vigo, you will still fear, from an ordinary citizen.
A dangerous precedent has been set here. The scorn that people daily get from these VIP protocols has reached the melting point and its time we all got ourselves dashcams ASAP.
The trend of dashcams came out from Russia. People started installing it so that the louder and stronger one would not be able to bully their way out of it and the video can be used in court as evidence. The trend caught up; people were genuinely being helped out by the dashcams as it recorded the incident detailing exactly who was at fault.
Its time we got ourselves dashcams in Pakistan because, I have even seen a Rangers VIP protocol around national stadium shouting scornfully at people to just vanish in thin air in 1 second because some VIP was coming up from behind them; then what can you expect from the people carrying a bootful of underpaid guards in their Hilux VIGO.
Language warning.
Must watch Public irritating against VIP..!!

Posted by Shakeel Baig on Monday, 4 January 2016
But after this video came out, there is the obvious culprit: The rich beat the poor, and then there's our experiences where motorcyclists ride like they are all alone on the road. Almost none wait on the signal and in fact, try to squeeze through the open green light going straight but the motorcyclist will not stop. There's more, a growing trend of going the wrong way is observed by car users who, believe in the myth that their saving fuel (that they are not) while the costing everyone else fuel actually.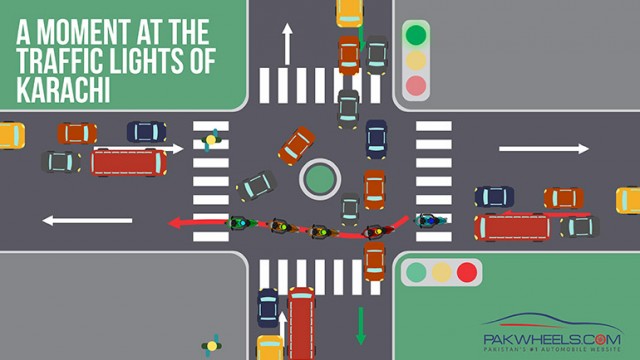 And then there are the bootful of guards behind the VIGO, ready to lay a burst of justice and fear on the master's command. Chances are also very high that if the people hadn't rallied up against the VIGO, he could've put anyone into submission regardless of whose fault it may be.
Also Read: Pakistanis Should Start Installing DashCams In Their Cars
The cheapest dashcam, one with good quality result even during night time on Aliexpress is worth around 4-5K, and it does the job. Always keep one on since someone can blame you for a fault that's not yours and then there's the VIP culture that needs to be dealt with. People of Karachi have shown courage against overwhelming odds; they need to show them against these buffoons.
Although videos are not considered as evidence in courts in Pakistan, but at least you can name and shame the VIPs through them and bring about a change in our courts as well to step out of the stone age.
The VIP culture also inflicts a bad influence on the young and ambitious, our definition of rich and powerful is flawed. As I told about the ruler of Dubai roaming the streets alone in a car you can spot from the moon, while not the ideal example (far from it actually) but that is actually what home is, a place where you can be free and comfortable.