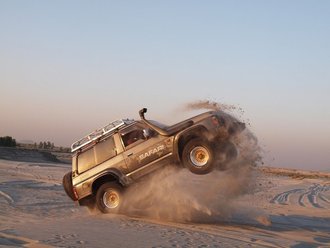 Rallying and exploration have the same soul
Rallying is one of the oldest and most popular form of motorsports amongst car enthusiasts and alike, it is a combination of things that makes us true automotive enthusiasts like sight-seeing, endurance, speed, flying AWD cars and 4x4s, tension, adrenaline, adventure and being the envy of a whole lot of people, just to name a few.
However, most of the people are afraid of taking their cars or 4x4s off-road but once in a while, on the automotive or off-road blogs pops up a story about an adventure that has motivated me enough to forget that I don't have a budget – hell, I don't even have money but I have friends who all share the same passion and enthusiasm towards accomplishing it.
Being amateurs with little or no physical experience about rallying, this is short piece I've decided to furnish to all the folks that want to take part in rally of any sort.
Here in Pakistan, 4x4s are considered expensive cars, if the older, greater models are not expensive but then they will have a lot of maintenance cost, turns out this was wrong, atleast for Pakistan.
Two years of hardcore traveling both on and off the road in a 5-door Mitsubishi Pajero and now we had to fix its suspension which cost us only 25,000 PKR (280 $) and it is set to do all that you've seen in the pictures for another good two years.
You don't have to do it how the sheikh's does it, they're style is fun but they have the oil to support their hobbies but we don't however, let me assure you that driving your 4×4 once in a while like a Sheikh wouldn't do no harm but do judge the terrain for example, drive peacefully on a rocky terrain as the (flying) rocks may damage the underbody of your car/4×4 if you go to hard.
Rallying and exploration aren't much apart from each other except the fact there's a stopwatch constantly moving in a fierce competition but for us amateurs, completing the rally is more than a win to us but I know and have heard from the best rally driver in Pakistan who also won the recent Red Bull Desert Rally, Jhal Magsi, he said that the track is very difficult and it is quite easy to get carried away but I had to drive cautiously in mud and rivers however, even finishing the race is an achievement.
The ace himself told to be easy and you'll do good, there are lots of areas in rallying where you can make up to the lost time, exactly what we do during our explorations.
We plan our trips in a way that we can visit the atleast two-three places located a bit away from each other but in the same area so we have a schedule as we all have to return our offices after two days. There will be jams and gps is not always wise alongside, some places are so beautiful that a cup of tea at the spot is a must, but time is lost so we're always in hunt of terrains where we can floor a bit to catch up with lost time.
Than the enticing lakes where we can't help but stop to have a bath while small fishes always poking at our back is a lot of fun but a rally lacks this, it's a stressing adventure and you can't savor all the pleasant views that you cross-by, infact you barely even notice them as you haul across different terrains but while in an exploration, a quiet stream you have to cross is a must stop for some photography.
Saidhi, a member of our local automotive community in his slightly prepped Pajero EVO came second over-all in the recent Jhal Magsi rally. He would've have been first by a great gap if he didn't had to do the last minutes with a flat tire while the winner, Nadir Magsi, a feudal lord, government minister and a obscenely rich man won the race because of Saidhi's flat tyre in his rally prepped 4.5 Litre Toyota Land Cruiser (picture of his rig in the replies) while RedBull's duo, Burju Citenkya and Cicek didn't even finish.
So the rig you have doesn't matter, neither the amount of money but should be reasonable enough to support 100 KM/H plus speed on any terrain must be there and many 4x4s in stock form does that but the stability isn't there, than to add some stability, you have to upgrade the suspension.
Rallying takes a toll on your car and you as well however, you will break everything if you go too hard and rough on the course, my friends from Islamabad Jeep Club took part in two 4x4s, Nissan Pathfinder and TLC BJ40.
BJ40 was prepped a bit when it was restored while the Nissan Pathfinder (pick-up) was stock however its bed was removed and that was a bad decision as the rear of rig became very unstable on high speed even on smooth terrain but somehow, being steady, both of them completed the Rally and the rigs apart from minor damage on the BJ40 like headlights etc, were all set to be driven but being tired, they chose bus service to go home and sent the rigs on the train to home.
So I put it to you, rallying and exploration isn't much different but exploration does save you money and a lot of beautiful scenery to relax so if they were exploring, than they would've been travelling on their rigs back home while sight-seeing almost anything they see that deserves a visit on the way, but it's always has been about been there, done that.