Rolls Royce Dawn Is The Newest Addition To The Luxury Automaker's Line
When it comes to the term automotive luxury, the first name that comes to almost every petrol head's mind is Rolls Royce. Rolls Royce, now owned by BMW Group, has continued to set the benchmark for luxury for nearly a century now and with their brand new model called the Rolls Royce Dawn, they aim to keep continuing that trend. There's no detracting from the fact that it is probably the best looking Rolls Royce ever made and the CEO of Rolls Royce Torsten Mueller-Oetvoes seems to agree.
"Quite simply, it is the sexiest Rolls-Royce ever built." – Torsten Mueller-Oetvoes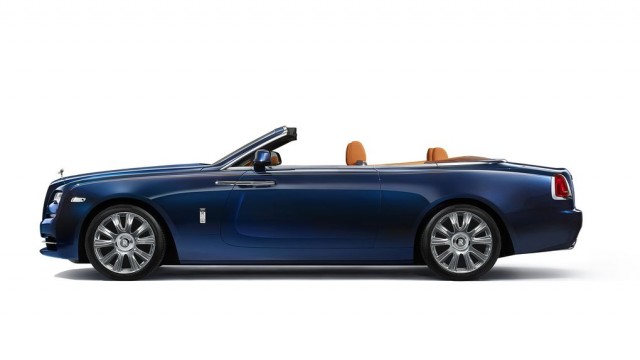 The Dawn is basically a combination of the Ghost Series II and the much sportier Rolls Royce Wraith. Inspiration for the design comes from the 1952 Silver Dawn Drophead, the last coach-built Rolls. Noteworthy design features on the Dawn include the rear fenders that Rolls-Royce poetically describes as "the feminine hips of Dawn," complemented nicely by brand new 20 and 21 inch wheels. Under the hood, you find the same 563 bhp and 575 pound-feet of torque developing 6.6 liter V12 engine as in the Ghost mated to the Wraith's "satellite aided" eight-speed auto unit that utilizes the GPS to prepare the proper ratio for upcoming hills and curves. The roof operation is described as "a silent ballet," taking 21 seconds to retract into the rear decking of the car. With the roof up, the Dawn is just as quiet as the Wraith which  means while traveling at speeds up to 160km/h the loudest thing you hear in the Rolls Royce Dawn is its clock. Rolls Royce claims it is the quietest convertible in the world and given their track record that's not hard to believe. And even with that large and heavy convertible roof, the cabin is just as spacious as it is in the coupe Wraith, thus marking it as "the world's only true modern four-seater super-luxury drophead".
Of course Rolls Royce's are just as much about the interior as the exterior and the Dawn doesn't disappoint, pictured here in Mandarin leather nicely complementing the Midnight Sapphire exterior and that being only one of the millions of combinations of color, leather, wood trim and various other aspects of the car you can customize. Orders are already being taken for the Dawn at a starting price of US$ 400,000.