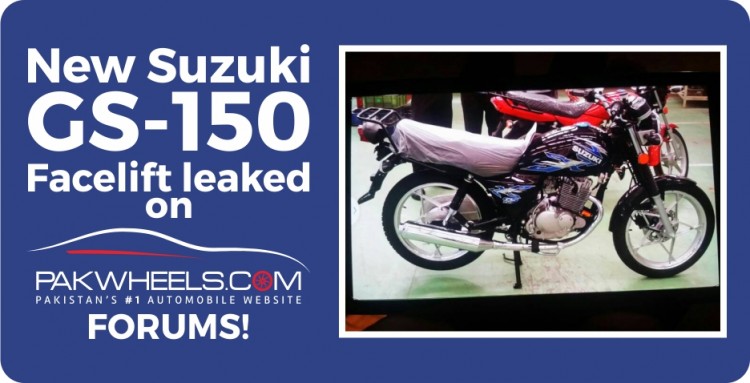 The New Suzuki GS-150 To Hit the Market within Six Months – Sources
PakWheels has long been the first and exclusive provider of first-hand leaks, be it the spy shots of the 2016 Honda Civic or the launch of a bike in Pakistan. This time, it's related to the face-lift of Suzuki GS-150. In January 2016, a couple of photos of an alleged face-lift of GS-150 surfaced on PakWheels Forum, shortly afterwards, they were taken down by the member.
Now though, we have retrieved those images and from the looks of it, it seems to be a minor update to Suzuki's most expensive locally produced bike. As far as the changes are concerned, the updated GS-150 would come with the following:
1) Disk Brakes
2) Newly designed star-shaped alloy rims
3) New stickers
4) A slightly redesigned headlamp
5) New sporty mufflers
6) Front shocks covers (like those on YBR 125 G)
7) Alleged gear shift indicator in the instrument panel
8) Rumored digital meter (which seems uncertain in the leaked images)
Also read: PakWheels Bikes Section Can Help You Sell Or Buy A Bike
According to our sources, the launch is expected to take place within the next six months. The expected price of the updated 2017 Suzuki GS-150 would be around PKR 150,000 up from its current price of PKR 133,500. Do you feel it's a worthy update or not? Express your views in the comment section below. Happy Riding!
Current Model: