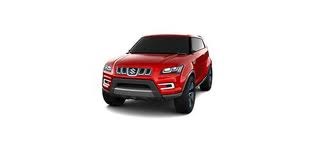 Suzuki Jimny dubbed the XA Alpha concept revealed at Delhi Auto Expo
Maruti Suzuki revealed the next generation Jimny/Samurai concept dubbed the XA Alpha concept on the first day of Delhi Auto Expo. Due to the concept being called the XA Alpha, auto analysts are still reluctant to realize that this might very well be the next generation Jimny/Samurai concept.
The concept which is a very good looking one hints at how Suzuki is evolving its design cues for its next generation of models – which looks angry and futuristic.
Maruti Suzuki XA Alpha is a compact SUV concept whose dimensions are that of Jimny and Maruti Suzuki says that its design is inspired from the moves and the body language of Insdian wrestlers which is it has muscular lines and the butch stance. Revealed in lava-red color, it is said to new energy to the overall design.
Few technical details has been revealed, even though Maruti Suzuki has confirmed that the five-door SUV concept measures 4000mm long, making it around 350mm longer than the Jimny, 150mm longer than the Swift hatch and 60mm shorter than the three-door Grand Vitara.
The production ready version as speculated can arrive by 2014 so its still a long way to go to see Suzuki make good looking cars at par with international competitors.
Picture by PW member, Nickatnite.
For more pictures from the 2012 Delhi Auto Expo, click here.