Introduction
Suzuki Wagon R is a 5-door mini hatchback that was introduced by Pak Suzuki in 2013-14. In Japan, Suzuki introduced it as a Kei car and was launched back in 1993. Wagon R has been one of the bestselling kei cars in Japan since long. In Japan, the car is available with a 660cc engine, whereas the Pakistani Wagon R comes with a 1.0-liter engine. Pakistani Wagon R is manufactured in Indonesia and is assembled by Pak Suzuki at their assembly plant. The car we drove for test drive was a 2015 Suzuki Wagon R VXL. This car is available in two variants:
VXR is the basic variant, whereas VXL is a fully loaded one. Some of the features not available in VXR variant include immobilizer, central locking, electric window, tachometer, etc.
Also, Check Out: Suzuki Wagon R 2018
Exterior
At first glance, the exterior of this car looks fairly simple, and you can refer to it as 'boxy'. The shape of the car is usually known as 'tall boy' or 'tall wagon' shape. The aim is to make the car unusually tall, giving the passengers a decent headroom, and short bonnet in the front. One thing that I really liked about Wagon R is that its doors can open almost to 90 degrees. That can give you an ease of access to enter or exit the car. As far the styling of any car is concerned, it is mostly subjective, but let us allow to shed some light on it. As mentioned above, the car we had for the test was a WagonR VXL.
The VXL trim is a bit different than the VXR trim. You get body coloured door handles in VXL, as well as a chrome lip on the front grille. Other than that, it's mostly the same. However, in newer 2016 WagonR, you can also opt for accessories like fog lights, door visors, and rear spoiler to name a few.
Also Read: Pak Suzuki WagonR Body Kit
The front of the car, especially the upper and lower grille, make it look like a little wider along with the bumper humps over the fog light, giving it a slightly aggressive style. The inner arc of the front headlights comes downward, joining the line of the outer edge of the lower front grille. When you look at the lines, curves and edges of the body panels, it forms symmetry. The car does not feel out of proportion even with otherwise unusual height. Front lights are crystal and quite big in size as compared to the actual size of the front end. The sides of this hatchback are fairly plain, and not much is going on there. The outer shell on the sides is boxy, and doors are almost straight. You get massive windows at both front and rear. The rear makes a slight hunch protruding out, and you get a rear windshield almost half of the size of the rear hatch. The rear hatch looks kind of busy with lines, curves and edges. The rear bumper is fairly simple and doesn't have mud flaps. There are no mud-flaps in the front as well. Rear lights are nice and basic and are quite bright. The paint quality of the car that we had was really nice, and it looked like a quality job, but that can vary from car to car – if the quality standards are not met, panel gaps are equal and proportional throughout the car. No panel felt out of its design element, and the car looked like it's well-built. Of course, a few small things can be pointed out; like the line of windows ill of front doors was slightly out joining the line on the front fender but over, it was better than many other locally-produced cars.
Interior
The VXL trim has slightly different interior than the basic VXR variant. You get a nice two-tone dashboard (beige and grey) with a splash of silver color here and there. Carrying the same boxy theme of outside, the dashboard has the same look and feel.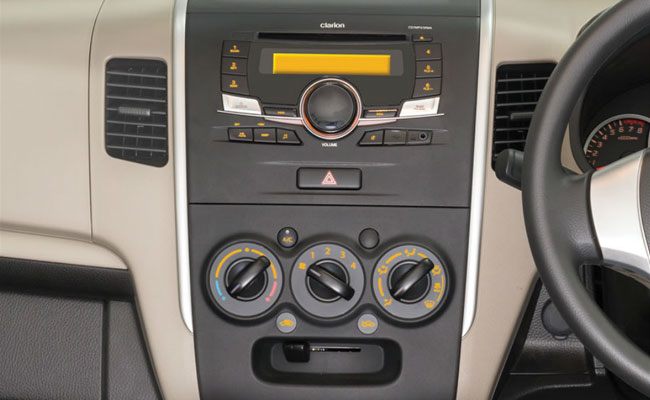 The dashboard looks modern, and the feel of the material is fine. One can argue that it is not good enough, but if we are being honest, it felt fine for the type of the car it is. The dashboard is simple, but it looks nice. You get the grey colored panel in the middle with an inbuilt Clarion multimedia unit that supports CD and has USB port as well.
Under that, you get controls of the A/C unit. The dashboard in front of the passenger seat has nothing much going on and all you have are a couple of A/C vents and under them your glove compartment. The glove compartment looks small but can actually carry enough things. The dashboard itself is kind of wide. Almost all modern cars are coming with this kind of wide dashboards. There should have been some kind of pocket of a tray on the dashboard to put something like you usually do. Any papers or file that you put on the dashboard will slide to the bottom corner of the windscreen and the dashboard. And also, there is nothing covering the bulky interior fan unit protruding below the dashboard right in the middle. It looks odd and very Mehran-ish. Suzuki should have tried to cover it.
On the driver's side, you get a 3-spoke steering wheel with two silver coloured patches on the sides. The steering felts comfortable, and it was easy to grip when manoeuvring through the traffic. The instrument cluster looked sporty and was easier to read at a glance when driving. The digits of RPM meter are however a bit smaller and bunched together. In the middle you have speed, on the left you have RPM meter, and on the right you have different warning lights, like a battery, engine, check engine like, electric power steering light, etc. However, there is no temperature gauge, and you only get a warning light. If you look at the meter carefully, you will find a door warning light, but it doesn't work.
You also get a digital trip meter. With a press of a button that is protruding out of the meter's glass, you can change the displayed information. On the left of the digital display, you get a digital fuel gauge. The letter E along with the last fuel gauge bar on the meter will to blink in case you hit your reserve fuel level.
The VXL trim comes with what Suzuki is calling a "deluxe fabric." The fabric is pleasant to touch, and seats are overall comfortable to sit. You can push the back of the rear seat forward and increase the boot space. The interior is relatively quiet, and you only hear the engine of the car is you rev it hard. Inner door panels are all plastic and feel quite tacky. A touch of leather or fabric would have made them looks and feel superior. The dashboard material feels better than the material used in the door panels. You get two speakers for your multimedia unit in the front door panels. There are housings for rear speakers in the rear door panels, but they are empty. In VXL version, you will find silver garnish on all four doors as well.
You don't, however, get power side mirrors. It's one thing that really annoyed me. You don't get power windows in the rear, but I don't mind that. But I do like to have power side mirrors. Adjusting them was a pain and still I couldn't find the correct amount of pivot and tilt to my liking. Suzuki should have addressed that, especially in their top of the line VXL variant. It should be offered as an option, if not standard. The material quality of the imported WagonR might be better than the local one, but one can safely say that it is a nice place to be in. As far the storage is concerned, you get two cup holders in front of gear lever underneath the dashboard. There is a pocket on the right side of the steering wheel for your cell phone or something. Also, there is a small pocket at the back of the handbrake housing. You get pockets in both front door and a seat pocket behind the passenger seat. One great storage place is bucket under the front passenger seat. You lift the seat up, and you will find a nice big storage tray underneath. The tray comes with a handle so you can lift it out if you want to.
Performance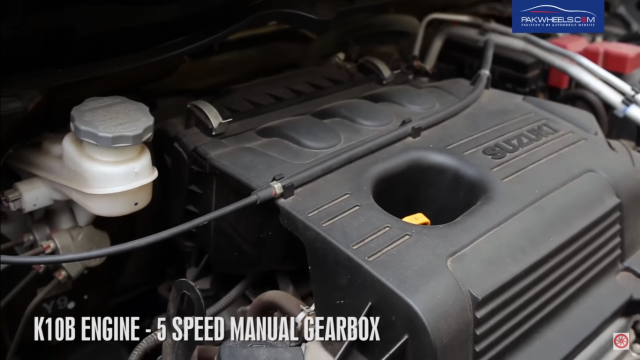 The car was driven for more than 200 kilometres in a day in mix driving conditions, from start-stop traffic to long straight stretches to even twisty uphill roads. And performance wise, this mini hatchback was quite a pleasant surprise. We were genuinely amazed with its torque and easy city driving capabilities. It comes with a 1.0-liter 3-cylinder water cooled dual overhead cam K10B engine mated to a 5-speed manual gearbox. The engine is rated at 67 BHP and makes 90 Nm of torque. Suzuki has been able struck a great combination of both power and fuel economy. When you start the car, you might feel a slight vibration that is actually quite typical for most 3-cylinder engines. So don't let that worry you. The clutch felt light, but it had a quite a travel. I got used to the feel quickly and strangely when I drove my car after a couple of days of driving Wagon R, I felt clutch of my car heavy and sluggish.
The first gear is enough to nudge the car to move forward. After that, you can shift to 2nd and just move on effortlessly. The car is very easy to drive and responsive in second gear. Slowing down the car to less than 10 km/h and then going back up the speedometer was as easy as pie. Not once did the car feel like it was bogging down or knocking at such low speeds. We took the car to a hill spot near the capital city, and it climbed the twisty roads in 2nd gear effortless. City driving in 2nd and 3rd gear was a breeze. On a long-abandoned stretch, I was able to push the car way above than you would usually drive any car on our roads.
The engine makes a nice noise when you throttle it hard. The placement of the gear lever is good, and you don't have to throw your arm around to change gear. The gear shifts are snappy but give a little clunky feel. As for the fuel average is concerned, realistically, you should be able to get around 15-16 km/l within the city. And on long motorway drives, around 18-20 km/l. These are some seriously impressive numbers. I was able to achieve just under 15 km/l within the city in the day I had the car with me. And that average includes a trip to a hill spot as well. If I had stayed within the city on normal roads, the average would have been around 16 km/l easily. The fuel tank has the capacity of 35 liters. You have around 5 liters of petrol in the tank when you see the blinking E on the fuel gauge.
Another thing you will notice, besides the tall height of the Wagon R. is the kind of small wheels on it. At first glance, they look tiny and quite awkward. But those awkwardly small tyres won't let you down in the case of an emergency. Wagon R comes with ventilated disk brakes in front and drums brakes in the rear. Still having drums in a modern car might sound wrong, but you can actually safely slam the brakes, and your Wagon R will stop. However, slightly wider tyres will give Wagon R cornering stability and confidence.
The day I had the Wagon R in my use, it was particularly hot that day. So most of my city journey was spent in a start-stop traffic and with air conditioning on. ‑e car performed exceptionally well with it A/C on. Not once did I feel the car was slowing or bogging down with A/C on. Only when we were traveling on twisty, hilly roads, I turned it off. Otherwise in the dreadful start-stop traffic of the city, it performed great. The blower is strong enough to easily throw the air to rear passengers as well.
Handling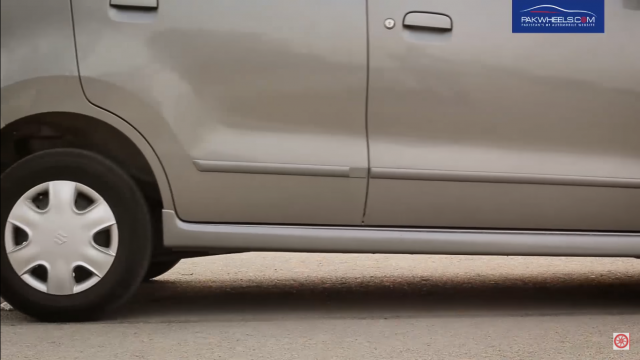 Another aspect of the Wagon R that surprised us was it handling performance and its remarkable ability to handle the bumps and humps and potholes of the roads. Wagon R just hogged whatever was thrown at it. I specifically took our test mule to a road that has been under construction. The road was full of all sorts of suspension breaking obstacles that you can imagine. And Wagon R passed the test with flying colours. You can hit each and every pothole in front of you, take it over cat eyes, again and again, jump it over gawkily large speed breakers, the Wagon R will not let you down. Wagon R comes with MacPherson strut in front and isolated trailing link (ITL) in the rear. Fortunately, for Suzuki, the combination has worked remarkably. Although the ride is slightly stiff, it just glides over everything.
At motorway speeds, the car felt planted. Yes, it is a tall vehicle, but somehow Suzuki has managed to make to stick to the ground. Of course, it is not as stable as a sedan, or even a Suzuki Swift, but it's still a benchmark for tall cars. I think the EPS plays an important part in the feel of the car.
Also, try not to take sharp turns over 50 km/h. You will badly under steer and go straight into a median or into oncoming traffic. But I would not classify it as a faulty. For a small family hatchback, you are not supposed to manoeuvre it like a sports car. It's far safer than turning Suzuki Bolan at those speeds, but still, if Suzuki is looking to improve on something, this is an area which needs a little improvement.
But that EPS can be an issue in normal city driving as well. I feel that the electrically assisted power steering of Wagon R is slight poorly tuned especially for normal city driving. As we know, EPS adjusts its hardness and feedback according to the speed of the car. At standstill or slow speeds, the steering will be light. At high speeds, the steering wheel becomes harder to turn, making it safe and stable at high speeds. Driving the car in the city at and above 55-60 km/l, I didn't like the feel of the steering. It would stiffen up suddenly and make the car hard to handle when I wasn't expecting to manoeuvre it suddenly. It felt like there is no gradual increase in the hardness of the steering wheel and just an on-off switch that was making the steering light and heavy. Driving at 60 km/l on Islamabad Highway, I suddenly had to swerve to save a snoozing motorcycle rider. And when I tried to move the steering wheel, it showed more resistance than I would have liked. Its resistance came as a surprise to me, and I felt like it was unwanted. The feedback should have been more easy and smooth. Maybe Suzuki needs to look into it a bit more.
Suzuki Wagon R comes equipped with 13"steel rims wrapped around with 145/80R13, GT Radial tyres by General Tyres. They look awkward, but they perform very well. And I would advise not to change the stock rim and tyre size. I have been told that you won't get that otherwise pretty decent fuel average if you are thinking of changing the rims and tyres. Although Suzuki says it's a five-seater, making a 5th one sit in the rear is an issue. But for four people of average size, this car is great. The car is not wide enough. If the fifth person is a young child, then you are in luck. Otherwise, you will feel a bit sturdy in the backseat with other same size passengers if you are an average grown person. But you have nice headroom and legroom. During our test, the front seats were adjusted for people with 6 feet height, and then the legroom in the back was measured with 6 feet tall passengers in the back seat. And surprisingly, the legroom was pretty decent for a mini hatchback. You will not be poking the driver in the back with your knees throughout the journey. In normal city drives, the ride and seating are pretty comfortable. One thing however I must add here is that I felt the front seats are a little short. On the driving seat, your legs are busy, most of the time driving the car, but on the passenger seat, I got tired in an hour. I felt like my legs were hanging down from a bench. And if you are planning a 4-hour journey on long stretches of roads in WagonR, maybe give yourself and your passengers some rest after an hour and so, and let them stretch their legs. The VXL comes with keyless entry as well as immobilizer whereas the VXR variant only has an immobilizer. With four people inside, we were able to take the Wagon R over almost all sorts of speeds humps. The suspension of the car doesn't let it slouch with people inside, and the ride stays relatively stiff. You can be assured that you won't be rubbing the belly of your Wagon R even in slightly harsher driving conditions. And you will have no trouble turning or taking U-turns. Wagon R's minimum turning radius is 4.6 meters. And to give you an idea, Mehran's is 4.4 m, Swift's is 4.7 m, and Cultus' minimum turning radius is 4.8m.
Safety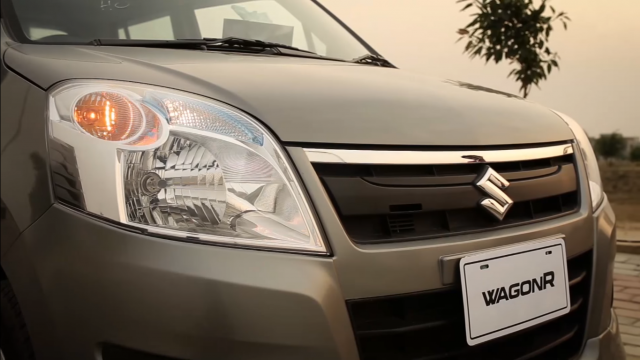 You don't get airbags in Wagon R, which is a shame, to be honest. Suzuki should have added driver and passenger airbags. There are seat belts for all the seats in the car, but I found both front seat-belt locks and buckles a bit clumsy. I was unable to buckle my seat-belt in one go. I had to try inserting buckle in the lock at least a couple of time to make it click and lock. As for facing an imminent crash is concerned, you will be relieved to know that Suzuki Wagon R comes with a crumple zone. Crumple zones are specific areas of a car, especially in the extreme front that are designed to absorb energy in case of an accident. This way, the crash force does not transfer inside the cabin and hurting the passengers. So if for some unfortunate reason, you do end up hitting someone in the front, the crumple zone of your WagonR can be lifesaving in extreme cases. Also, Wagon R doesn't come with anti-lock braking system (ABS). We talk about features like ABS all the time nowadays but honestly speaking, and it might be a little controversial, I didn't feel a need of ABS in Wagon R in all the time when I was driving it. The car stopped when and where I wanted it to stop. The suspension setup along with decent tyres and efficient braking performance of Wagon R is more than enough to stop it in most situations.
Verdict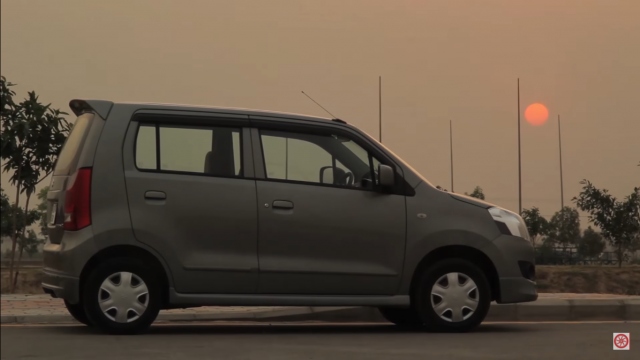 The price of both VXR and VXL variants is as follow:
VXR – PKR 1,029,000/-
VXL – PKR 1,069,000/-
If you are a small family of 4 (parents and two kids) and looking for a new car in that budget, this car is definitely for you. You will not be disappointed with the purchase, and you can drive it without worrying about unnecessary maintenance costs for at least a couple of years. Buy it, drive it, change oil and filter on time, and drive some more.
Considering you can push the back of the rear seat forward to increase the storage space, someone who has to haul study around as part of their business should also consider Wagon R as their daily driver. It can be a mini-loader as well as a people carrier like any other car.
As far the debate if it is value for money is concerned, that is kind of hard to justify. If the VXL variant had few more things like power side mirrors, rear power windows, airbags, alloy wheels, and even ABS, the price of PKR 1 million would have been easier to digest. But on the other hand, brand new top of the line Suzuki Cultus costs PKR 1,169,000. And Cultus is no way near the new Wagon R in terms of drive, ride quality and driving experience. Also, companies have to pay quite a lot of taxes on the production of each unit. So maybe the price tag of PKR 1,069,000 for the top of the line Wagon R doesn't feel that ridiculous.
Other than FAW V2, all the other competition Wagon R has it from the other products of its parent company. Suzuki wanted to launch something in between Mehran and Swift, and that's why they came up with the Wagon R. They couldn't give as many amenities as the Swift has because it's possible that Wagon R might have started to hurt sales of Suzuki Swift. If you are looking for an imported vehicle, all you will find cars with 660 cc engines. You have Toyota Vitz, but it's more comparable to Suzuki Swift than the Wagon R.
And when we talk about what would have been better, the first thing I must mention is the lack of automatic transmission option. The Wagon R had a huge potential if Suzuki had brought the car with an auto transmission. All those family where women have to drive a car for doing most of the household chores would have appreciated an auto Wagon R. Suzuki lost that segment to imported kei cars with auto transmission. Other than that, there are small things that could have made this car matchless. Few are mentioned above, like power side mirrors, rear power windows, airbags, alloy wheels, ABS. But then there are few things about the driving characteristics of the car, like the numb and awkward power steering feel, or that your left leg kind of feels uncomfortable throughout the journey because you can't seem to find a right place to rest. I found my foot on the clutch on several times throughout the duration of testing. The placement of pedals is kind of annoying. Also, there are few cosmetic things, like missing screw covers on the plastic cover of steering column cover, or missing covers on the bolts of wiper blades. I don't get why the door a jar warning light in the dashboard didn't work. And also, there should have been a temperature gauge, and not just a warning light. And the fact that the hideous cabin fan unit is visible all the time. Small things, but then again, nothing is perfect, and you can well live with all these shortcomings without any issue.
Give this tough little hatchback a chance if you are looking for a car that has a lot to offer. The WagonR has a huge potential if Suzuki can introduce it with auto-transmission.