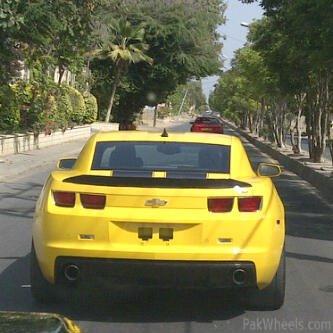 The first bumblebee Camaro in Pakistan
Pakwheels Forum member are ever so vigilant about what comes in and goes out of this country. It is near impossible to keep a secret from Pakwheelers about cars, whether exotic or shopping-trolleys. They know it all, they've seen it all and if they haven't, then they have heard and are constantly lurking on the streets or the internet to find the pictures and details about the cars.
Often have Pakwheels received complaints from owners to take down the pictures of their cars from the forums. However, this bumblebee Camaro owner isn't so shy of showing off his newly prized possession which from the sound of its, looks to be a 2010 pre-facelift Camaro SS in bumblee trim.
The SS version has a 6.2 Liter V8 engine called the LS3 while the other trims have a V6 engine.
For more updates on what comes in the country, keep visiting Pakwheels Forums.