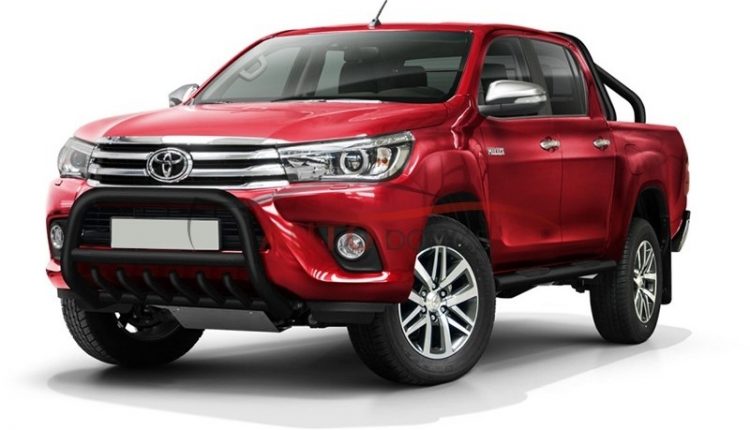 Check out New Prices of Toyota Hilux 2020
Indus Motor Company (IMC) has released new prices of its double cabin (4×4) Toyota Hilux cars. The revised prices for four variants are issued after the government imposed 7.5% FED on locally manufactured double cabin cars, while 25% FED was imposed on imported ones under FY Budget 2020-21.
The new prices will be implemented from July 1, 2020. It is pertinent to mention that these new prices are without freight charges.
New Prices: 
According to the new notification, the price of IMV III STD has been hiked from Rs5,499,000 to Rs5,912,000, with an increase of Rs413,000. Meanwhile, Revo GMT will now cost Rs6,342,000, after an increase of Rs443,000 from previous price of Rs5,899,000.
Furthermore, the new price of Revo G AT is Rs6,664,000, as its old price was Rs6,199,000. The model has seen a jump of Rs465,000. The fourth variant for Hilux, Revo V AT will now be available at the price of Rs7,041,000, seeing an increase of Rs492,000 from the old price of Rs6,549,000.

PAMA Report: 
Earlier, in its report for June, Pakistan Automotive Manufacturers Association (PAMA), Hilux sold only 72 units in May 2020, comparing to 468 in the same month last year. According to the report, Hilux saw 37% drop in sales to 3,310 units in the current fiscal year from 5,323 vehicles during the same duration last year. 
  The automobile industry in Pakistan is passing through a severe turmoil. According to PAMA, the car manufacturing companies did not sell even a single car in June, due to a nationwide Coronavirus lockdown. However, the industry is expected an increase in sales after the federal government lifted lockdown restrictions.
PAMA Dissatisfaction Over Budget 2020-21
Meanwhile, Pakistan Automobile Manufacturers Association (PAMA) has expressed complete displeasure over Fiscal Budget 2020-21. The association believes that the government did not present any proposal to reduce production costs or to increase car sales in the country. The industry said that it was expecting a stimulus package from the government, but it was not the case.