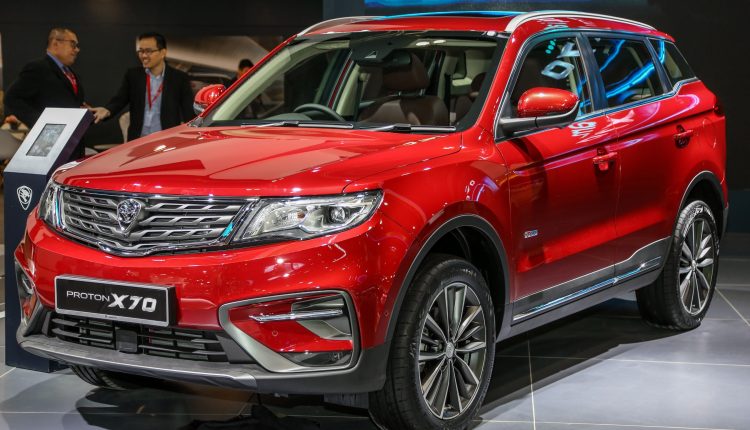 Proton X70 is Here-ALMOST!
In this article, I will discuss the fresh updates on Proton X70, its release in Pakistan and its salient features.
The X70 will be available for sale in 3rd or 4th weeks of December 2020.
> It will be CBU/ import from Malaysia.
> Al-Haj Group is the local partner.
> As per Auto Policy, company will import 100 CBU for launch purposes at subsidized 50% duty structure.
> The company has planned X70 as CBU for three variants for Pakistani market.
> Executive 2WD, Premium 2WD, Premium AWD.
> As of today, there are four dealerships planned and will be operational in the next few weeks.
> 2 in Karachi, 1 in Lahore and 1 in Islamabad.
> The company will add more dealer network soon.
Public Viewing and Expected Price: 
> X70 will go on display sometime mid-December 2020 for public viewing.
> Once the company will sell 100 CBU units, it will fulfil further orders, after establishing local CKD assembly.
> Any further import of the same model above 100 units, will attract full duty and that would not be cost-effective.
> June 2021 onwards, a local assembled X70 is planned.
> Means expect a longer wait time, in case you missed the introductory units.
> > The CBU units will be very well equipped and built, time will tell if same goes for CKD.
>  There will be a Premium AWD for Pakistani market as well. Concentrate under Executive 2WD and Premium 2WD.
> Proton/ Al-Haj must make sure that they sell these units on the advertised price, and should not allow dealers to take any advantage and exploit customers for premiums.
> These 100 units will be well equipped and there is due chance, that dealers will play fishy and funky and grab all these units and then try to sell it over black money.
> As a buyer, please stay away from any such unethical business practice/transaction.
Now let's go over the technicalities of X70. It will be long, so if you are interested, then you must read it.
About Proton X70:
Proton is a national car company of Malaysia. In the past, it has been producing re-badged Suzuki and even Honda models and before than some Mitsubishi models were sold with Proton badge. In fact, Proton started their production with first car almost 36 years ago, based on Mitsubishi Lancer.
Proton Holding company at one time was owner of the Lotus cars. Currently, Geely car company from China, who also owns Sweden's Volvo, has 49% shares in Proton. Proton has signed a joint venture with Al-Haj group for establishing an assembly line in Karachi for the CKD production of cars.
𝗫𝟳𝟬:
X70 is a C- segment SUV and basically a re-badged Geely Vehicle named" Geely Boyue". It is famous by some other names depending on the markets. The company introduced it in China back in 2016. It got a face-lift in China as interior, and exterior got a makeover in the process.
The Proton X70 is basically the same Geely product with some minor exterior changes and a right-hand drive instead of left. It was introduced in Malaysia in early 2019. Proton has started local assembly in Malaysia recently for local supply. In Pakistan, X70 will compete with KIA Sportage as well as the Sportage'ss non-identical twin, Hyundai Tucson and MG HS.
Foot Print of Proton X70: 
X70 is based on Geely NL Modular platform, which is flexible architecture and can be used by multiple models depending on use. X70 is 4519mm long, 1831 mm wide and 1694 mm high. Wheelbase of 2670 mm while ground clearance is not confirmed but seems around 180 mm.
For understating the size, I will share Sportage dimensions which are 4484 mm long, 1855 wide and 1635 mm high while ground clearance is 172mm. So, basically X70 is slightly bigger on outer dimensions comparing Sportage. X70 has a 60 liter fuel tank while Sportage has capacity for 2 extra liters. Sportage has a cargo capacity of 466L while X70 has 512L.
Engine and Transmission: 
X70 is available with a 1.8L Turbo Petrol direct injection engine in Malaysia which is around 184hp with max torque of 300Nm. It comes with a 7-speed DCT. Both transmissions and engine are Greely's / Volvo developed engines.
When it comes to Pakistan, there is a piece of surprising news.
The X70 for sale in Pakistan will have a 1.5L Turbo 3 cylinder engine. There will be 7-speed DCT with manual mode, which is also a Volvo and Geely jointly developed unit. The engine will have 174HP & 255 NM of torque.
This engine is Euro 6 compliant and one of the industry best engines. We can understand this from the fact that Volvo, which is premium brand, use the same engine in its one of the model in Europe. Proton is not offering the 1.5T for X70 in the Malaysian market. It is basically for export regions.
Globally, downsizing is the name of the game. BMW, Mercedes and many other brands are making smaller and efficient engines with higher performance levels. When things come to Pakistan, things get complicated. Proton extensively tested the 1.5T in Pakistan and road testing was ongoing for a very long time, driving it from Karachi to the extreme North regions.
The company has collected Driving data, by Protons own engineers. Obviously, they will tune engine for local fuel conditions, and some changes are planned to the exhaust system as well. There is possibility BUT not confirmed Proton require" "Premium fuel". This is same for the MG HS.
Drivetrain and Other Components: 
Disc brakes all around with ABS. McPherson front while a Multi-link rear suspension. Electric power steering, E-brake will be standard. Standard alloy wheels size of 225/60/18 will be for PK Units although In Malaysia even 1″" are offered on Premium model. I am sure Proton will select the right size for local road conditions.
Proton will offer X70 as AWD and FWD for Pakistan. It is interesting to note that Proton is not showing any AWD variant in Malaysian market because of low demand. There will be an Eco and Sport driving modes.
Interior: 
As XC70 will be a CBU so, it will carry most of the features and options available in Malaysian vehicle. As the CBU will be specifically made for Pakistan, there is a due chance for the difference in features but at launch expect it to be identical to the overseas model. All three CBU variants for PK will have leather. The Premium version will have even the Nappa leather. The panoramic sunroof will be available on the top of the line Premium variant.
Digital LCD dashboard cluster will be standard on all trims. Steering wheels control, push-button start and welcome lights, power-folding mirrors, day-night rear view mirror are also available. Power windows , power driver adjustable seats which are ventilated too. Dual-zone climate control with rear vents are also standard on all trims which also have air purification system.
LCD and Infotainment: 
"Standard LCD touchscreen infotainment system which has cell phone connectivity for music streaming. The infotainment system is GKUI [ Geely Smart Ecosystem infotainment system ] which is a smart voice recognition system, and you can order the vehicle to perform certain functions. Like even changing the climate control settings.
It will be a 4G WIFI capable system with GSM SIM slot, and certain online features can be integrated into the car. Proton link app can be used to remote control particular feature of the vehicle. There will be 8 speakers standard and Premium models will have 8 as well but with amplifier and sub-woofer.
This is a 5 seat vehicle as standard and no option for 2 extra seats to make it 7. However, the second-row seats can be folded down for larger cargo capacity. Power tailgate will be available on all expect base model and with foot sensor on the premium model.
Again, all this is on CBU we are getting as launch and introduction. Let's hope when Al-Haj assembles it locally, we see all these features carried over.
Exterior of Proton X70: 
The base model has halogen headlights with DRL while the upper trims will get LED and those will be adaptive headlights with auto dip and high feature. The car is a based on the Geely Boyue but to give it a Proton face, there is a different grill on the front which is called" infinite weave grill".
This is inspired by traditional woodwork and carving, which is famous in Malaysia. LED taillights and two exhaust tips through the rear bumper. A standard wiper for rear screen and a spoiler with a stop lamp. Roof rails will be standard.
Safety in Proton X70: 
When it comes to safety, this is where X70 will be the champion. Six airbags standard on all trims. ABS, Auto brake hold, Brake Assist, Hill assist, EBD, Traction control will be standard. TPMS / Tire Pressure Monitoring System will also be available.
The premium model will also have "ADA" which is an Advanced Driver Assistance System and a set of active safety features. This will be first of its kind offered by a company on a brand new vehicle in this category. It will consist of lane departure warning, adaptive cruise control, blind-spot monitoring, auto high beam and autonomous braking.
The base model will have a regular reverse camera, but the premium model will have 360 view camera system. The Proton X70 is an Asian NCAP tested vehicle with a 5-star rating.
We can say that X70 will be a much safer vehicle in a test comparing the locally assembled Sportage and Tucson, but again, the X70 is CBU at launch; we will know the real deal on this topic when mass production of CKD starts locally. Time will tell if Al-Haj keeps all those features and equipment on the locally assembled vehicle or cut down on it to be price competitive against the competition.
Pricing of Proton X70: 
The 1.5T engine is the first indicator that Protonwant'ss to be price competitive at least at the launch with their introductory CBU. X70 will come with features which the competitor lacks in the segment. I think that Proton will price X70 between 5 to 6 Million range or maybe a little higher.
Comparing the Sportage AWD, which is top of the line model from KIA, the premium X70 might be a little more expensive, but it will come with some exclusive features. Yes, Sportage has worldwide recognition, and it is sold in many markets when compared with X70. But keep in mind that X70 isGeely'ss vehicle with a Proton badge.
It has an engine, transmission which is co-developed with Volvo and is currently in use by Volvo as well. X70 has broken all the sales records in the Malaysian market, and Proton has a hard time completing orders. I think it will be an excellent addition to the market and can give a tough time to Sportage and Tucson or upcoming MG HS.
The sales and marketing strategy, after-sale service, support, customer satisfaction and friendly and welcoming dealer network will only guide and help Proton to succeed. As of now, there is minimal dealership network. Most probably the current FAW dealerships also become sales and service points of Proton although nothing is clear at this time.
A very good product can easily fail if there is no after-sales service. I am sure Proton and Al-Haj know that.
Stay Tuned to Pakwheels for more updates on X70.
For more views, news and reviews, keep visiting PakWheels Blog.