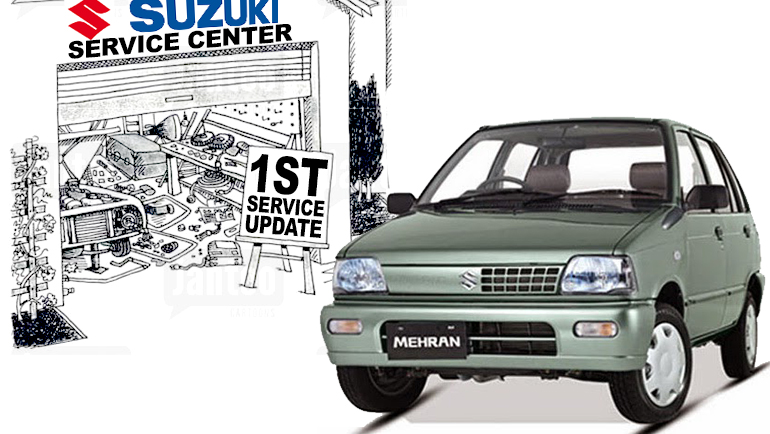 So I Took My 2015, 1300 KMS Driven Suzuki Mehran For Its First Service
Before we get started, let me make it clear, the car is a company car, and not owned by my family. So there's no reason for you to go mad and utter stuff like, "Mehran logay to aisay hi hoga"; "Why would you even buy a Mehran!"; "Pak Suzuki ko keeray parein..". No, let's not do that to even those who bought it and rather talk about the consumer experience.
With that out of the way, the first service of Suzuki Mehran 2015 was due as it crossed into 1300 kilometers, but from Day 1, following items were not working on the zero-meter Mehran:
1. Hatch lock: Yes, it mostly didn't work since new but some times, it did too so I didn't even bother to check whether it is locked or not.
2. Self-cancelling indicators: I inquired from the service specialist whether Mehran came equipped with them or not, well they did and they weren't just working from day one. There were hints that the mechanism was simply not fitted together as the indicators flickered.
3. Fuel tank gauge: We filled up to 500 rupees worth of petrol for the drive from the dealership in Saddar, Karachi, to office and to home, which amounts to 30 kms of drive in total and the fuel gauge showed empty as we parked the car in home. Normally, Mehran does have a good mileage, not the mileage which modern small cars have but it's good. So either something was wrong with the car or the gauge wasn't working and it was the latter, thankfully. I disclosed the entire experience with the service rep while handing the car over who with his paan ki peek colored teeth was like, "Koi masla nahi hay, bus screw dheela hogaya hoga, woh hojayega tight".
4. The service representative felt radiator fan was "direct", though it did not to me, but anyways, I entrusted the car to him and left.

And amazingly, I turned out to be the lucky one.
I handed the car over around 10.45 AM  and I was told that I should expect to receive it around 4-5 PM and I pleaded to the service rep to try and give it to me soon, or at least give me a call when it's done! I called up to inquire about its status and it turned out that the car was ready well before 4 PM.
Mehran first service, car delivery update:
1. Indicators self-cancel now.
2. I have grease on my hands because mechanics didn't clean the car after working on the car. Even though the car was serviced very well.
3. Hatch lock fixed.

4. Fuel gauge fixed.

5. Clutch was making some noises, so they adjusted that as well. And I got to know that the new Mehran's clutch faces failure within the few couple of thousand kilometers. No such experience for me yet thankfully.

6. There was no one to deliver the car to me, or tell me what has been done in the first service update and after standing beside the car for a while, a technician who worked on the car came forward and generously explained that all the errors have been fixed. Then the service rep came and to whom I asked what did you do as part of the first service and I guess he was just a busy man so I left.
7. However, this is Suzuki, everything can't be right. It just can't be right. I just noticed after coming on a long stretch of road that the steering is out of alignment.
I try hard not to make it sound like I am against Suzuki or something, but frankly, Suzuki doesn't try either….