Toyota Corolla's New Transmission : CVT-i
If you are into automobiles then you must have heard of a CVT or may have owned a vehicle with Continuously Variable Transmission. CVT has proved its mettle in the competitive automobile industry and in recent years, we have seen some variety on Pakistani roads as well, including the latest addition to the clan with Corolla Altis's "CVT-i".
Before dissecting Toyota Corolla's transmission, let us throw a brief light on the 'CVT' itself and how does it differ from a conventional transmission. Unlike conventional scheme, vehicles with CVT do not have a gearbox with pre-defined number of ratios, which means they do not have the interlocking tooth wheels. CVT operates on an ingenious two pulley system, one of which is connected to the engine while the other to the drive shaft that allows for an infinite variability between highest and lowest gears with no discrete shifts. If you are pondering why the word "gear" still appears in the explanation of a CVT, remember that, generally speaking, a gear refers to a ratio of engine shaft speed to drive shaft speed. Although, CVTs change this ratio without using a set of planetary gears, they are still described as having low and high "gears" for the sake of convention.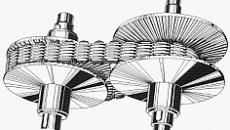 Changing the diameter of the pulleys changes the transmission's ratio in the same way, that a 10-speed mountain bike routes the chain over larger or smaller gears to change the ratio. Making the input pulley smaller and the output pulley larger gives a low ratio (a large number of engine revolutions producing a small number of output revolutions) for a better, low-speed acceleration. As the car accelerates, the pulleys change their diameters to lower the engine speed as car speed rises. This is the same thing a conventional transmission does, but instead of changing the ratio in stages by shifting gears, the CVT continuously varies the ratio – hence the name.
Advantages of the CVT
Engines do not develop constant power at all speeds; they have specific speeds where torque (pulling power), horsepower (speed power) or fuel efficiency are at their highest levels.
Because there are no gears to tie a given road speed directly to a given engine speed, the CVT can vary the engine speed as needed to access maximum power, as well as maximum fuel efficiency. This allows the CVT to deliver superior fuel economy.
Disadvantages of the CVT
The CVT's biggest problem has been user acceptance. Because the CVT allows the engine to rev at any speed, the noises coming from under the hood sound odd to ears accustomed to conventional manual and automatic transmissions. The gradual changes in engine note sound like a sliding transmission or a slipping clutch – signs of trouble with a conventional transmission, but perfectly normal for a CVT.
Flooring an automatic car brings a lurch and a sudden burst of power, whereas CVTs provide a smooth, rapid increase to maximum power. To some drivers this makes the car feel slower, when in fact, a CVT will generally out-accelerate an automatic.
Corolla's 7 step CVT
Automakers have gone to great lengths to make the CVT feel more like a conventional transmission. Many CVTs are programmed to simulate the "kick-down" feel of a regular automatic transmission when the pedal is floored, and some CVTs offer a "manual" mode with steering-wheel-mounted paddle shifters that simulates a conventional stepped transmission which brings us to Pakistani bound Corolla Altis. New Corolla's transmission is a CVT with pre-programmed 7 ratios. Pre-programming affects the fuel economy and power output at a given RPM, but you get a feel of traditional transmission. Simulated shift points are a smart compromise between the best of both worlds. Ratio changes are still continuous, but the shift points (ratio of the diameter of two pulleys ) are pre-programmed into the vehicle's engine control unit.
If you are still confused, buzz me in the comment section.
Time Line of  the CVT
An Interesting historical time line of a CVT is presented to intrigue the interest of readers:
1490 – da Vinci sketches a step-less continuously variable transmission
1886 – The first toroidal CVT patent filed
1935 – Adiel Dodge receives U.S. patent for toroidal CVT
1939 – Fully automatic transmission based on planetary gear system introduced
1958 – Daf (of The Netherlands) produces a CVT in a car
1989 – Subaru Justy GL is the first U.S.-sold production automobile to offer a CVT
2002 – Saturn Vue with a CVT debuts; first Saturn to offer CVT technology
2004 – Ford begins offering a CVT