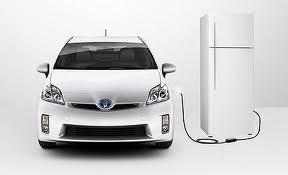 Toyota Prius to work as an electricity generator for your household items
In the wake of recent devastating Japanese earth quakes and Tsunami, Toyota has decided to offer optional AC outlets on JDM (Japanese domestic models) next year allowing customers to plug in various household appliances. The idea arose from the March 11 earthquake when victims were using a Japan-only minivan called the Toyota Estima which comes with AC outlets (standard), as an emergency power source when the electric supply was disrupted.
Toyota has plans to offer AC outlets currently on Prius and eventually on the entire Hybrid line-up. The varying voltage has limited Toyota to just bring AC outlet to Japanese only vehicle. The standard Japan household voltage rating is 100 volts, and a vehicle equipped with the AC outlet will have an onboard inverter to transform the DC current from nickel-metal hydride batteries in hybrid Toyotas into AC current.
Toyota also demonstrated with an AC outlet equipped Prius in the hard-hit city of Sendai, powering a fan, portable cooking stove, table lamp, and a refrigerator all on the same car. Toyota says that the hybrid batteries offer a substantial wattage advantage over a conventional gasoline car's battery, putting out up to 1,500 watts. Coupled with the gasoline engine to help charge the batteries, a Prius will a full tank of gas could supply that output for about two days.
Toyota says that the car with full tank of fuel will be able to power the households for about two days and since an year is a long-time, Toyota has said that it will retro-fit the system in some 40 cars already in service.
Prius after the installation of this system can (will) be a big hit in Pakistan as it serves more than one purpose so let's hope that Indus motors in all its wisdom introduce this here with 220 volts AC outlets to rescue us from the never-ending curse of load-shedding.