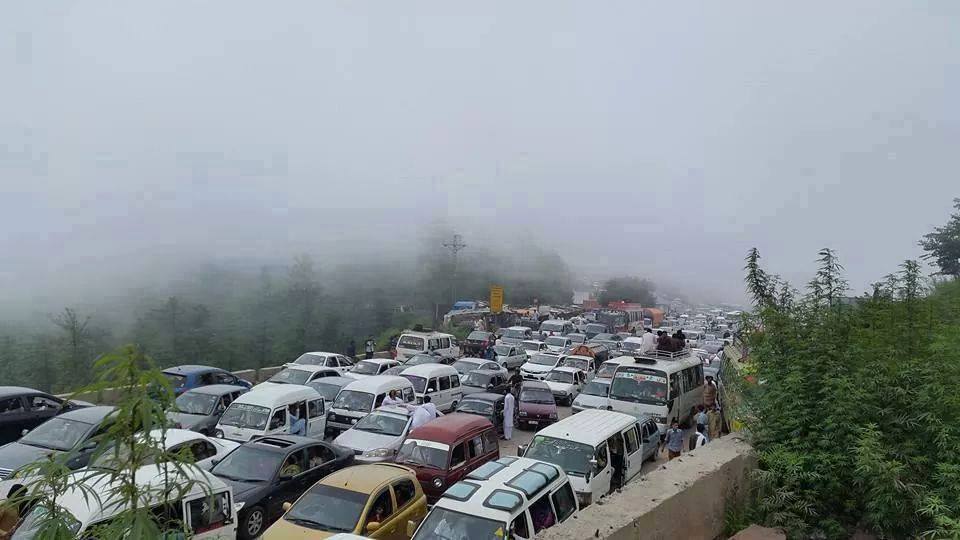 Traffic jams and prices of parking lot tickets during Eid holidays
One of the worst traffic jams I've experienced in my life was on Eid-ul-Fitr, 2014 at Murree. It seemed that the whole of Pakistan (including myself) packed their bags and set off for Murree to celebrate Eid. Maybe the long holidays and previous heat waves were to blame as well but the fact remains that there were literally hundreds of cars in line wherever you went. Whichever shortcut or back-route you took to bypass the traffic, it didn't matter that day. Be it Mall road or Patriata or any adjoining areas.
Traveling to and from my hotel (which was a few Kilometres away) took 2-3 hours each and finding a good parking spot near your destination was like winning the lottery. Here a noteworthy mention would be the role of private parking spaces which charge many times than what they do normally.
This should not come as a surprise at all. Just in Ramadan when even a fruit seller increases the price of his products multiple times (due to high demand), the handler or owners of parking spaces used the same tactic; high demand and low number of parking spaces.
Going to Mall road, I was fortunate enough to find a private parking spot which was basically an abandoned building yet to be completed. It had a mere parking space of maximum 20-25 vehicles. Upon asking the person for the parking rate, I expected a reply of something like a 50 rupees for a vehicle or even a hundred. But his reply was a shocking 300 rupees an hour! Nothing less; take it or move on. But I was traveling with my parents who could not walk the extra distance uphill and downhill so frustrated, I declined his rate and parked in the lot.
But it wasn't just him either, I found a very small private parking space just near mall road and their rates were even higher at 500 rupees per hour.  This is insane. The traffic and other authorities should check these private parking spaces and impose a uniform and acceptable rate. These people should not be allowed to charge people according to their will and desire. Murree TMA can also build dedicated multi-storey parking plazas near mall road to facilitate people. Traffic authorities should come up with a better traffic plan that causes less traffic jams.
If no action is taken, my advice to everyone would be to avoid Murree on Eid or other national holidays. If you have to go, this article is a heads up for what awaits you over there.