The saga of Malir-15 flyover continues. For those who don't know the importance of this piece of road that has been a total chaos and a mess for the past two years and more since the machine first dug up the road to erect the bridge, this road connects Karachi to the area that produces your Toyota Corolla, Faw V2, Suzuki Mehran, Yamaha, Tyres, medicine, textiles, and more. It connects the city with one of the many industrial areas of Karachi.
We learned from a trusted source that companies had ran campaigns in the media through PR agencies to get this bridge sorted out and then the pathetic quality of roads after it that cater to one of the largest industrial areas of Pakistan, including Pakistan Steel Mills, and Bin Qasim port.
Owing to public pressure, the CM forced authorities to get the bridge running and opened it up after two years  perhaps those PR campaigns bore fruit however a sore one, because the project still had 25 percent of work remaining on the project and the work on that part of the project, has yet to begun owing to encroachments and lack of funds however, Local government minister Jam Khan Shoro said that the project will be completed by June this year.
The 257 Meter long Malir-15 flyover has a cost of rupees 913.8 million and a day after its opening, cracks have started to emerge on the bridge while metal beams coming out of its side continuously collide with the trucks passing underneath it. Kainat Construction Company was given the contract to build the bridge and denies that those are cracks rather, the company claims that they are 'joints'.
Talking with the press, a traffic engineer said that they he has to examine the cracks for its depths and if they are not too deep, they are not dangerous then.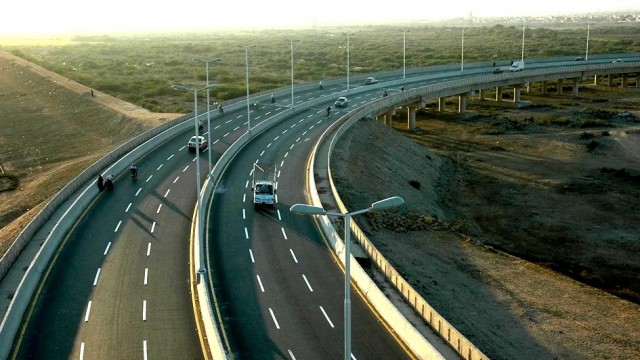 Meanwhile, Pakistan's longest bridge that connects Shah Faisal Town with Korangi Industrial area, has also been subjected to a mafia that has been excavating sands from that area and is also not shy to excavate sands from around its pillars and foundations making them weak. The report in ET further states that the dug up area is left exposed to water that can wash away earth from around it.