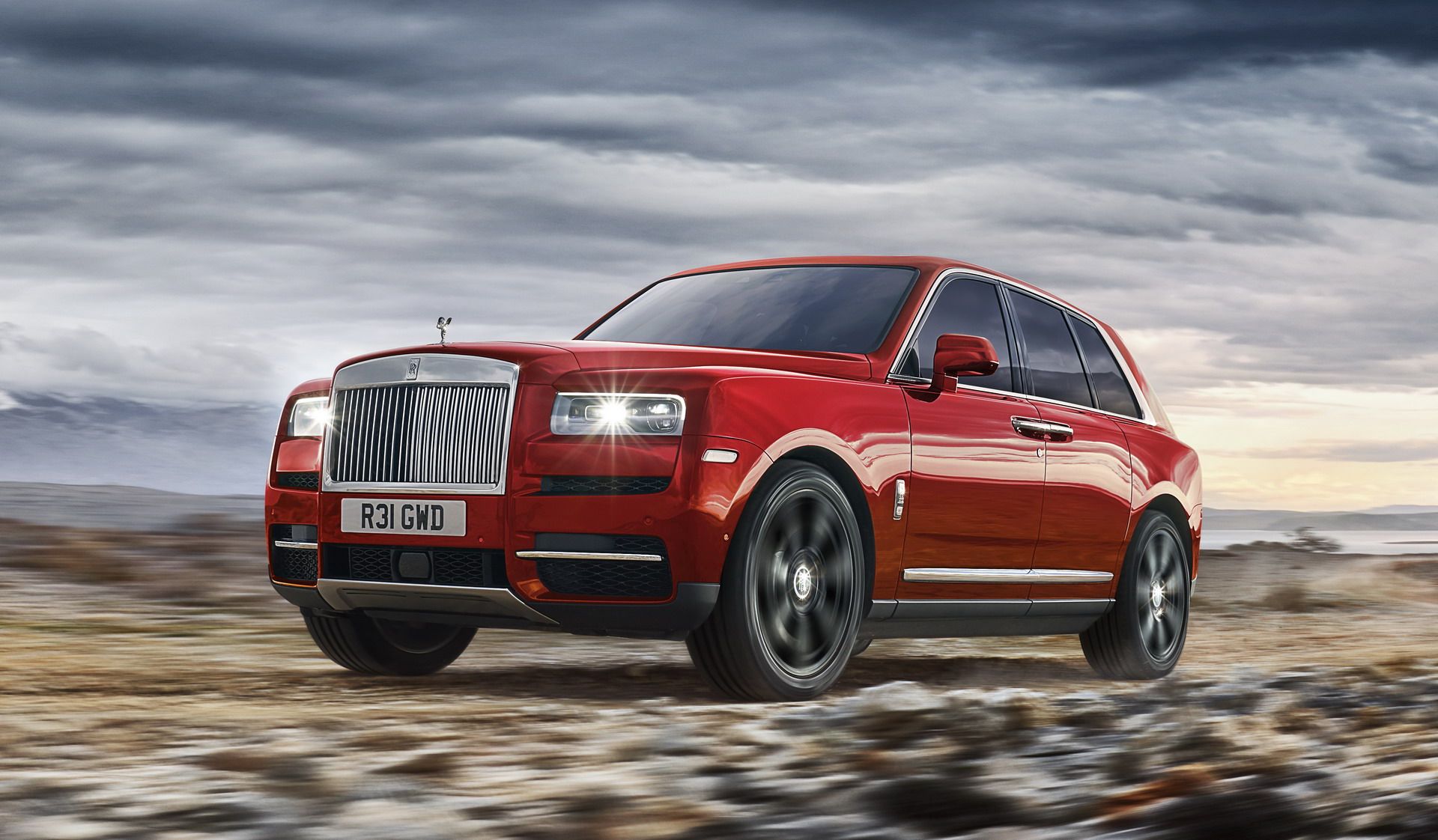 Take it off-road, the ultra luxury Rolls Royce Cullinan revealed!
Till a few years ago a Sports Utility Vehicle or simply SUV was associated with Land Cruisers, Land Rovers, Jeep Wrangler or Nissan Safaris. In last decade this segment of the automobile industry has gone on steroids. Every other manufacturer is bringing in their version of SUV or crossovers simply because there is a lot of demand. We never thought that someone like Porsche, a company known for their two-door sports cars, would bring one of the most wanted luxury SUVs in the form of Cayenne. Jaguar has already releases their version in the shape of Jaguar F-Pace. So far and so even Bentley known for their super luxury sports cars and saloons revealed one such vehicle "Bentley Bentayga." SUV market trends have forced many car companies to jump into this segment. Performance-oriented companies like Lamborghini were not to be left behind in this SUV craze, and we recently saw it in the shape of Lamborghini Urus. Worldwide sales of SUV/crossovers increased 3 to 4 times within last ten years.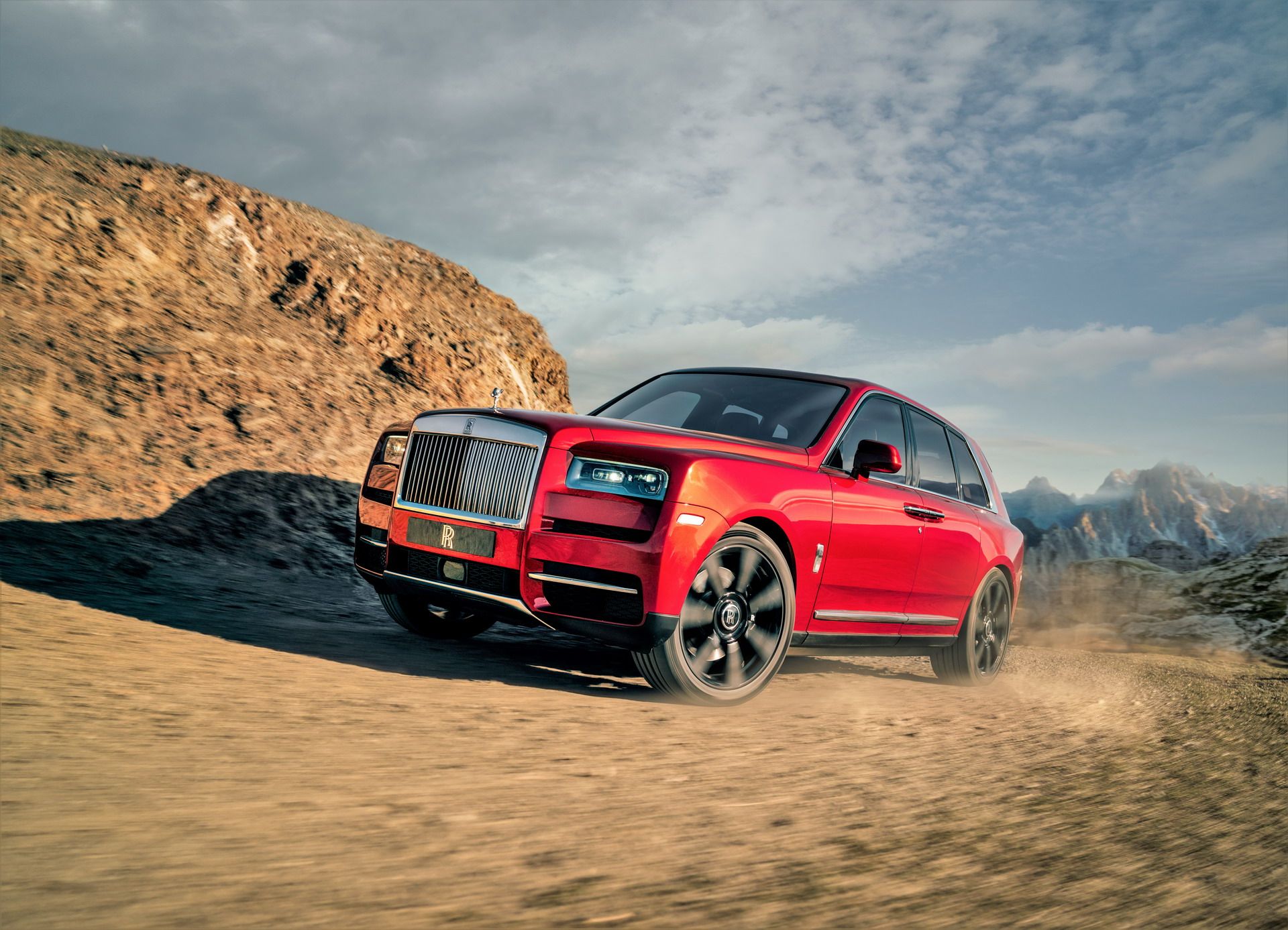 An SUV from Rolls Royce was always rumored until a couple of years ago when a a camouflaged prototype was spotted. The project started back in 2015, but the company was tight-lipped. More recently Rolls Royce started teasing a production model Cullinan via two dozen short video clips. Word "Cullinan" has some history when Rolls Royce selected it as a name for their SUV. Cullinan is historically known to be a famous 3106 caret [621 grams] diamond found in 1905 at one of South Africa's mine – one of the largest ever found.  After extensive research and development and prolonged on-road testing in the hot and humid deserts of Middle East to cold snowy parts of Europe to Austrian mountains and landscapes of North America, today Rolls Royce officially revealed the first ever in 112 years history of the company, an all-terrain luxury SUV with a slogan, "The Final Challenge". Like any other Rolls Royce model, one can easily imagine the luxury and refinement and it is evident from the new model. According to RR when they were designing this vehicle, the aim was to develop a car which can take you everywhere effortlessly with luxury in purest form blended with practicality and off-road capabilities.
Rolls Royces' are always imagined as luxurious on-road vehicles, but CEO of Rolls Royce shed this impression by sharing a history at the reveal. Lawrence of Arabia had a fleet of 9 Rolls Royce cars which were used in rough and harsh desert terrain of Sinai during World War I, while Maharajahs of India drove them on unpaved and off-road tracks and marshes all across India. Having history of rough, rugged and tough vehicles, Cullinan is revolutionizing the past with newer technology. Whether there is 2-feet deep water, snow, desert, unpaved gravel road or any other off-road environment, Rolls Yoyce Cullinan is ready to go. CEO Torsten Muller-Otvos said, their customers were asking for an SUV for a very long time, and we are confident we have fulfilled the promise.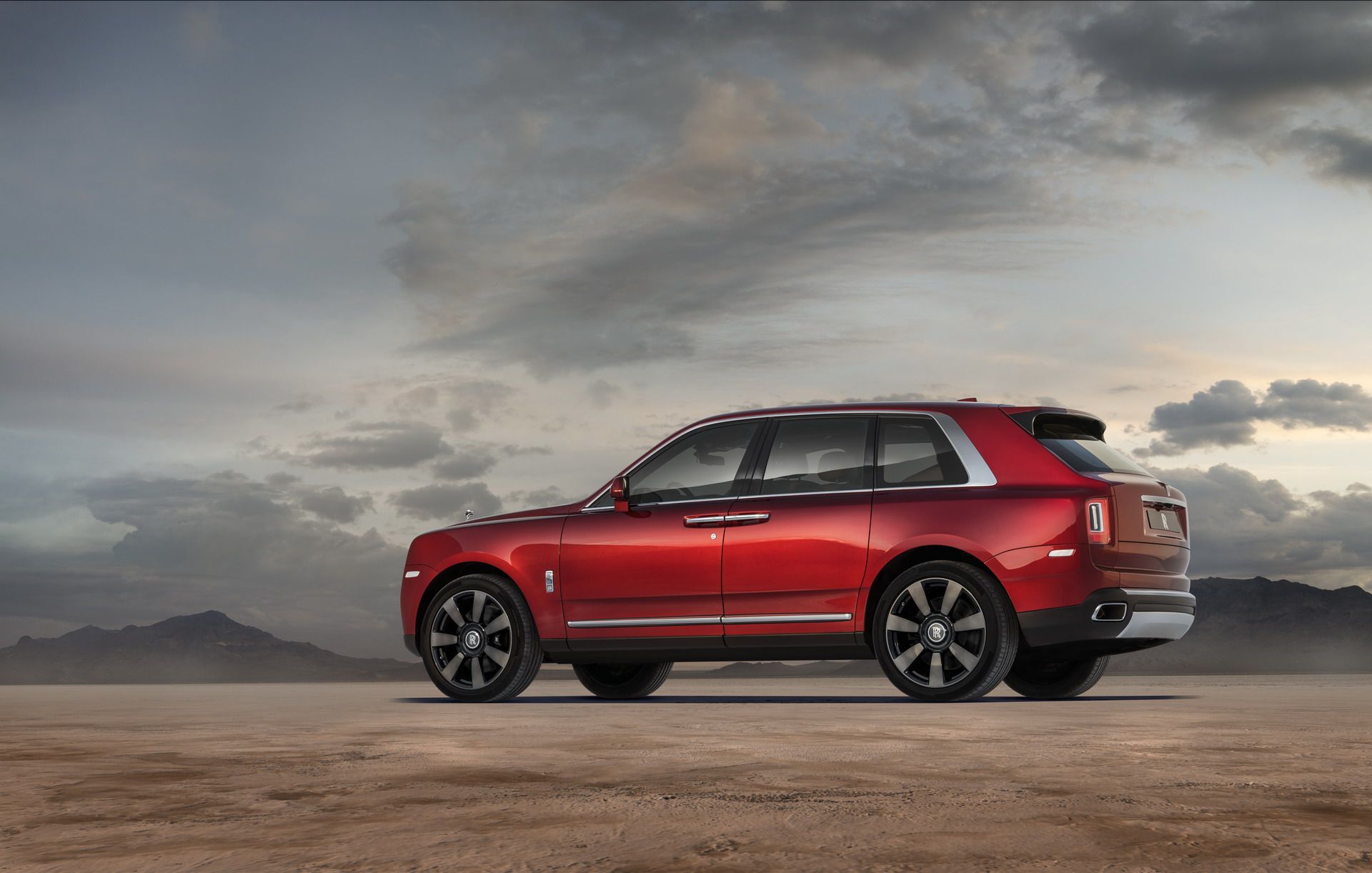 Rolls Royce Cullinan is based on BMW Group all aluminum space frame platform which has been modified for use by Rolls Royce and to give it its own exclusive identity. Rolls Royce calls it "Architecture of Luxury". The same platform is used by the newly releases flagship sedan Phanton VIII and it will be used for future models like Ghost, Wraith and Dawn from the company as well. Looking at the front, the new Cullinan looks like the Phantom being raised from the ground, standing at 72 inches high from the ground ad 2.7 Tons in weight. It surely looks like a muscular and heavier vehicle. The front is embodied with signature grill in front with laser headlights while as always the iconic Rolls Royce Spirit of Ecstasy ornament stands visible upfront on the bonnet.
Rolls Royce calls their design philosophy a "three-box design" to make it different from the others. From outside it looks like two boxes, front, and rear passenger compartments but in reality, there are three once you get inside. The rear cargo portion can be completely separated by a deploy-able glass partition that isolates the cabin from the luggage compartment. The Cullinan is 210 inches long, around 15 inches smaller than the full-size sibling the Phantom, it is still one of the longest in the segment. Wheelbase is 130 inches while width remains at 85 inches. Wide and broad window panels with large doors is a typical Rolls Royce formula. The SUV gets the suicide doors although Rolls Royce calls it Coach Doors. The Wide C pillar with huge glass panels makes the vehicle look little funky on side profile, but it creates a lot of space for the rear passenger.
On rear end like any other SUV, the vehicle gets a hatch door which opens upwards, but Rolls Royce doesn't call it a hatch or tail gate. Rolls Royce has added another word in its glossary and has named it "the Clasp". The hatch opens upwards, but a lower portion folds down horizontally providing a staging platform for luggage. By the push of a button, an electric drawer slides out over this platform. This functional drawer is called a Recreation Mode and have a storage compartment for tools, hunting, fishing or any other outdoor gear one needs to store. The rear platform can also be equipped with Cullinan's Viewing Suite which is composed of a set of folding seats and cocktail table stitched in highest quality leather. By the push of a button on the key fob, the "Clasp" can open or close.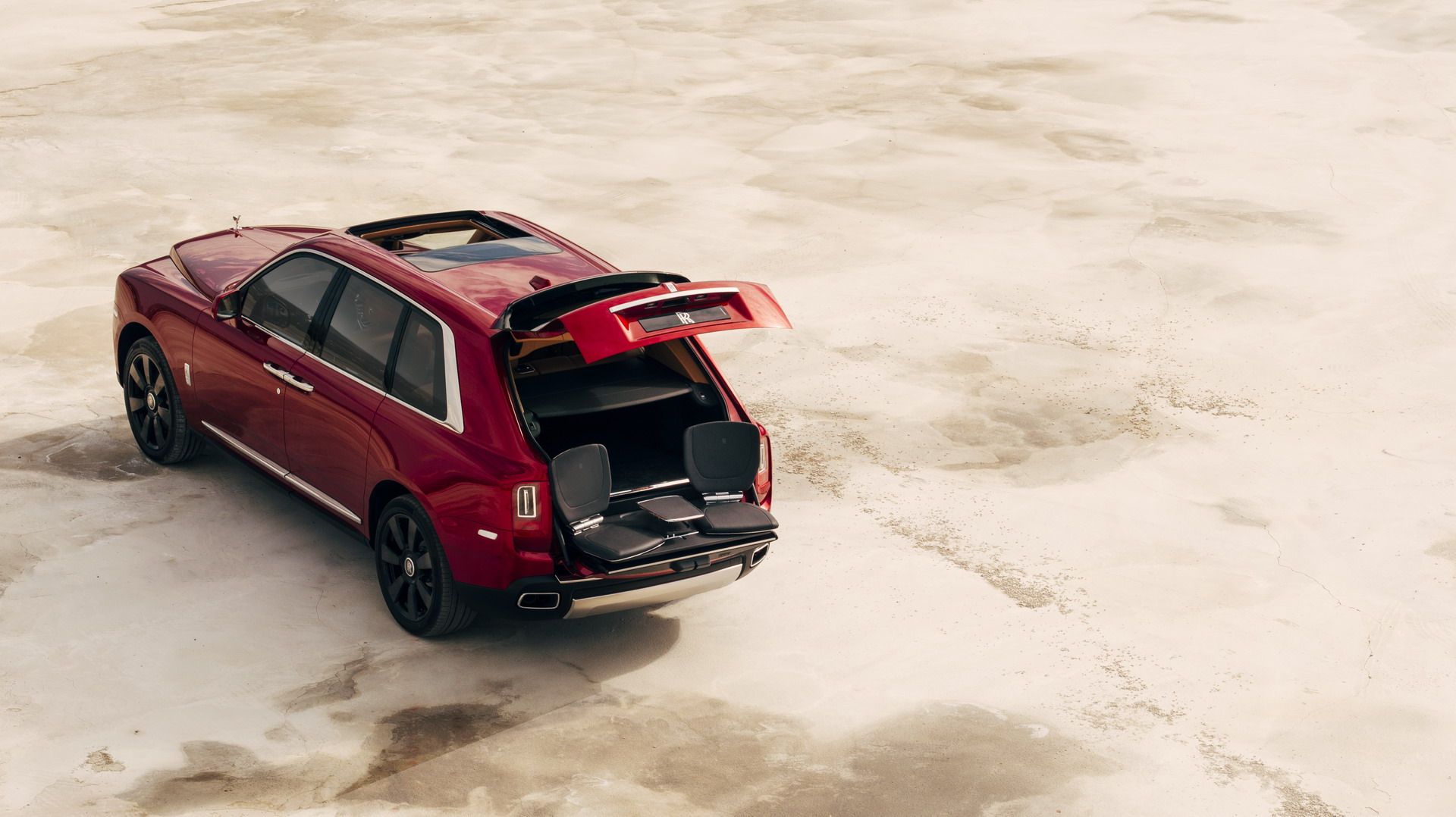 When it comes to the propulsion system, rest assure Rolls Royce did it in its own style as well. Under the hood, you will find the same 6.75-liter Twin Turbo V12 engine which is available in many other current Rolls Royce models. The engine is developed by BMW and is rated at peak power of 563 HP while the torque figures are impressive 850 N.m and that too is available at low RPM of 1600. Top speed of Rolls Royce Cullinan is electronically limited at 250km/h while the 0 to 60 numbers are still not released.
Rolls Royce Cullinan comes equipped with an all-wheel-drive system, first ever from the company and it is also available with an all-wheel steering system. At below certain speed, the rear wheel turn to a certain degree in the opposite direction as front wheels when steering input is detected. This helps virtually reduce the wheelbase, giving the vehicle more maneuverability at low-speed cornering. At above certain speeds the rear steering turns in the same direction as front wheels to a designated designed angle, this helps virtually increasing the wheelbase resulting in improved handling as well as stability at higher speeds. Double wishbone front axle and five-link rear axle is in use. There are no official details available if Cullinan has any towing capabilities.
Cullinan comes equipped with "Everywhere button." By pushing it, the sophisticated suspension, throttle and drive shaft system readjust themselves for any terrain automatically, and all available torque of 850 N.m is utilized to clear any surface. It is also equipped with adaptive damping system, self-leveling air suspension system which uses a special compressor and it adjusts the damping system so that all wheels remain on the ground for maximum traction while in off-road condition. Rolls Royce calls its active suspension system as a Magic Carpet Ride. No matter whatever the terrain the Cullinan goes without any trouble. The front windscreen comes equipped with a camera which monitors the terrain ahead and readjusts the suspension accordingly. The real-time navigation feeds the data to the gearbox which automatically adjust itself by shifting in higher or lower gear depending upon the upfront road situation, like downshifting in case of a curve.
Rolls Royce Cullinan has 21.2 inches of wading depth, highest among any luxury SUV, means it can move easily through water at such depths. When the vehicle is unlocked, the SUV lower automatically by 1.6 inches, and it goes up when the push start button is pressed. For the comfort of the passenger in the rear seats, a completely flat surface has been provided, and it comes with the broadest door openings for any SUV for easy ingress and egress.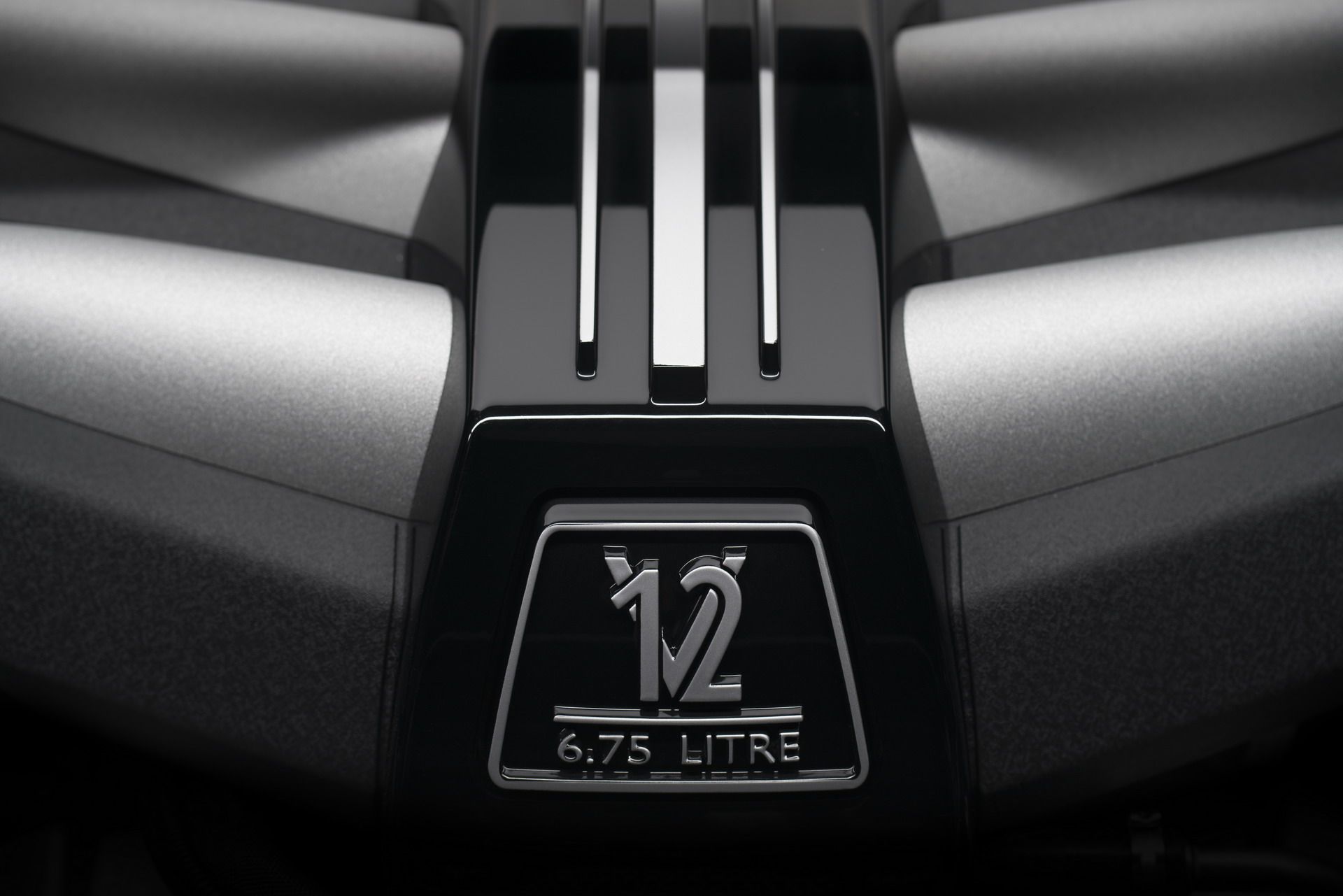 As far as the interior, it's not less than any exotic art gallery, luxury and elegance is dripping from every corner. The high-end material, perfect fit and finish and extensive use of hand-built trim pieces are used. Although everything seems modern, Rolls Royce still kept it close to its heritage. Cullinan is the first Rolls Royce vehicle with the touchscreen infotainment system. A high-resolution 7×3-inch heads-up display is made available as well. The passengers on the rear seats sits a little elevated with reference to the front seats, and this gives rear occupants a much clear and open view of the front. The SUV will be available with either a regular bench seat which can seat 3. Or two individuals if you get the center seat console out which can store refrigerated drinks.
Because it is an SUV, there is ample storage behind the rear passenger compartment. 22 cubic feet of storage is available while it can swell up to 68 cubic feet if the rear seats are folded down. Even the cargo space comes with hand weaved plush carpet liner to keep your cargo safe and secured. When it comes to safety; Rolls Royce Cullinan comes equipped with Night Vision and Vision Assist, daytime and night-time Wildlife and Pedestrian warning, Alertness Assistant, 4-Camera system with Panoramic View, all-around visibility, and helicopter view, Active Cruise Control, Collision Warning, Cross-Traffic Warning, Lane Departure, and Lane Change Warning. The heated steering wheel, as well as heated and ventilated seats all around, are part of the interior. Wireless charging 4G connectivity with WiFi compatibility is also provided.
Overall Cullinan can easily be called as the benchmark, top of the line luxury vehicle not only on paved asphalt road but also on any other surface. Although Rolls Royce always keep their vehicles above any other model in the market and does not compete with any other model, but Bentley Bentayga can be called its closest competitor. Cullinan is priced at $325,000 in the US before options. Clicking all available options can push the price above USD400,000. Deliveries will start by the end of this year, and the company expects to sell over 4000 units per year on average with North America, China, and the Middle East being the most significant markets for the model.