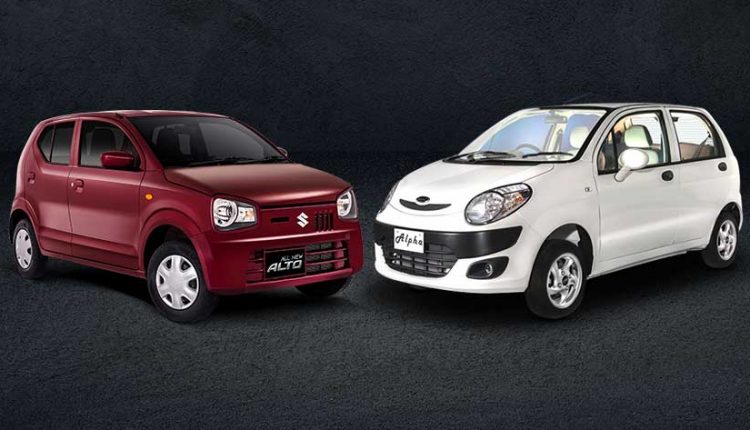 United Alpha Vs. Suzuki Alto – A Comparison
We are back with another car comparison, and in this article we are going to compare recently launched United Alpha with Suzuki Alto. With the launch of Alpha, the competition in hatchback has definitely intensified. The segment, being dominated by Pak Suzuki for years, now has new vehicles i.e., United Bravo, Prince Pearl and now United Alpha.
In this article, we are going to compare the salient features of both cars. So, fasten your seatbelts and enjoy this comparison.
Note: We are comparing VXR manual variant of Alto with Alpha because both cars have similar price range.
Engine and Transmission: 
United Alpha has 993cc engine, which generates 68hp and 93Nm Torque. In comparison, Suzuki Alto has much smaller engine with 658cc, producing 39hp and 56Nm Torque. The power train and size show that there is no comparison between these two cars. However, in case of gearbox, both vehicles have 5-Speed Manual Transmission, making them equal in this feature.
Airbags: 
On one hand, United has not installed any airbags in Alpha, while Suzuki Alto comes with Dual Airbags, making it much safer as compared to Alpha. The United Motors must work on installing this feature in its hatchback because airbag is not luxury option, rather an essential one.
 Alloy Wheels: 
In case of Alloy Wheels, Alpha has an edge because United Motors in offering this feature in its car. However, Suzuki Alto comes without them. The alloy rims are more beneficial, reliable and sturdy as compared to steel ones, hence, a good addition by the United.
Fog Lamps:
Like Wagon R, Suzuki does not offer Fog Lamps in Alto, however, United Alpha comes with them. This means that Alpha is easier to drive in foggy season, enhancing the comfort and convenience.
Power Steering and Power Windows: 
Both Alpha and Alto come with Power Steering, making them easy to drive and move in the traffic. However, when it comes to Power Windows, Alpha takes the lead as all of its windows are powered, while the windows in Alto are manually controlled.
Rear Wiper: 
United Motors is offering this small, yet vert beneficial feature, in its hatchback, while Suzuki has not installed the wiper in Alto. The rear wiper has never been offered by the local manufacturers, but times are changing and new launched cars are coming with this tool, which makes the driving experience easier.
Rear Camera: 
Taking lead yet again, United Alpha has the feature of Rear Camera, making it easy for the drive to park and reverse. Meanwhile, Pak Suzuki has not installed it in Alto, meaning you have to be more careful while parking your car, especially in tight spots.
Multimedia Screen: 
Suzuki Alto comes with conventional audio system, while United has given a rather chic look to Alpha's interior by installing 10-inch multimedia screen. Through this screen you can control Radio, Audio as well as Bluetooth Connectivity.
Price: 
The current price of Suzuki Alto VXR is Rs1,433,000, while United has launched Alpha with the price of Rs1,395,000. This makes United's hatchback Rs38,000 cheaper than its competitor.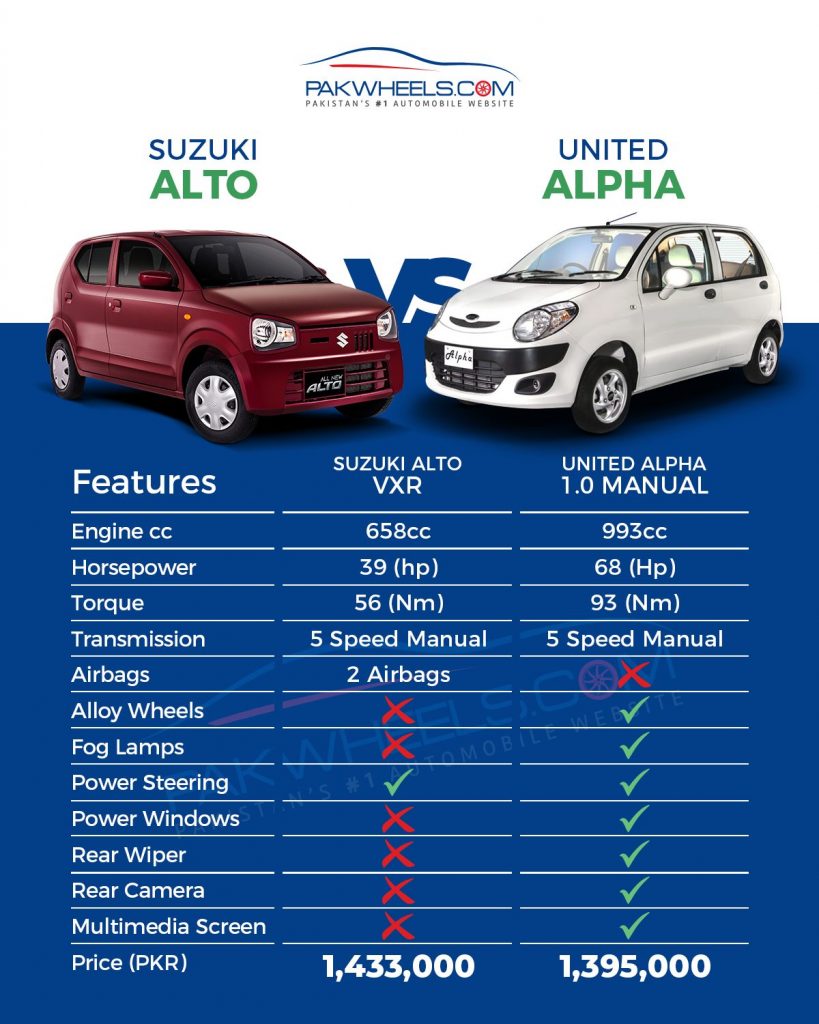 For more news, views, and reviews, keep visiting PakWheels Blog.