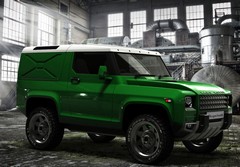 Unofficial Land Rover concept is how we want the next Land Rover
Land Rover is working quite enthusiastically to bring the all-new icon of the 4×4 world however, they haven't been quite successful with the concept DC100 as it did make headlines throughout the auto media, none of which seemed quite optimistic in it's success. The DC100 is outrageous as it is everything futuristic but lack the fundamentals of the long and lasting LR.
The Dezyn Smith as he likes to refer to himself, dreams up the next LR and does a better job than the folks at LR design studio. This design packs up the fundamentals of LR and is in fact to us, a better tribute to the original LR.
Talking with Pistonheads, Dezyn Smith tells about the design of his Land Rover concept:
"It was a tough one as I didn't see anything wrong with the looks – it just needed a bit of updating," he tells us. "Everyone does it: Porsche, Mustang, Camaro, Mini, Corvette, Jeep, Challenger, all the Golfs, in fact even the Range Rover. So I decided we keep the look but update it."
He further goes on to define that the Defender has actually not been able to defend itself against the Japanese as time has moved on and lost precious ground and goodwill to Toyota Land Cruisers and the likes.
By being both cheap and chunky the car, hopes the Dezyn Smith, will win back the ground it has lost to Toyota and Nissan over the past few decades. "A Defender doesn't need snorkels, spades and big tyres to be a Defender," he says.
"A proposal has been sent to Land Rover, and they are famous for supporting talent and creativity," says Mr Smith (flattery will get you everywhere). "I hope they support us to take this concept further." Well, we certainly hope so they do.
Via PistonHeads