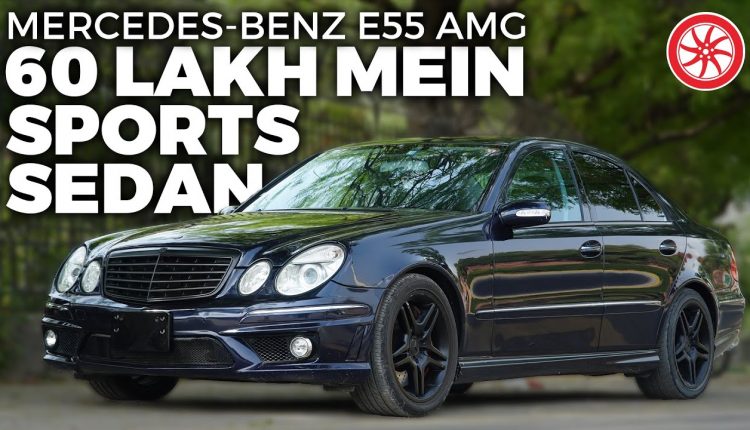 "A Converted Mercedes E55 AMG for Rs. 60 Lacs" – Owner's Review
Today we're back with the owner's review of a converted Mercedes E55 AMG. This sports sedan comes with a 5.4-liter supercharged engine that produces 469hp and 699-newton meters of torque. This particular car is tuned, so it's making 500 plus hp. Mercedes managed to make this generation of the E55 AMG the fastest production sedan globally at that time. It is a well-built, dependable car that many consider being one of the last true old-school Mercedes.
Buying Procedure
The base car used for this conversion was a 2003 E270 which the owner bought for  Rs. 18 lacs one year ago. Then he bought an E55 from Japan and imported its parts for the conversion. The total conversion cost Rs. 40 lacs, so this E55 cost the owner around 6 million. He also considered the E500 but chose the E55 as its 5.4-liter supercharged engine is known as a bulletproof engine because of its reliability.
Salient Features
The E55 has more features than the standard E class, including electric memory seats with lumbar support, paddle shifters, airmatic suspension, heated seats, Harman Kardon sound system, and a sunroof main distinction being the performance parts.
Fuel Average
The owner uses the E55 for weekends and occasionally drives it. "On normal driving, it gives a fuel average of 6 to7 km/l, but if I push it and want performance, it comes down to 2 to 3 km/l", he stated. It gives an average of 8.5 km/l on long, which is very impressive.
AC Performance
The owner is satisfied with the AC performance even in hot temperatures. The car comes with a 4-zone climate control system which is very effective for all passengers.
Issues and Spare Parts
The car has never faced any major mechanical problems other than minor issues. However, the E55's 5.4-liter engine is rare in Pakistan, and parts are not available. The owner sources engine parts from abroad, but body parts are interchangeable with the standard E200, so they are available readily in the local market. Considering it's a Mercedes, the prices of parts are obviously relatively high.
Maintenance
The owner changes the oil every 2500-km, and the average maintenance cost is Rs. 35,000, which is exuberantly high. According to the owner, all supercharged cars drink up oil, needing to be topped up frequently.
Watch Video