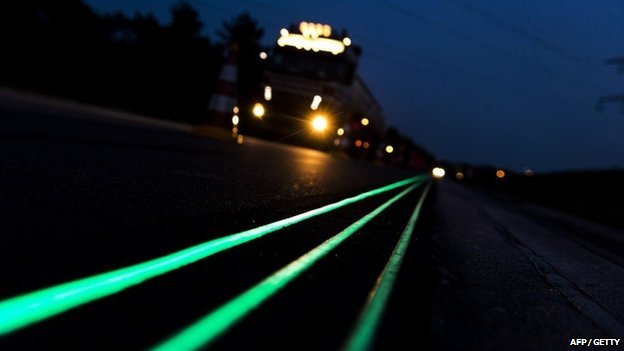 Glow-in-the-dark road project delayed due to technical glitch
Glow-in-the-Dark-Road project in NetherLand had high expectations which is in the process of experimental phases. Unfortunately, this project has been delayed because of a glitch, that the illumination and the brightness on roads through specific paints used by engineers was not enough in some driving conditions. There are some other issues engineers are facing in this regard that are yet to be resolved as well, such as; how will people see the lines during rain, and what if war breaks out and it would be quite easy for enemy aircrafts to see the roads to destroy them.
But this concept of brightening the roads through luminescent paint still have some worth, As according to experts who said that this concept have that much intensity in it which can won the best concept at the Dutch Design Awards. So it's not too late yet. The concept behind this experiment is very simple so anyone can understand it.
Basically, the lane edge lines or strips will be painted with a specific paint that has ability to absorb the ultraviolet light in day time and omit it with glowing in night. This concept is very valuable as could be considered the energy (electricity) saving from street lamps etc.
This project will be best in use for rural areas and on high ways. However; some demerits would take the importance of this project in-vein. Because as I said, this paint didn't work in many situations, like; heavy rain ete. But still, scientists are up with it and engineering firm Heijmans infrastructure is dealing to resolve the initial issues. They will go to test the next phase of Glowing-in-dark-roads in summers. As company plans are way above to introduce the smart technological highways.
The plan's have some specific origins of motion sensing roads light, the color changing roads paint will be adjustable according to weather conditions and all above is to save energy. Another aim behind this concept is to obtain wireless inductive charging that could be built with special lanes. Heijmans infrastructure engineers are affirm to make it happened as every breakthrough starts with one small step.