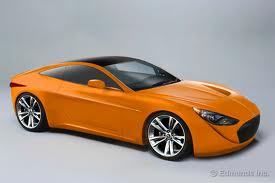 Hyundai's rumored to be planning a supercar to take on GT-R and 911
We've all heard that the South Koreans came to our country after independence and adopted our economic plan which we, the creators didn't follow but they did and now South Korea is an economic powerhouse.
While many others also have international presence but some of the most famous brands to come out of South Korea are Samsung, LG, Hyundai and Kia. Hyundai is the most famous; almost everyone recognizes it as maker of cars with presence almost everywhere, once they were in Pakistan as well but fell victim to our peculiar obsession with resale.
Two years ago, Renault's design chief visited Seoul motor show to promote Renault Samsung Motors and commended the talent it possesses in automotive design. Since first visiting Korea in 2001, le Quemont has witnessed the city transformed. He said that he likes the way things move quickly in Seoul, and those constant changes make it a good place for designers.
"I would have then established our design center in the heart of Seoul, if only I could," the Renault vice president said.
South Korea doesn't seem to fail in surprises on transforming themselves to become known as the likes of big names such as Chevy Corvette Z06, Nissan GT-R, Jaguar XK, BMW 650i, Porsche 911 and Cayman because these cars are what Hyundai is aiming for with a probable Hyundai super car as rumored.
Hyundai's super car will be powered by the new all-aluminum 5.0-liter V8 used in the Genesis R-Spec and Equus sedans. It will cost around US $ 80,000 to 100,000 and compete with some of the most unforgiving monsters of the road such as, Nissan GT-R and Porsche 911.
But Hyundai CEO John Krafcik says there is no supercar in the works. "No, no," was his response when we asked him about the rumor, which he called "scurrilous nonsense."
However the rumors regarding the new supercar persist, while the debate is being forwarded to the design proposal currently on the papers. Whether will it be mid-engine or front engine rear wheel drive car will be know in time very soon.
Pic via Insideline