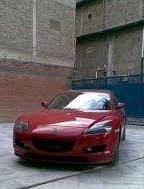 Searching for good value for money
Given the current situation of our price mechanism, prices these days rise like something as little and easy as blinking your eye – and as unexpected as you are about your next day's first breath.  Almost every product is now prone to inflating trend.  But since we're on the subject about cars so let's looks into the options we can find in a limited budget.
As Jeremy Clarkson once said that for some, a car can be a tool but it can also be so much more. It can be a heart-starter, it can be a drug, it can be a piece of art and it can stir your soul. After carefully judging yourself in the said quote, you should begin your search.
Today, cars are quite exorbitantly priced. It's very hard to call any of the prices of cars (new and used) as value for money. However, as odd as I may sound but a Mazda RX 8 gives the best value for your money spent, although the parts are very expensive and you have to remove the front-left wheel to take off the spark-plugs but, a Mazda RX 8 in very good condition comes at a price of PKR 1.3-1.4 million whereas the prices of new Honda City, Civic VTi Oriel, Toyota Corolla Xli and Corolla Cruisetronic SR  before registration charges, insurance, tracker and hidden strings is PKR 1.3-1.9 Million.
However, people may think that it has the same maintenance requirements as that of a Honda Civic or Toyota Corolla because we're comparing a car priced at PKR 1.4 million with cars priced at PKR 1.9 million but that is completely untrue of any sports car even if it is a Honda. Maintenance costs are not cheap; RX 8 consumes oil like we consume water and coke, and needs a 2-stroke premix if you want it last long, add it to your already heavy fuel costs of only hi-octane where the RX 8 has an abysmal fuel economy of 5km/l but then neither Toyota nor Honda recommend use of petrol other then hi-octane and your warranty becomes invalid if you install CNG in them. Also, Becareful with RX 8's part, almost everything from body panels to lights cost hundred US dollars and above.
There are good mechanics who know how to work on a rotary engine as well in Pakistan. The Mazda RX 7 driven by Shamyle Khuhro won the latest round 2 of Xtreme Autocross had its engine rebuilt here in Karachi followed by modifications for the race.
Rumors say that the next model of Civic will arrive at PKR 2.2 Million above and if you consider your car a tool then this is not your piece of cake but if your car is your soul-starter then you should buy it if you can keep it like it meant to be as there's no other sports car that you can really drive daily.