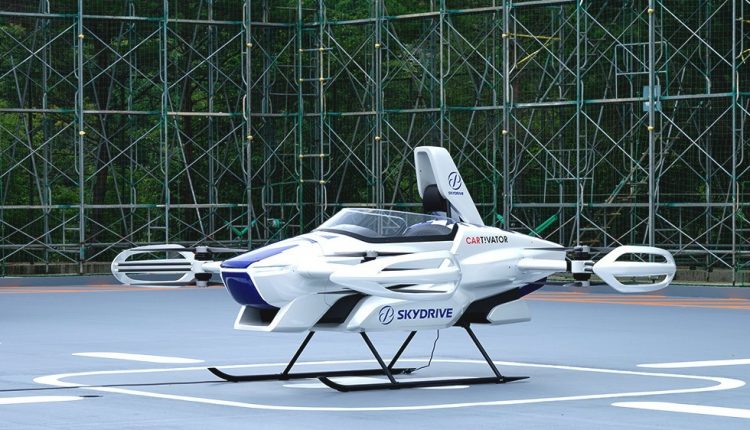 Suzuki is Powering Japan's First Flying Car
After electric cars, flying cars are the next big thing in the world. Multiple eVTOL (electric vertical take-off and landing) projects such as AirCar and Aeromobil are set to take to the skies in the US and other countries. The next eVTOL prototype in line is by Japanese company SkyDrive, powered by Suzuki. 
 SD-05 Air Taxi
SkyDrive first made the world's smallest eVTOL called the SD-03. It was a pretty little thing that could fly for 10 minutes in the air at the speed of 30 mph. After experimenting with the one-seater prototype, the company has now come up with a fully equipped two-seater flying car, the SD-05. 
SkyDrive is partnering with Suzuki to commercialize this air taxi with a speed of over 60 mph and a flight time of longer than 30 minutes. The company has achieved the milestone of getting a base type certification from the Japan Civil Aviation Bureau (JCAB) of the Ministry of Land, Infrastructure, Transport and Tourism (MLIT).

Official Launch
In simpler words, SkyDrive has received the Japanese government's approval for commercial manufacturing of the vehicle. Great start for SkyDrive and Suzuki's flying car project, but it's only the first stop. There's still a long way to go. The certification process could be two to three years long. The next stop is the flight demonstration of their SD-05 air taxi.
SkyDrive is confident to make it through the whole process and launch Japan's first-ever air taxi as soon as 2025. With Suzuki's help in developing the car's technology, we are positive that this one can make it.
That's another flying car for the world, not for us. We all know flying cars can't make it in Pakistan. Anyway, what do you think about Japan's first flying car? How is it looking so far? Rate SkyDrive and Suzuki's upcoming air taxi out of 5 and share your thoughts in the comments.