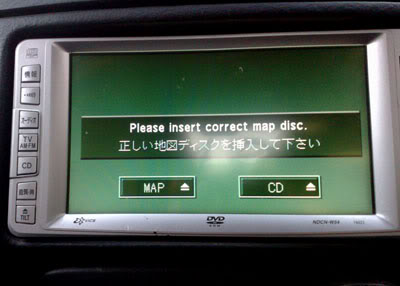 Vitz "Insert Map CD" Solution
For those of you who have a JDM navigation system installed in their Toyota (vitz, belta, axio, etc) and get the following message on their navigation system "INSERT MAP CD", i have the solution for you.
All that the system needs is a boot CD that will bypass this message. After that you will be able to use most of the features of the system like controlling the treble/base, maintenance log, etc. Everything, apart from the actual GPS navigation will be activated (for that, you require a map file of Pakistan, which unfortunately isn't available for any system apart from Garmin).
Usually you can go to the market (audio stores) and pay Rs.500-2000 for them to unlock your system.
Instructions:
First thing you need to do is to know the model number of the system you have installed in your car, for eg, NDCN W55 etc. (Model number is usually written at the bottom right of the unit).
After that, download the file from megaupload shared below having your system's model number. This will download a file called LOADING.KWI.
Once you have downloaded the LOADING.KWI file, burn the LOADING.KWI file to a blank cd. Here you have to take care of two things:
1) Don't put the file into any folder on the CD. The file must be in the root directory (i.e. it should be the only file on the CD. No folders or anything).
2) The name of the CD should be 86271-V416A8
once you have written the file to a blank CD, just insert the CD in your deck in the MAP slot, and you will be good to go.
ND3T-D54
http://www.megaupload.com/?d=IPKEWLIV
ND3T-W54
http://www.megaupload.com/?d=N24MJAS4
ND3T-W55
http://www.megaupload.com/?d=8JNKMNDH
NDCN-D55
http://www.megaupload.com/?d=1QU4JQ7S
NDCN-W54
http://www.megaupload.com/?d=3GXGDNA6
NDCN-W55
http://www.megaupload.com/?d=I33E8MKX
NDCT-W54e
http://www.megaupload.com/?d=YJWX96KJ
NDDA-W55
http://www.megaupload.com/?d=R2QSIO6M
NDCN-W56
Coming Soon

NDDN-W56
http://www.megaupload.com/?d=MG1CRTLC
NDDN-W57
Coming Soon
ND3T-W56
Coming Soon