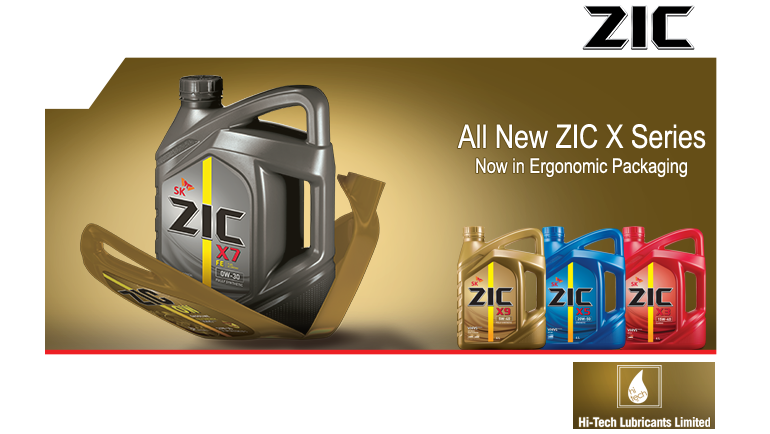 ZIC Oil Now Available In New Ergonomically Designed Packaging
Hi-Tech Lubricants has introduced new packaging for their ZIC motor oil brand. New packing is user friendly and is ergonomically designed for the ease of handling. Other than the new packaging, Hi-Tech has also introduced new classification of their products for the ease of consumers.
New packaging launch events took place in exclusive ceremonies in Islamabad, Karachi, Lahore and Multan for company stakeholders and retailers. Representatives of S.K Lubricants from South Korea, the partners of Hi-Tech Lubricants, were also present at the ceremony. Mr Kwon, the Senior Manager at S.K Lubricants along with the Vice President of S.K Lubricants, Mr Park were invited to the event.
Mr Hassan Tahir, CEO of Hi-Tech Lubricants, told the press that the purpose of changing the packaging was not only to provide attractive and user friendly carry cans for the customer, but also to prevent sales of illegal and fake ZIC branded oils from the market. He further explained that the step of changing the packaging is done after every five to six years, in bid to discourage sales of fake ZIC branded oils. Since the launch of ZIC oils in Pakistan, this is the second time packaging has been changed. ZIC oil at first was available in tin cans. Later, company started selling it in plastic bottles. And now, at this change, not only the design and colors of the bottles have been changed but also the classification of the engine oil. Mr Tahir said that company had to bear a major cost in order to change and start producing new packaging but the company is committed to sell only the best quality original ZIC lubricants to its customers, and the cost of repairs a consumer of bogus ZIC oil could end up bearing due the engine damage is unacceptable.
It was also mentioned that the new packaging ensures zero spill during the use of oil from the new bottle, and the new quality seal is more adhesive and strong, preventing any kind of contamination due to leakage or wastage during transportation and handling of the product.
Another aim of the redesign was to simplify the classification and naming of the oils. From now on, you will find X line of oils from ZIC, which include X3, X5, X7 and X9 engine oil. The purpose of renaming is to make it easier for a common consumer to remember and find his/her desired engine oil.