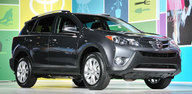 2013 Toyota RAV4 introduced at the LA Auto Show
Yesterday, we posted  few pictures of the new upcoming Toyota RAV4 which were leaked out on the internet a week ago as some say, just a week before the planned launch of the 2013 Toyota RAV4 at the Los Angeles Auto Show.
Today, it was rolled out on the stage at the show in front of large audiences to rival the Honda CR-V and as our recall the leaked images which weren't confirmed by Toyota, the real deal looks exactly like it.
However, more vital information is passed on the revealing occasion of the new Rav4 which wasn't available previously.
Toyota will never again offer six-cylinder engine in the RAV4 as the automaker announced that the standard powerplant will be a 2.5-liter four-cylinder (rated at 176 horsepower and 172 pound-feet of torque) mated to a new six-speed automatic. Consumers will again be offered a choice between front- and all-wheel drive. Fuel economy estimates are 24 mpg city/31 highway (FWD) and 22 mpg city/29 mpg (AWD).
Toyota Pakistan has said to start assembling the Fortuner so the RAV4 wouldn't be available here although this was the smarter choice for our country.