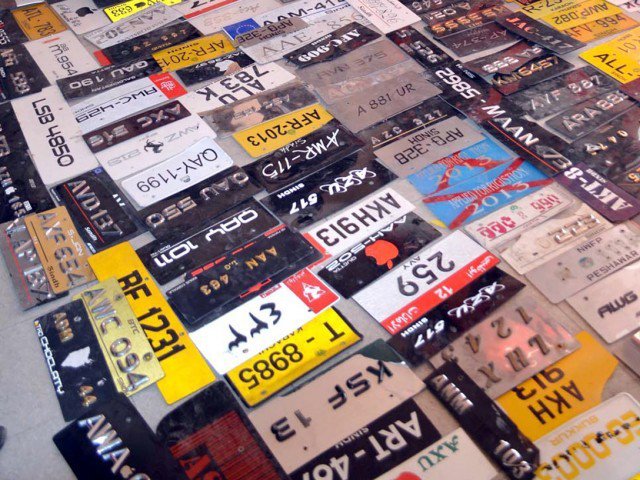 CM Punjab's Strategic Reforms Unit Set To Introduce Customized Number Plates
( Lahore) : The Chief Minister Punjab's Strategic Reforms Unit in collaboration with the Excise, Taxation & Narcotics Control Department is set to introduce customized number plates called "V-plates". The initiative forms a part of the SRU & ET & NC Department's Excise 2.0 project which will revamp and reform Excise processes by eliminating paper trails and introducing IT-based approaches. V-Plates will allow the government of Punjab to earn non-tax revenue which can be used for development projects whilst allowing citizens to customize their number plates given their preferences. To kick-start the initiative, the ET & NC Department signed a contract with SI Global Solutions on 6th July 2017. In this regard, Mr. Salman Sufi, the Director General SRU remarked: "The V-Plates initiative allows citizens to express their individuality whilst providing revenue for potential government projects for the benefit of citizens. Furthermore, this unique public-private partnership allows citizens to interact with corporate customer friendly processes."
Public-Private Partnership
SI Global Solutions, a renowned organization leading technology design and development, was awarded the tender for V-Plates after competing in an open bidding process. The firm qualified both financially and technically allowing the ET & NC Department to develop a Public-Private Partnership with them. SI Global Solutions will be designing a software and a Smart Phone Application for citizens to conveniently customize and order V-Plates. Through this partnership, on each purchase of a V-Plate, 67% revenue will go to the government and the remaining 33% to be will go to SI Global Solutions.
V-Plates Sizes & Features
V-Plates will contain all the security features present in authorized ET & NC number plates. Prior to the introduction of V-Plates, citizens were customizing their number plates in an illegal manner. To legalize the customization of number plates, whilst earning the government non-tax revenue, the SRU made the following amendments to the Punjab Motor Vehicle Ordinance 1965, Chapter 3, Section 25, Clause 4(A): "An owner may submit an application to the registering authority for allocation of personalized vanity plates that are linked with a particular registration mark and the owner shall display on the motor vehicle the personalized vanity plates." These number plates will be camera readable, will be made of the retro-reflective material, uni-directional security marks, uniquely identified laser serial numbers as well as embossed alphabets and numbers. Moreover, Each V-Plate will be designed according to the following size specifications:
• For Four-wheelers:
520 mm X 114 mm,
372mm X 133mm
Existing Punjab Number Plate Size: 302 mm X 152 mm
• For Two-wheelers: 202mm X 65mm (Front) and 152mm X 130mm (Rear)
• For rickshaws: 202mm X 152mm
First Phase: Corporate V-Plates
Once the V-Plates initiative is officially launched, the first phase of V-Plates will include corporate V-Plates to be given to corporate clients. These will include the names of corporations customized on their employees' vehicles. The price schedules of these number plates are yet to be determined by the SRU, the ET & NC Department, and SI Global Solutions.
Second Phase: Personalized Plates & Cause-based Plates
Personalized V-Plates will include numerical and alphabetic combinations that are not offensive to any person, religion or cause. No foul language, offensive content, hate speech, religious or political affiliations are to be mentioned on the V-Plates. There will also be an option to customize number plates with national heroes (non-political in nature) from a list of 10 national heroes available to choose from. Citizens will also be able to customize their number plates to support various causes including breast cancer awareness and disabilities awareness.