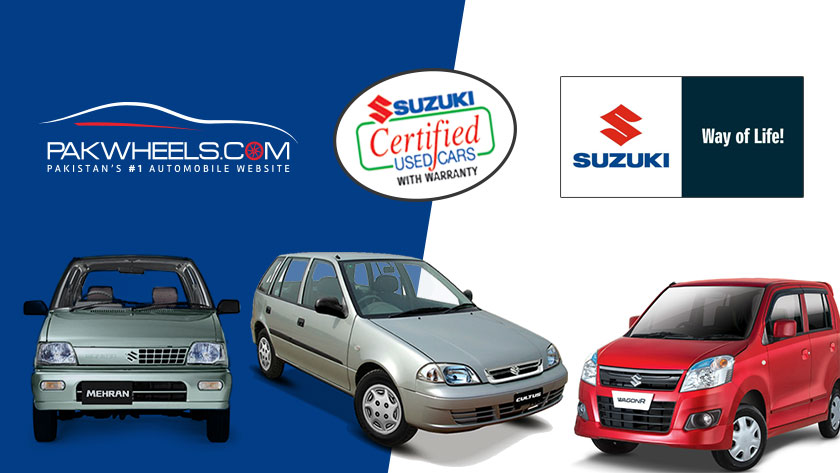 PakWheels.com and Pak-Suzuki launch online Suzuki Certified Used car Buying/Exchange portal
Lahore: PakWheels.com, Pakistan's largest Automobile website, and Pak-Suzuki Motor Company Limited have joined hands to launch Suzuki certified used car portal. The aim of this venture is to launch an interactive, direct-to-consumer, 'car buying and exchange online program' on PakWheels.com. The users will be able to buy Suzuki certified cars available at Pak Suzuki authorized dealerships from the comfort of their homes; also having a unique opportunity to exchange used cars with new Suzuki cars.
Suzuki certified used cars are the most reliable and safest used car alternatives available in the local market.With more than 130 evaluation checkpoints, up to one year warranty and a maximum age of 5 years or up to 75,000 KM driven (whichever occurs earlier); Starting from 10thJuly 2017, users will be able to browse, choose, and buy/exchange Suzuki certified and non-certified used cars available at Pak Suzuki authorized cars dealerships, listed on PakWheels.com.
The purpose of this partnership is two-fold: to enable Pak Suzuki authorized dealerships to sell their used cars and to provide PakWheels.com's customers, option to buy/exchange reliable used Suzuki cars.
On this occasion, Co-Founder and CEO PakWheels.com, Raza Saeed said, "We are very happy to partner with Pakistan's largest auto-manufacturer and bring Suzuki certified used cars to buyers across Pakistan through our online portal."
"We see this as an opportunity for both parties to enjoy notable benefits; the dealerships will be able to sell certified cars, while the buyers will have a reliable marketplace to buy or exchange their used cars with new Suzuki cars, Saeed added.
Executive Officer Marketing and Sales- Pak Suzuki Motors; Mr. Azam Mirza emphasized that this partnership between Pak Suzuki and PakWheels.com is first of its kind OEM-Online Portal partnership. He added that although Pak Suzuki is the No.1 manufacturer and marketer of Brand new local assembled and imported Suzuki vehicles; we also strive to enhance motorization by providing affordable, good quality certified used cars to customers as well.
These Certified Used cars are not only evaluated and checked at authorized dealerships but are also certified by Pak Suzuki Company Engineers. After the certification by Pak Suzuki; up to 1 year Pak Suzuki used car warranty is also extended.
He further added that we will be closely monitoring the results of Certified Used and new car sales through Exchange from this Online Platform and we have high expectations from PakWheels.com to promote Suzuki Certified Used Cars Portal.
Founded in 2003, PakWheels.com has become Pakistan's #1 automotive portal. Over 30 million consumers visit PakWheels.com every year to buy, sell, compare and learn about automobiles. With a billion page views, annually, PakWheels.com ranks among the largest internet based platforms in Pakistan. PakWheels.com aims to revolutionize the way automobiles are bought and sold in Pakistan by providing features and services that simplify the process of transacting automobiles.