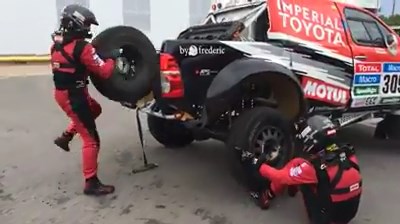 Tires are one of those parts of your car that take the most amount of beating. In motorsports, tire changing is one activity that is not only inevitable but also, quite time-consuming. In autosports like Formula One where 10th of seconds decides the winner and the second place, a three-second tire change is considered just below average.
Formula One has the luxury of virtually unlimited budget and teams literally spend countless hours practicing and honing their tire changing skills. Also, since the racing is done at a circuit where each team has their allocated garage with all the state of the art technology and best possible equipment, the tire changing is not as such an issue.
Also Read: These Are The Different Types Of Tyres Used In Formula One Racing
But then there are races where the circuit is actually just a gigantic piece of a desert; like in Dakar Rally. And driver and co-driver have to change the tires themselves in the middle of the race if something unfortunate happens. Tire changing is quite a physically demanding job and during a race, if you suffer a puncture, you could be in a lot of trouble due to all the physical exertion even after you are on the road again.
So to come up with a solution of finding a way to change your vehicle's tires as quickly as possible, Dakar Rally race teams have come up with automatic jack systems that can lift the punctured side of your car for you to change the tire. You don't need those manual hand jacks anymore to lift the car. Christian Lavieille posted a video of his racing team changing the tire on their Toyota as a practice for the rally. Driver and co-driver were able to change the massive tire in under one minute. Pretty impressive if you ask me.
Watch the video below:
Training change of wheel session two, team Overdrive Racing Motul Dakar Rally Imperial Toyota Dakar

Posted by Christian Lavieille on Thursday, 1 January 2015