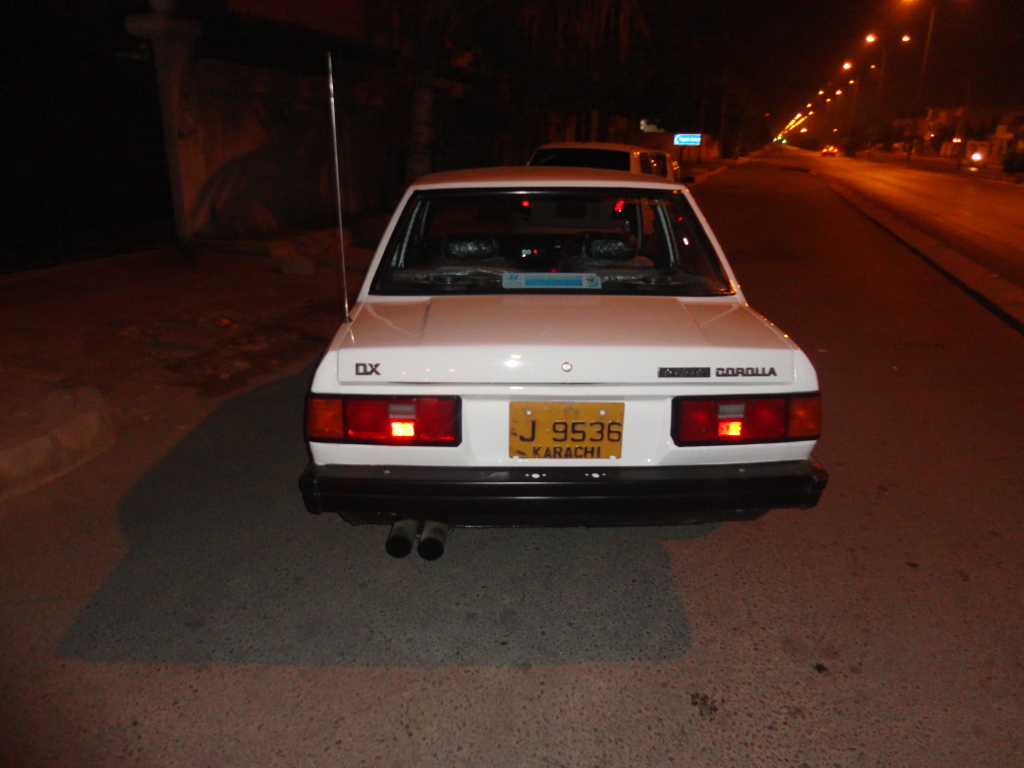 Don't Mess with this 1983 Corolla
Car enthusiasts are of various kinds, while people like us are very less in number however, those who just do it to impress girls or for everyday pimpin' by ricing out their daily driving front-wheel-drives cars with a fart cannon (exhaust), body kits and what not are in abundance. To them, switching from CNG to petrol has the same effect as that of NOS.
The word modifying is limited to car's cosmetic to them but to the true car enthusiast, the best car is that which goes unnoticed by everyone but has the biggest heart which everyone gets to know when its tried and tested and such car is called a 'sleeper'.
This will seem to you as a normal, calm and peaceful 1982 RWD Corolla used as a daily workhorse however, there's more than what meets the eye.
Known as the KE 70 Corolla amongst car geeks, it is also the second preference of drifters worldwide after the Hachiroku (AE86) Corolla and the chassis of KE70 is as good as that of AE86 Corolla. That is why PW member, ke70_2tone decided to create a sleeper for his daily driving needs.
Aces of Pakwheels such as Xulfiqar, commented on his project saying that; this is a car which people will call as the ultimate combination of simplicity, balance and power.
So what makes this Toyota Corolla Car so special, so monstrous, so much so that we have called out a warning to not mess with this car on the roads. Basically, the trend of engine swaps for power gain in Pakistan has everything but proper performance in mind from all around the car. Those who do it skip everything else more important than the engine such as suspension, brakes, aero, etc and create a car that behave like athlete competing in a sprint race with high-heels.
The engine is always too heavy, neither suspension upgrade nor people bother about the brakes on their cars resulting in lack of traction and waste of rubber however, this KE70 Corolla has Nissan Sylvia's SR20DET engine swap, upgraded brakes and suspension and everything nice to create the perfect combination of power and agility.
So we put forward some questions to Salman, the owner of this project and he was kind enough to tell us everything without keeping any secrets.
Q: Why is it better than any other engine? Very close to being bolt-on or not?
A: It might be not as powerful as its rivals like the 3sgte or 1jzgte but it has potential and more power over any 4age category because sr20det is factory turbo with 205 bhp and the reason I choose it for this car is that its lighter then the 1jzgte and has better power to weight ratio while you can keep the A/C with this setup and also, no one knows what's under your hood. It's not a bolt-on but it fits the bay with sr20 transmission just by making mount which every engine needs and most importantly, the tranny is long and sits with nest to handbrake lever so you'll have to make a shifter extension moving it a little forward for your OEM shifter specs like I had to forward it 4 inches done by Imtiaz ustad.
Q: How much would this engine cost in PK?
A: No idea because I bought a full half-cut S13 Silvia however, the engine alone starts from 1.5 to 2.5 lacs depending on condition. Also, to keep in mind that since this is a MAF engine than you have to be careful about the sensors because they are very expensive and if even one's missing than you're gone.
Q: How long did it take you to complete this swap? I mean can a average enthusiast unlike
you can do it?
A: It took me around 7 to 8 days to put engine and tranny while wiring and everything else took around 30 to 40 days. It however started fine for me because no sensor was missing and I had uncut wiring using Nissan Silvia's copper radiator and electric fans. But it was a challenge I created for myself, so I did it at any cost but an average guy cannot do this but if he has a heart and big money than yes anyone can do it and most importantly, parts aren't available in Pakistan and can only be sourced out from USA within 7 days and this the reason why Toyota's engine are cheap.
1jzgte swap is less expensive and you get 280 bhp but you will risk your life for 6 cylinders which is not meant for ke70 and you'll also not be able to use the car as a daily driver which I am using this car as since I did not cut a single thing in my car. Take for example Salman's ke70 which has a 1jzgte – and is only good for drag racing. But how many drags you'll do? – at the end of the day you need a peaceful drive. The sr20det will break the rocker arm stopper if you drive crazy on the rev limiter which is after 8000 rpm max but you can easily go to 7500 rpm with stock head.
Q: How much do you estimate the car's BHP now?
A: Mine is a stock engine with basic-performance-upgrades and stock turbo, it puts out 250 bhp on the crank while 220 hp at the wheels. The stock block is rated for 400bhp though.
Q: What suspension are you running to avoid going airborne and killing yourself?
A: I have rear kyb shocks with lowering springs and have coilovers at the front taken AE86. Also, 1981 Corolla strut tops are different so they won't work in an 82 corolla as it will fit from top struts but you need and ae86 steering arms at bottom. 1983 and the last generation of ae86 corolla is same in parts so I got lucky and got my hands on ae86 Cusco coilovers with Project MU brake pads and racing slotted drilled rotors so its stiff as hell like Nissan Silvia s13. And if you're able to, than do yourself a favor and get yourself Prothane bushes from USA which hardly costs 120$ for ae86 and it is completely bolt-on for the ke70.
Q: Brakes set up?
A: Slotted drill brakes from ae86 fronts only and rear corona or hilux custom brakes on drum. Never use drum though, it's a stupid thing – it locks itself while driving so you get the picture what I have been through many times.
Q: Mileage and maintenance?
A: half-cut of s13 with cluster was 155000 kms and add another 27000 kms on the car and its engine compression is still strong and have the same numbers on every piston. As far as maintenance goes; I change my oil every 1500 kms and for my safety; I use a 20w50 Havoline and Nissan's genuine oil filter while for tranny – I use gl4 oil (never use gl5 as it harms your synchro) and for the differential, use any gl5 as it's up to you to choose.
Q: Cont' – Nissan's engines are not known for cheap parts that's why people tend to choose
them less for swaps in Pakistan?
A: No doubt this is more expensive than Toyotas because it's a 7000rpm recommended engine while we push to 7500rpm but useless as turbo breaks power at 6700 so people take it to 8000rpm which causes the hydro lifter to break the entire sr20s valve-train which is very poor because of rocker arms and timing chain engine. But, if you put rocker arm stopper, small cams and valve-spring retainers and then push 8000rpms – it won't have coil bind and if you want to rev to 9000rpm than you need solid lifter setup like HKS step 3 head kit for 3000 dollars without cams and gears. Also add the gt30r turbo for 400 bhp. Every part is expensive for Nissan from sensor to turbo to block parts to valve-train so 1jz is better in that case but then again –  what about the power-to-weight ratio of the car?
Power-to-weight ratio is the most crucial aspect of modifying any car, a car which you can enjoy 24/7.
For more pictures and info, click ke70 corolla 2 tone.