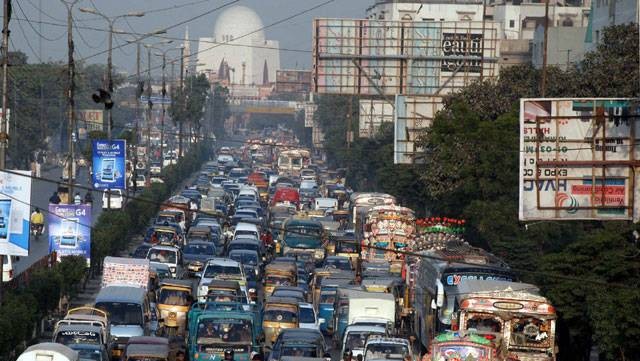 Ever Wondered Why You Are Stuck In Traffic When You Can't See Any Broken Down Car?
Everyday, I take Shara-e-Faisal (Karachi) to come to office and then go back home. It is the main road on which I travel the most, around 26 kilometers daily. And on my return to home, I face traffic jams on a daily basis. It is an everyday routine. Before leaving, I prepare myself mentally that it is going to be busy and crowded and slow. This happens everyday. I can remember few days when it was not as busy as usual and I got home on time. Otherwise, there is no way to escape the rush hour.
But one thing I noticed was that even though traffic is dead slow, you don't get to see any upside down donkey cart, or an old car with smoke blowing from under the bonnet, or two rickshaw drivers have a go at each other. There is nothing that is apparently causing the jam, yet there it is. For people who don't live in Karachi, Shara-e-Faisal is mostly signal free. There are couple at the extreme ends of the road, but on my commute, I don't come across any. So even though you don't see thing causing the slow traffic, you're still stuck in it.
Well this is what is called the 'accordion effect' or 'concertina effect'. This phenomenon happens when a body in motion gets disrupted, and it causes the disruption in the motion of the bodies following. In traffic, when this happens, you end up with start stop traffic. You accelerate, then you brake because the vehicles in front are braking, and so are the cars in front of them, and so on and so forth, until you pass the origin of the disruption. This invisible traffic jam moves backwards. So lets say a car did break down on a busy road such as Shara-e-Faisal, and eventually it was pushed to the road side, the disruption it caused behind will stay and keep on causing the continuous start stop traffic. This, in short, is what the accordion effect is.
You don't even need a broken down vehicle, even a driver who suddenly disrupts the traffic by driving slowly and making following cars brake behind can cause this kind of jam as well. It is called accordion effect because the traffic is moving in the motion of an accordion; vehicles bunch up behind each other, then pull apart again, and continue to do so, until the jam is left behind.
Watch this video below to understand how this happens, even though you don't need any physical entity that is causing the start stop traffic.