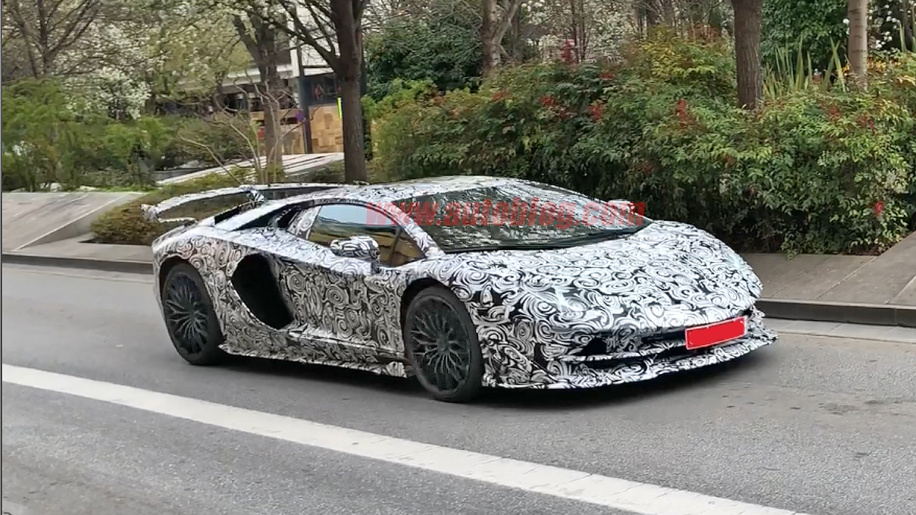 Lamborghini Aventador SVJ aims to set a new lap record at Nürburgring
We know that the industry-top Italian automobile brand Lamborghini is getting ready to reveal its Aventador Superveloce J, what you didn't know was that the upcoming beast could be gunning for a production car lap record at the Nürburgring as a bonus point in the brochures. Of course, such an achievement would be far more critical than just being a part of brochures, we could very well see Porsche 911 GT2 RS' record shattered by the new Lamborghini Aventador SVJ.
Last year, Lamborghini Huracan Performante set the best lap time record for The Green Hell with 6:47.01 on the clock. The record was beaten in September last year by Porsche's 911 GT2 RS with the GT2 completing the lap about five seconds earlier than Huracan Performante, at 6:47.25. Now, Lamborghini wants to take back the record has used the track-biased Aventador SVJ to best Porsche 911 GT2 RS' performance by two seconds.
While both the cars are supposed to be "production cars", but they are launched in limited numbers. Porsche built only a thousand of the record-holding car and it is rumoured that Lamborghini will build a much lesser number of Aventador SVJ. This also seems the right time to discuss the letter 'J'. Lamborghini has only built 600 Aventador SVs and the 'J' in the upcoming model stands for "Jota", which is how you pronounce the letter "J" in Spanish language. The upcoming Aventador SVJ has bee spotted on a number of videos recording the supercar's attempt to set the lap time record at 'Ring. Lamborghini hasn't responded to any queries on the matter, for now.
When Lamborghini Aventador SV attempted to set the record for Nürburgring's Green Hell track in 2015, it was late by 12 seconds than the record that Porsche made two years later. Given that Aventador SVJ is being built to break Porsche 911 GT2 RS' record, we can assume that the Italian brand will have upped the output of the 6.5-liter beast to about 790 horsepower. Other expected changes include a heavy-duty weight reduction, the sculptured rear wing, some very serious aerodynamic design traits like a larger front splitter, and a higher dual-exhaust blown diffuser.
A few months ago, it was suggested by a rumour that an Aventador SVJ lapped the track with a coned-off section in 6:54 while navigating through traffic. If that is the case, then it may not seem impossible for the Aventador SVJ to break Porsche's record on an empty track.