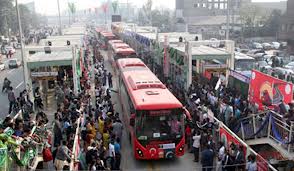 Metro Bus Lahore will be free to ride on 14th August
Punjab Government has just announced that the Metro Bus service in Lahore will be free to ride for everyone on 14th of August in celebration of Independence Day as many news outlets have reported.
Metro Bus service is already very crowded and fares were introduced to keep the queues to a minimum, manageable level but on August the 14th, security arrangements are being made to manage the expected increase in travelers.
We have a feeling that the Metro Bus station will be a scene of total chaos that day and the news headline should instead read "Avoid Metro Bus on 14th of August at all costs".