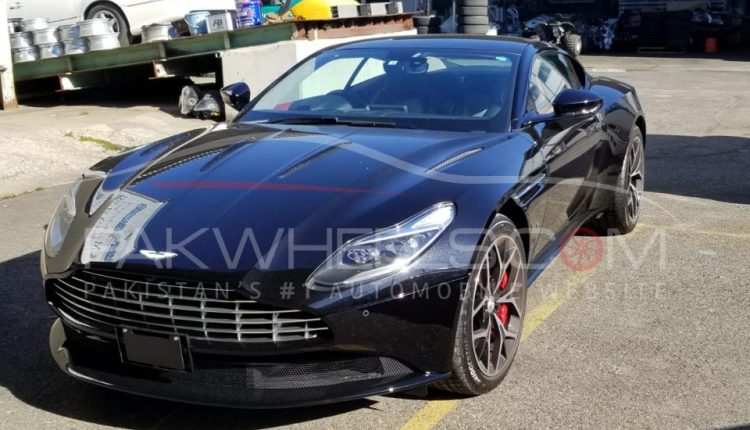 Pakistan's first Aston Martin DB11 spotted – Take a look!
Aston Martin's DB11 model has been spotted arriving in Lahore as it's the first unit of the car that has made its way to Pakistan.
Aston Martin is a British luxury car manufacturer that produces the DB11 model as an exemplary grand tourer segment car. The official production of the car started in September 2016 after it made its debut at the Geneva Motor Show in March 2016. Also, it's the first car Aston Martin has launched since its tie-up with Daimler AG. It comes in two types of body styles i.e. 2-door coupe and 2-door convertible. Aston Martin DB11 comes in two different types of engine capacities under rear-wheel-drive mode.
It has a 4.0-liter Mercedes-AMG M177 twin-turbocharged V8 engine mated to a rear-mounted 8-speed automatic transmission which produces a maximum output power of 600 hp at 6500 rpm and a maximum torque of 700 Nm between 1500-5000 rpm. It accelerates from 0-60 mph in 3.6 seconds. The other engine option is the 5.2-liter Aston Martin AE31 twin-turbocharged V12 under the same 8-speed automatic transmission mode. It produces a maximum power of 503 hp and a maximum torque of 675 Nm. It can accelerate to 100 km/h in just 4 seconds. Note here that the car's predecessor was Aston Martin DB9. The model spotted in Pakistan is a DB11 coupe. Have a look at its exclusive pictures below:
Aston Martin DB11 has an incredible sporty two-tone interior in red and black.
In terms of designing, it has new roof streaks which separate the body from the roof. It also has aero-blade intakes at the front and the bonnet is made from a single piece of aluminum. The luxury carmaker uses an all-new riveted and adhesive-bonded aluminum platform for its production. It is worth mentioning here that DB11 is the most powerful and efficient model of this series in Aston Martin's history.
Drop your thoughts on the story in the comments section below. Stay tuned to PakWheels for more automobile-related updates.
Recommended for you: Nissan GT-R R35 Owner's Review – Have a look!