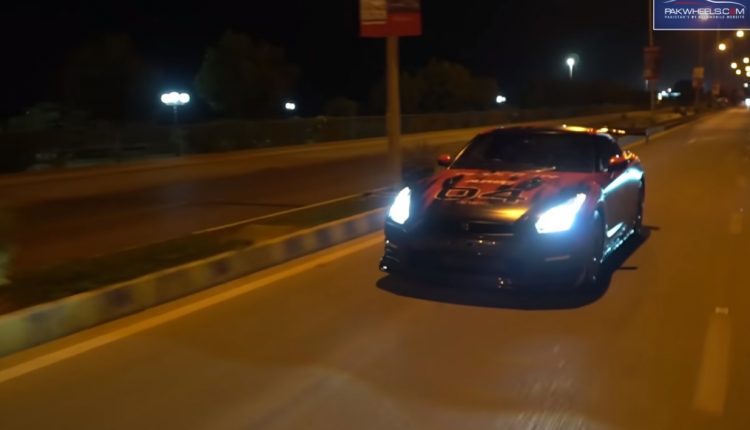 Nissan GT-R R35 Owner's Review – Have a look!
Keeping up with the tradition of bringing exclusive content for our readers, we have brought an owner's review of Nissan GT-R R35.
This is the 2008 Nissan GT-R R35. The owner bought this car back in 2017 in stock form. After purchasing this car, the owner gradually modified it to his taste. This shape has been consistent since 2007. The GT-R has a rich performance history, and this car is a testament to that history. This is the longest production model by Nissan. This is due to the superior technology that this car comes with that makes it compete with the likes of Porsche 911. The owner has put in a lot of time and effort to build this car. He himself did a lot of research on parts and had a great team that built this amazing car. 
Exterior
The exterior styling and design language ooze the sportiness and performance orientation of this car. The exterior design ensures that the GT-R gets a road presence. This car also has frameless windows. Even though the ground clearance is relatively low, the car goes over bumps fairly easily. The car in this review has a grey exterior; however, you can get GT-R in funky and sharp colors as well. You can but this car in race mode with suspension in race mode as well if you want to take this car on a track. There is a big rear spoiler on the top of the boot. Every design line on the exterior of the GT-R is made in such fashion so as to channel the air on to the rear spoiler. This improves the stability and handling of this car. The width of this car is also optimized so as to improve stability, which helps a lot in cornering. Overall the exterior design is not polarizing, yet it gets the job done and helps this car stand out. 
Interior
As soon as you open the door of this car, the interior dials and toggles, sophisticated technology, chunks of grey and black plastic, and a giant steering wheel with exposed metal intimidate you. This car comes fitted with a Bose Premium sound system. This sound system is exclusively developed for Nissan GT-R and comprises of 11 speakers. Subwoofers for this system sit between the rear seats. The trunk is used as a giant bass enclosure for the sound system. Heated seats are also provided to keep you warm during winters. 
The interior design of this car is simple, which makes it easier for the driver to reach for different controls. It also has an automatic gearbox as standard that makes driving in the city fairly easy. There is also the option of getting Recaro sports seats in the GT-R. Only two adults can sit comfortably in this car with kids in the rear seats. The rear seats are small and have tight headroom and legroom. There is a central cupholder in the rear as well. The boot is also on the smaller side and can fit a large suitcase only. 
You can spec your GT-Rs interior in two-tone colors like maroon and black. The steering wheel has controls lai out in an unconventional manner. The right side of the steering has media controls, and the left side has controls for performance gauges. There are carbon fiber accents throughout the cabin, especially in the center console area. The push-start button is given in the center console behind the gear lever. 
See the video reviews of Nissan GT-R R35 below:
Performance 
In stock form, the GT-R R35 produces 450 bhp; however, after modifications, it now produces between 1300 to 1350 bhp. This power output makes this car the fastest one in Pakistan. The Nissan GT-R comes with a 3.8L twin-turbo V6 engine. The owner increased the power from 450 to 1300 bhp in steps. First, he increased it to 600 bhp then to 850, 1100, and finally to 1300 bhp. The owner uses E85 ethanol fuel for this car. This car also comes with paddle shifters. The information cluster provides information on acceleration, boost, brake, engine oil temperature, water temperature, fuel range, torque, steering, and speed. 
In the early days, this car had some problems with the transmission, specifically with the launch control system, which was too harsh. Putting the car in launch control was damaging the transmission. There was also a recall by Nissan of transmissions in 2009 due to the same reason. This car, however, does not have this problem as the owner changed its transmission. Now, this car has a Sheptrans transmission fitted to it. This car goes from 0 to 60 mph in 2.4 seconds. It does a quarter-mile in just 9 seconds. Right now, this car returns 3 to 3.5 km/l, and in the stock form, it used to return around 5 km/l. According to the owner, this car can reach a top speed of 400 km/h. 
Comfort and Handling
This car can be driven on a daily basis due to the level of comfort that it provides despite being a performance-oriented car. Due to dual-clutch transmission, it is easier and comfortable to drive this car around town and on the highway. Toyo tires are fitted to this car that is good for the amount of power that this car produces. Handling is improved by a four-wheel-drive system that comes with this car. It also helps in acceleration from a standstill. Traction and vehicle dynamic controls help in handling as well. 
Safety 
There are Brembo brakes fitted to this car, which makes it safer considering it has 1300 bhp and can travel at very high speeds. It is also advisable to install capable brakes when modifying your car. The owner wants to install carbon-ceramic brakes in the near future. The intelligent mobility system from Nissan makes this car safer. The zone body construction helps in absorbing impacts in the case of an accident. There are six airbags in this car as well. The tire pressure monitoring system helps in maintaining optimum tire pressure. Other safety features include ABS and EBD. 
Verdict
The Nissan GT-R 35 is a reliable car and can be tuned to produce astronomical amounts of horsepower. This is one of a kind car, and it appeals to true car enthusiasts. There are very few Nissan GT-Rs in Pakistan, which makes them very interesting and appealing. Maintaining such a car is expensive and time-consuming. Spare parts are not readily available and have to shipped in from abroad. This also makes them very expensive at times. You also need a trained and experienced technician to maintain your car over time. As far as driving pleasure is concerned, Nissan GT-R R35 is one of the best cars out there that you can try. 
Stay tuned for more news-related and informative content and drop your thoughts in the comments section below. 
Recommended for you: Pakistan's first Aston Martin DB11 spotted – Take a look!