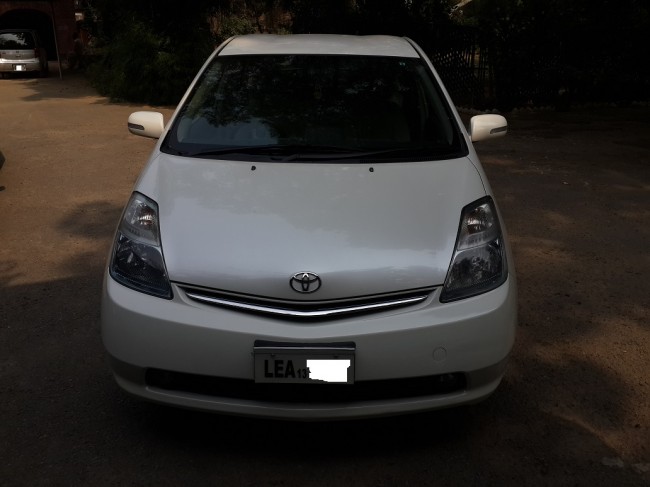 Saving yourself from mechanics and vendors
Sometime ago, the bumper of my Prius got damaged in an unfortunate accident. The front registration plate and lower grill got broken, which prompted me to go to Mont' Gomery Road in Lahore, which is close to my home and is a famous place in Pakistan to get parts and your car fixed. However, you'll find a lot of people advising against going to to Mont' Gomery Road as the vendors and mechanics operating over there are rip-offs, especially those who aren't well informed.
Regardless of the advise I got, I put up my investigative glasses and decided to explore this avenue as well. Here's how it all went down:
Arrived at about 2 PM, which is considered a peak time there. The following tasks were at hand to be done:
Repair/Replacement of LED light Front number plate.
Repair of Bumper scratches (By compounding I estimated).
Repair of lower bumper grill (a little weld maybe).
Once parked int he parking of Shell station, I set off to talk to the people who had their stalls against the wall of the station.
The Number plate guy said, "Yeh toh nayi paraygi (You will have to get a new one)", I said it's just one crack at the side and two wires are hanging out, just fix these wires and it will be OK.
But he was adamant that, "Naa, yeh ager taar nikal gayi toh theek ni hoti (Once the wire is out, only solution is replacement)". I tried to convince him to just fix it, as he quoted a new number plate for 1000 PKR, not one Rupee less.
Anyways, the bumper person said that the Scratch had removed the paint altogether and only solution was to paint the area. Again I pleaded to try compounding it just but he did not budge. He maintained that since the paint is Pearl White, it is very hard to match and the color can is very expensive, so 2000 PKR for the front bumper, not a penny less.
The lower grill person had a similar story, again said it will have to be welded, and not glued together by "Elfy" or some other adhesive, his fee was a fixed 500 rupees as well.
So the current bill I received sums up to 3500 rupees but I can't stand and bumps and ding marks on my car and had to get them fixed right away, not any other day, it's just my nature.
Now see the magic, initially, I didn't want to but was forced to call (like most of us avoid taking favors) a relative of mine, who manages that pump (via Police department, Accounts department). He knows most vendors of that area and came after a short while, and met those vendors who upon seeing him changed their price, mood, tone, etc, "oho yeh aap k janay walay? (Oh! He is your relative)", "Pehle kyun ni bataya? (Why didn't you tell us before)".
Now, to my utter amazement the number plate guy agrees to repair the number plate almost free of cost, he just charged 25 rupees for Elfy and, wiring was reconnected to the lights.
Then we moved to the lower bumper guy who also agrees to fix the part using an Elfy unlike before, 25 rupees spent here as well.
Finally, the bumper guy who previously was against compounding, did exactly what I asked and charged a modest 100 rupees.
Summing up, a 3500 rupees work was done in just 150 rupees because I brought their boss along. References does wonders in Pakistan and is also the reason of our predicament today.
Therefore, my advice to everyone would be: Either get your car fixed by mechanics you know for some time, and who enjoy a good reputation, or get a reference when dealing with unknown.
Also it would be wise to:
Google about the issue using the internet, there is a ton of knowledge available on PakWheels and chance are quite good that your issue has already been asked and solved on PakWheels Forums or Blog.
Ask about the issue on Pakwheels. Take and post pictures as well so members can guide you even better.
Ask a friend or a family member who knows about cars and their maintenance techniques. They could also have a reference with the mechanic(s).
Performing any of the above to know your problem better will atleast provide you with some idea and cost of the work that is required to fix the issue on your car. Because if you go there without a reference or are not informed with knowledge in vehicles, they will "Kheel laa deingay" as they say in the local tongue.