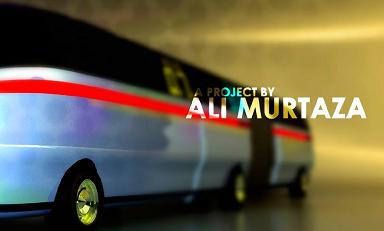 "Takht Lahori" is a bus designed by a Pakistani
Ali Murtaza Arif, makes his honest attempt to curb the pollution from his beloved city of Lahore by designing a bus with zero emissions, which he has named,"Takht Lahori", after his inspirations for the project.
To start off, this is a pretty decent effort by the lad as I speak with all my honesty, that is one thing, but the other is project's inspiration which comes from Lahore's history of Mughal Era as the designer speaks. Lahore was the capital of Mughal Empire and came to be known in local lingo as "Takht Lahori","Lahore; the Throne", and he named it because it represents the essence of the proud city, and its unique cultural identity.
Now ill be honest with you that it does look like just another bullet train with wheels even though the designer says that this bus has been designed to have a futuristic look with elements coming from the Mughal Era which I can't seem to find, but you need to have an inspiration and technical ideas to support(design) the product that you envision, which he had to begin with.
The prospects of the Takht Lahori is to be Green, Safe, Comfortable, Cultural and Communicative, addressing all the problems of public-transport as well as road users and have given in sincere efforts to reduce their problems which Mehran doesn't care about.
The pictures to follow are self-explanatory on the bus and its technical details, so visit the gallery below and make sure to vote at creativediary so Ali Murtaza's Takht Lahori can take him on a scholarship to IED Turin.