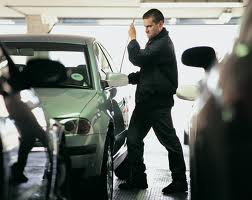 The 'Don' of car-lifting crimes arrested, offers retribution
Mohammad Hassan, the biggest car-thief in Pakistan's history had been arrested this past week. Hassan said that he was more than just willing to help the police to identify the criminals and mafias so to get rid of car-lifting.
"I only wish that the Chief Justice of the Supreme Court of Pakistan, Justice Iftikhar Muhammad Chaudhry, may call me to appear before him, and I will make all the revelations and name the names of all those behind this huge countrywide mafia of carjacking," Mohammad Hassan said.
While many revelations made by Hassan from a cell in Peshawar Jail may not come as surprise to most of us especially those relating about the involvement of police in this crime. He also said that duplicate keymakers, the most trusted one being situated in F-11 markaz, Islamabad from where most of the car-jackers get master-keys prepared from.
While rent-a-car companies are also involved but the main aid arrives from the car-wash stations who provide them the car's original key for duplication. Moreover, he added that Excise and Taxation office of Peshawar and Hangu is quite majorly involved.
The car-jacking don kept on revealing more and more about the gangs, people and higher government officials involved in car-lifting to The News, he was subjected to torture for naming out the individuals and gangs but he insisted that he must disclose whatever he knows as he fears to be killed.
While talking to The News, Hassan said that since I have decided to make my conscience clear, therefore I have stepped up voluntarily to make these disclosures and blindfolding me won't erase their names of faces from his mind. Moreover he also made an appeal to Chief Justice of Pakistan, that he must take notice of his plight as it will provide hundreds of people relief who have lost their hard-earned vehicles.
As his revelation keeps on coming in through The News' reporter, Shakeel Anujm, do not miss to follow his stories with the latest one being about the luxury vehicles that Hassan and who has these luxury vehicles now.