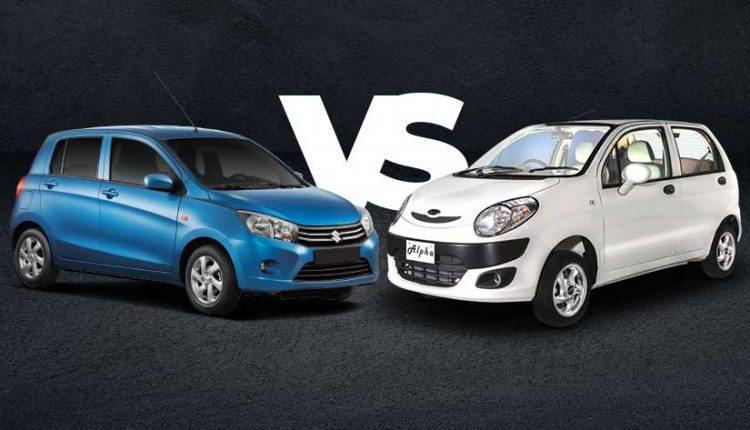 United Alpha Vs. Suzuki Cultus – A Comparison
In our series of car comparisons, today we are comparing United Alpha with Suzuki Cultus. On one hand, United Alpha is the latest addition in 1000cc-category, while Cultus is a relatively old entity. Suzuki's hatchback has dominated this segment for years; however, with new additions like Alpha, we are hoping for more competition and more choice for the customers. 
So, here is a brief comparison between the salient features and specs of these two cars. 
Engine and Transmission: 
The United Alpha has a 993cc engine, which produces 68hp and 93Nm Torque. In comparison, Cultus comes with a 998cc engine, generating 67hp and 90Nm Torque. In conclusion, although Alpha has a small engine in size, it produces more horsepower and torque than the Cultus. 
Meanwhile, both vehicles have 5-Speed Manual Transmission. 
Safety Features: 
Making Cultus a safer car, Suzuki has installed dual Airbags in it, while United has missed the feature; hence, there are no airbags in Alpha. Furthermore, Alpha also comes without ABS, while Cultus has this feature in it. So, the comparison shows that Cultus is a much safer vehicle as compared to United Alpha. 
Alloy Wheels & Fog Lamps: 
Both United and Suzuki have installed Alloy Wheels and Fog Lamps in their respective hatchbacks. This means both cars are easy to drive in fog, along with being more sturdy and reliable. 
Power Steering & Power Windows: 
If we talk about Power Steering, the feature is present in both Alpha and Cultus. However, Suzuki has not offered Power Windows in its hatchback, while all windows in Alpha are powered, giving it a clear edge. 
Rear Wiper & Rear Camera: 
United Alpha has taken the lead in both features, as the company has installed Rear Wiper as well as Rear Camera in the car. However, Cultus doesn't offer them, which is quite an inconvenience for the consumer. 
Multimedia Screen: 
The interior of both hatchbacks is chic and modern, as both cars come with multimedia screens. Through these screens, you can control Audio, Radio and Bluetooth connectivity in your vehicle. 
Price: 
The above comparison shows that Alpha has more features against Cultus; however, United's car is still cheaper than its competitor. The price of Alpha is Rs1,395,000, while the current rate of Cultus is Rs1,970,000.