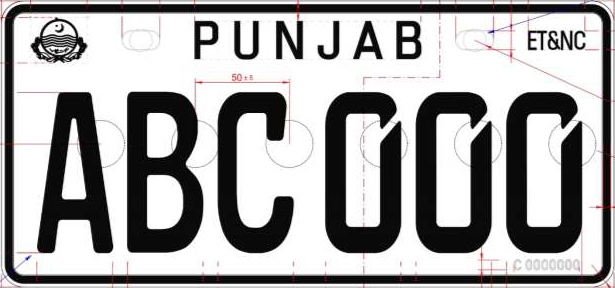 Punjab Excise, Taxation and Narcotics Control Department has decided to increase the prices of number plates for cars and bikes. As per reports, the authority has decided to hike the rate by 15%. The reports further said that the department has even sent a summary to Chief Minister Usman Buzdar for the approval. 
The current price for bike's number plate is Rs750, while car's number plate costs Rs1200. After the approval from the chief minister, the consumer would pay extra Rs150 for their registration plates. 
Talking to media, Additional Director General of E&TD, Rao Shakeel, said that the government signed the previous contract in 2014. "However, due to the increase in dollar price in last seven years, it has become impossible for the department to provide these plates at the current rate," Shakeel stated. 
Discussing the issue of pending number plates, the DG confirmed that the government hasn't delivered around 2 million plates to the consumers yet. "However, the department is working tirelessly to end the blockage," he asserted.   
Launch of Universal Number Plates in Punjab: 
In August 2020, the Punjab government announced to launch universal number plates across the province. According to a notification, the Punjab Excise Taxation and Narcotics Control Department had decided to issue number plates with the same serial numbers.
"Vehicles in all Punjab cities will now get registration under one serial from August 17, 2020," the government said. 
The Excise department added that it is ending the plates with LEA, RN, BW, and MA serials, as there will only be 'Punjab' number plate in the province.
E-Auction App: 
Furthermore, the government had also launched the E-Auction App for universal plates.  According to the government,  AAA series is introduced for cars, bikes, while CAA series for commercial vehicles. The registration for auction of attractive numbers will start from August 23, 2020.
What is your opinion about this price hike? Share your thoughts in comments section.
For more views, news and reviews, keep visiting PakWheels Blog.