Punjab Govt Launches Universal Number Plates 
In a great step, the Punjab government has announced to launch universal number plates across the province. According to a notification, the Punjab Excise Taxation and Narcotics Control Department has decided to issue number plates with the same serial numbers.
"Vehicles in all Punjab cities will now be registered under one serial from August 17, 2020" the government said. 
The Excise department added that it is ending the plates with LEA, RN, BW, and MA serials, as there will only be 'Punjab' number plate in the province.
E-Auction App for Universal Number  Plates: 
Furthermore, the government has also launched the E-Auction App for universal number plates. The consumers can take part in the online auction through this app.
According to the government,  AAA series is introduced for cars, bikes, while CAA series for commercial vehicles. The registration for auction of attractive numbers will start from August 23, 2020.
Auction Starting Price, Range of Universal Number Plates: 
The registration numbers for cars range from 1-999, from 1001-9990 for motorbikes, and 1-9999 for commercial vehicles.  
The E-Auction for passenger cars' registration will start from Rs5,000, for private motorbikes from Rs500 , while Rs1,000 is set for commercial vehicles.
Process of Taking Part in E-Auction: 
As per a government advertisement, the consumers can participate in an online auction by following these steps:
Download the E-Auction App or visit the Excise Department website

Enter your online registration within three days of downloading app 

Choose your favorite number

Take part in E-Auction

Consumers must participate in the auction within three days of registration 
The overseas Pakistanis can also take part in this auction, the government said.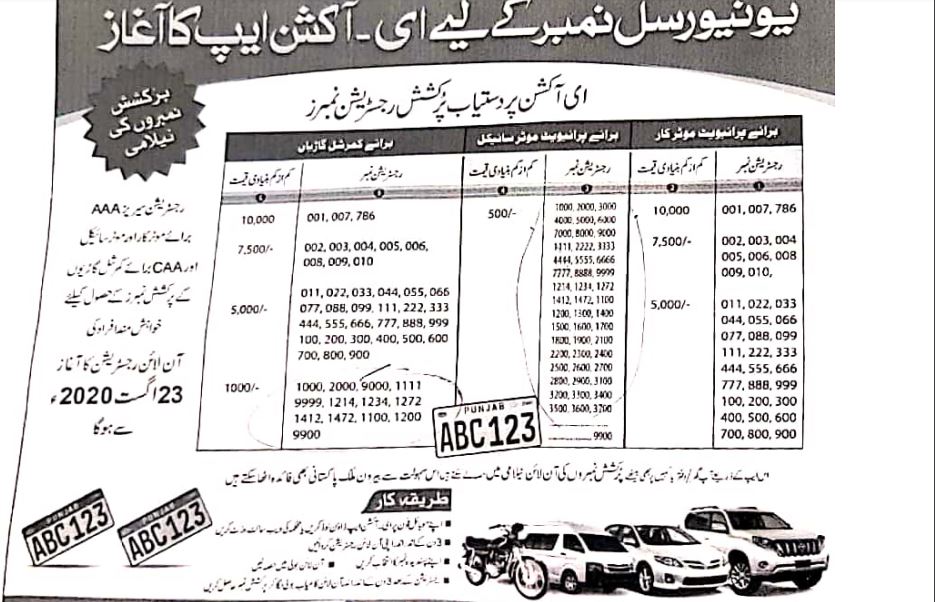 The department will hold first E-Auction on August 30, 2020. 
Registration Card Issue: 
Earlier, Punjab government successfully resolved the smart registration vehicle card crisis in the province. According to media reports, the government will prepare 7-lac of delayed cards till September, 2020. 
The reports further stated that a new plant is established in the DG Excise building for this purpose. The raw material for the cards has also arrived in Lahore from the United States, the reports said.
Recommended For You: