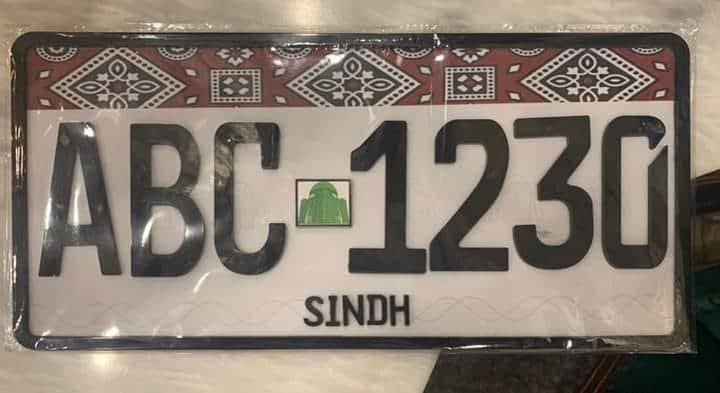 Sindh Launches Camera-Readable Car Number Plates
A great news for Sindh car owners, as the provincial government has launched all-new camera-readable registration number plates. Director-General Excise, Taxation, and Narcotics Department Sindh, Shoaib Siddiqui, said that these plates have all the latest security features.
Security Features: 
Talking to media, Siddiqui said new registration plates would be produced in collaboration with National Radio and Telecommunications (NRTC). "They would help in tracking vehicles and make it easier to acquire data as cameras can read them," he said.
"The security features include laser serial number identification, integrated laser mark, tracking chip/radio-frequency identification (RFID) tag, Sindh government's monogram, embedded graphics, and laser serial number identification," he further said. 
When Will Plates Be Available: 
The director-general further said new plates would be issued from November 2020 to only registered cars in the first phase. "In the second phase, the plates will be issued to vehicles falling under transfer category, he said, adding that people may buy them if they want to in the third phase.
According to the official, the number of plates will be made with retro-reflective work to make them visible at night.
Meanwhile, Sindh Chief Minister Murad Ali Shah has directed authorities to keep the price of new plates low so that consumers can buy them easily. The base of number plates for private cars will be white, while government vehicles will have green ones.
The new design has Sindh's cultural design of Ajrak to make it more noticeable and unique.
New Number Plates in Punjab:
Earlier, Punjab and Balochistan governments launched similar number plates to make the registration process smooth. The Punjab government is also preparing these plates in partnership with NRTC. According to Punjab officials, the rates of plates will remain the same and a manufacturing plant will be established at Kot Lakhpat in Lahore.
For more views, news, and automobile updates, Keep Visiting PakWheels Blogs.
Recommended For You: Action Against 'Improper Number Plates' In Lahore