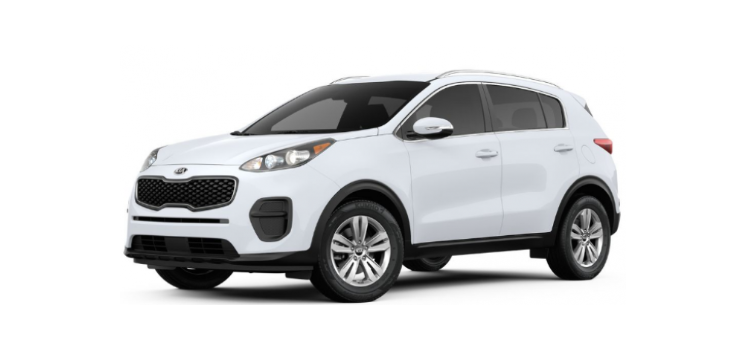 KIA Sportage Water Leak Issue-A Detailed Analysis
In the automotive industry, two words will always be there "Fit & Finish." It means how parts and panels go together, how are gaps, the spacing, the edges, and how one car compares to another after its assembled. Weather-strip seals Welding, bolting, painting, and a list is long, starting from a simple torque wrench to the highly skilled robots; everything counts. Car companies have rigorous Quality Control (QC) units that can figure out any fit and finish issues immediately so that the same problem doesn't multiply and show up on the entire production. A small improper gap between car door panels can destroy the overall look of the car and will come out to a naked eye immediately.
Car Seals:
Your vehicle has a lot of connections. Some are welded; some are connected via fasteners while there are specific locations that have seals and weather-strips. Your front and rear screen have been put in place with the help of watertight seals, which looks rigid, but these are flexible to stop the vibrations transferred to glass. Such watertight seals are also installed around the panoramic/ sunroofs. Keep in minds that no passenger vehicle is 100% waterproof in case of flooding although a vehicle should be 100% sealed against rain / washing water .
Viral Videos Leakage Vs Flooding: 
Recently few videos gone viral on social media. In two of such videos , there is leakage seen from the roof of Sportage . The owner of the subject vehicles are narrating the issue of water coming from the roof.  While these videos went viral, another set of videos also surfaces also involving the Sportage. In this situation, a white colored Sportage can be seen fully flooded inside.
As all these videos went viral around the same time and at the time when a spell of heavy rain was seen in most of the country, the leakage and flooding of Sportage topics got mixed up among the people who were following this matter.  I feel that we address both these topics separately as both are different situation .
Leakage Issue From Roof: 
KIA Sportage in Pakistan comes with a Panoramic sunroof. A few days ago, in two different video clips, a similar issue was experienced by the owners of the two different KIA Sportage. In both those clips, there was leakage from the area around the panoramic roof and along the A-Pillar.   In the first instance, everyone will think that the leakage is from the seals around the roof assembly. 
When the video went viral, there were few people who thoughts it's all fake, and it is to malign the credibility of the KIA Sportage. Some even said that other car brands currently in the country made this video, and it's all propaganda. Some KIA Sportage owners started sharing videos of their vehicle in heavy rain and showing no leakage at all and made a judgment that because as Their vehicle doesn't leak, therefore it's all baseless story.
Watch Video: 
Detailed Investigation and Analysis: 
I was chasing this case, and fortunately, I was able to locate the owners of the vehicle through my sources. I feel that it's my utmost responsibility that I update everyone who was following this story. I also wrote a post on this issue, and it is further essential for me to share development on this case. I could not locate the second owner of the Sportage, but the other owner will have the same updates.
One of the affected cars was brought to a KIA dealership at Township in Lahore for the leakage problem, and the company found that the leakage was not from the panoramic roof assembly but the windshield. The sealant used to hold the windshield in place was defective, and the water was going inside the cabin with the swipe of the wiper blade. The windshield was removed from the vehicle along with the sealant. The company applied a new bead of sealant, and the windshield was installed back on to the car.
KIA has done this work under warranty and free of cost to the customer . The cost shown on the work order is reasonable, and it is to track the price of warranty coverage, inventory record keeping. You can see the checkbox checked for warranty on the 6th row from the top.
So,
How come a Brand New Vehicle Got This Problem?
Well, a problem can happen on any assembly line anywhere in the world and with any brand. Any defective part can go onto the production line and then become part of the vehicle, which later get sold. The impact of that defective part is revealed only when the car is in the hands of the owner.
Also, not all vehicles can get effected with the same issue because not necessarily all vehicles used a particular same defective part(s). In other words, if someone else is facing a problem in his car and you own the same vehicle, it does not mean you will and should have the same problem. It also does not means that if you don't have a problem, you don't have that defective part. Maybe you have that too, but the problem has not yet arrived in your case, as the timeline can be different.
This is why, if multiple car owners report the same specific problem, the car companies investigate and find out the reasons and then recall vehicle which they think might have that defective part. Sometimes a recall is for the entire batch, it can be a certain number of vehicles from within the batch/ lot, and in some cases, the whole production spread over multiple years can be problematic.
The Real Issue: 
In the case of KIA Sportage, an expired sealant was used, and that sealant didn't perform its function properly and eventually failed. I was told that although only two individuals came to limelight because of their social media video clip, in reality, there are many more Sportage units out there with the same defective sealant. It's just a matter of time when that sealant will fail and let the water inside the cabin.
Reaction By KIA: 
I appreciate KIA dealer for stepping up and quickly fixing the issue. Still, it is also vital that the company tracks down all those Sportage units, which might have the expired sealant installed from the factory regardless of even no issue reported by the owners of those vehicles at this time. It is better to fix these now with new sealant instead of waiting for leakage to happen, which can further damage the reputation of the brand.
I also suggest that KIA must give an extended warranty on the headliner, which got soaking wet because of leaking windshield. KIA dealership didn't replace it and just cleaned the stains / wet marks. Headliners have special backing/ foam and insulation, and once it gets wet, over time, it can get sag as moisture is now entrapped inside.
Advice for Sportage Owner's 
My advice to all Sportage owners, if you are not facing this particular problem, good for you, but it does not mean the problem is not there.  So, my message for those people who were calling this issue "fake propaganda, please understand that problems can happen and reporting them and discussing them is not propaganda. If you don't discuss, you will not know the reality, and it won't be easy to improve things. When I post something here, I do all my homework with all the backup documentary evidence in place.
What Should KIA Do? 
KIA has done a good job by reacting to these videos and take steps immediately. I think the company should focus on Quality Control (QC) because the local consumer is not happy with current manufacturing companies in Pakistan over the issue of QC. So, KIA has to focus on this point very seriously because this will make them stand out among other competitors.
The Flooded Sportage  ? 
Lets watch this video first ;
As you can see clearly,  the vehicle is seen submerged due to heavy downpour. The water level can be seen as high as the  door sills and this video is also recorded when the rain has stopped so, there is due chance that the water level was much higher earlier.  There is also a chance that the vehicle owner drove in submerged condtions with high level of water which caused the flooding inside the vehicle.
When this video went viral, it also caused a lot of confusion and many people started mixing  it with the leakage from the roof as we discussed above.  In other words, people started believing that this flooding inside the vehicle is caused by the leakage from the roof although the cause is completely  different.
Many people are blaming KIA again after this video clip But the cause is flooding and rise of water because of rain . No car [ even a SUV or pickup] is protected against flood water. We can clearly see 2 feet of standing water. Car doors are not watertight. technically declared  a total loss. When water rise above door sills, it can enter into vehicle and can cause flood damage. In Europe, Japan  and US, if you have insurance, this situation is covered under flooding coverage policy  and every year insurance companies are hit with flooded car insurance claims.
This is the reason , floods are covered under car comprehensive insurance policies [ Act of God clause ] and bit under vehicle manufacturer warranty and it is similar for every brand make and model and a standard procedure all across the globe.  Every year in flood and hurricane season, thousands of vehicles are damaged in US, if owner carry compressive coverage , they are covered under flood policy. Car companies are not liable for damages due to flood.
I personally don't take this "flooding " case of water damage a quality control issue of KIA. This is simple flooding because of high levels of surface water because of rain.  No car company will entertain this under warranty. I am sharing screenshot from KIA USA warranty handbook for reference.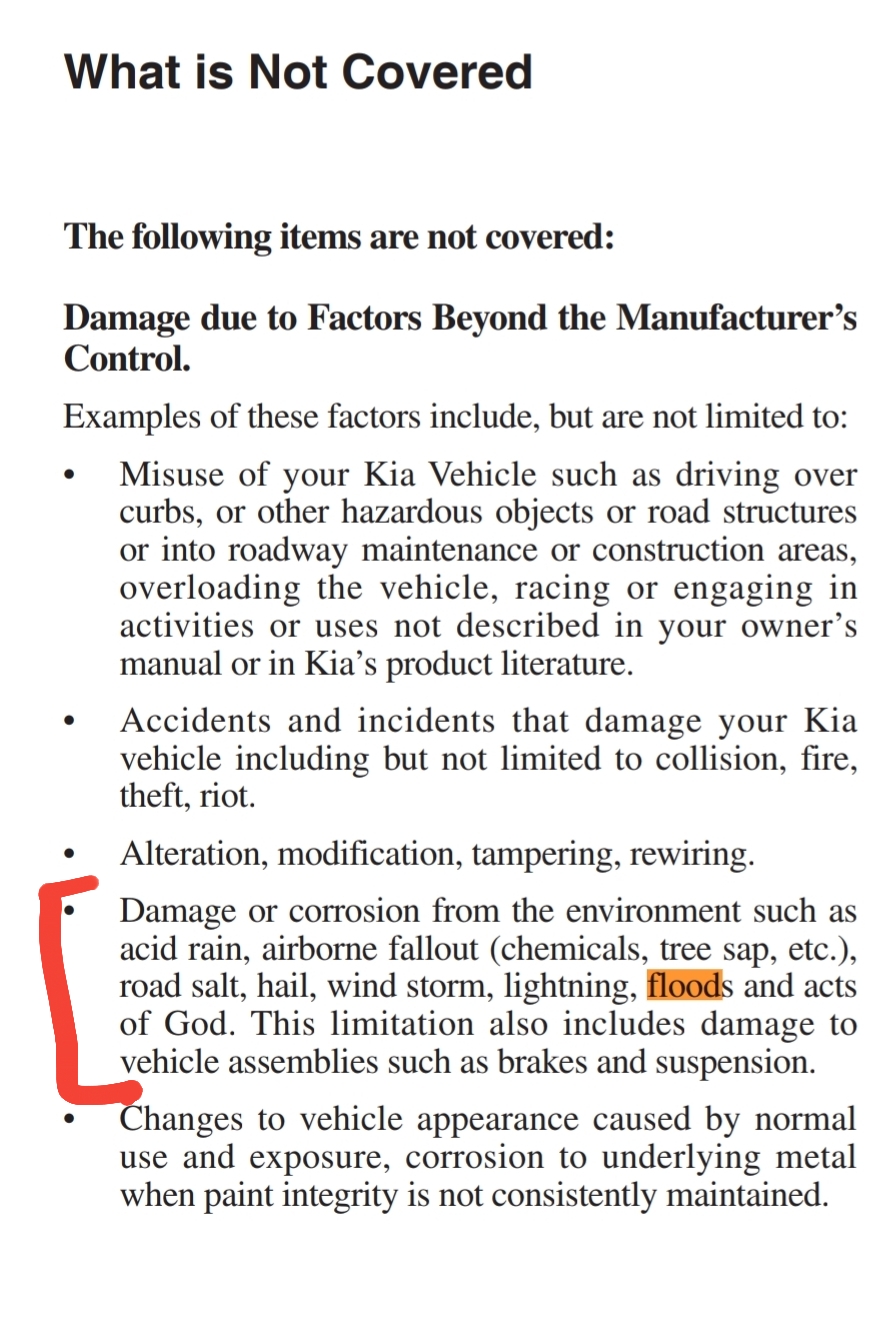 Manufacturer are liable for warranty coverage for leakage through sunroof, front or rear glass assembly seals. In layman language, warranty covers the damage due to water entering the vehicle from top to downwards [like rain ] but doesn't cover the situation where water rise upwards ; in other words flooding.
I am predicting that many readers will say that, they drove in much deeper water without any issue,  but if you open warranty document you will see that your car manufacturer will not cover any damage due to flood and that includes driving in flood regardless of the water coming into the cabin or not.   Also keep in mind, when you drive through water, your car pushes the water out and away and as car is motion, the chances of entry of water in the vehicle are reduced. Contrary to this, a parked vehicle with rising water levels and flood will be at high risk of getting flooded which is the case in the Sportage flooding . Remember, when your drive in deep water,  you might not see water inside , but you are causing damage to your vehicle components.
I hope we were able to point out and clarify both these different cases of water damage  caused by complete two different reasons. In one case it is defiantly a quality control issue at the assembly line but the other one is a normal occurrence as can be seen during floods.