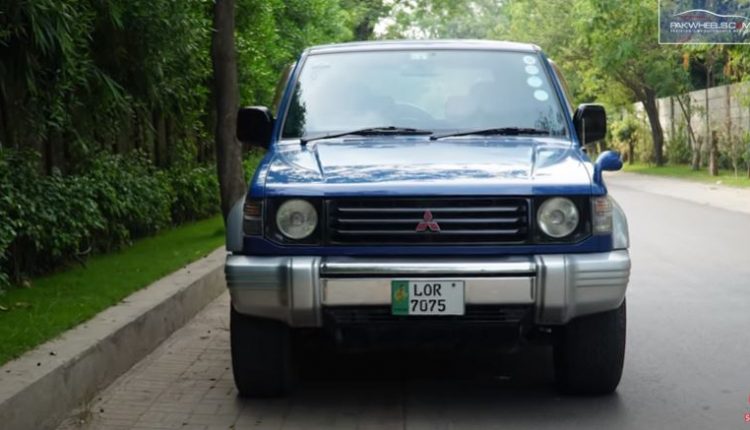 Mitsubishi Pajero 1993: A Review by Owner
Today we have brought the owner's review of the Mitsubishi Pajero 1993 model. This model was very famous in Pakistan during the 90s. This under review car is three-door Pajero.

Engine and Variant:
The owner told us that this car 1992-93 model, with 2500cc petrol engine. Originally the car had 2.5L diesel engine.

Upgradation of Mitsubishi Pajero:  
"I have upgraded this car's exterior, interior and engine back in 2009 from Chaman, Balochistan, the owner said. Explaining the process, the owner said that he bought a 96-97 Pajero from an auction and placed it as-it-is on this car's frame.
"Interesting fact is that the mechanic who upgraded this car, drove this car from Chaman to Lahore," the owner said. He stated that the mechanic has done a great job as the car hasn't caused any issue in last 11 years.
Here, we want to tell our readers that it is legal to change the car's interior and exterior, but it is illegal to change the whole frame of the vehicle. Furthermore, if you change the engine of your car, notify the Excise department and update it on the vehicle's book.
Price: 
The owner said the purchase and upgradation of this car cost him around Rs1.2 million.
Is it Value-to-Money? 
The owner said it is a total value-to-money car because he cannot buy a car with such specs and features in this budget now. The owner said he has not thought about selling it because he likes this one.
Fuel Average: 
The owner said earlier this car's fuel average was 4.5 kilometers per liter. "Then I got it tuned, and now its intra-city average is 6.6km/liter with AC," he said. 

Interior of Mitsubishi Pajero: 
The car has a Japanese car's climate control system installed from 92 Pajero. Furthermore, the vehicle has dual vent AC with the second one under back seats, with its controls behind the armrest.
The sitting space in front seats is spacious, while the back seats are straight and have less leg space, hence, not suitable for a long drive with 4-5 people. "Three people can easily travel in it on the long route, while five can easily sit for short  journey," the owner said.
Moreover, the car has airbags, which were originally not installed in this model.

Boot Space: 
According to the owner, you can easily adjust three large suitcases in the trunk, and you can also install a roof carrier for more luggage.

Resale Value: 
The owner told us that although this is not a car for the common market, but those who like it will pay good money for this vehicle. "I planned to sell it last month with Rs1.8million demand, and I got the offer of Rs1.7million, but then my plan changed of selling it," the owner said, adding that this shows that this car has good resale value, but among a specific group of car loves.
Parts Availability: 
The owner said that the parts of this car are readily available, but they are relatively costly. According to him, the reason behind the high cost is its old model and less number of this car in the local market.
Brakes Reliability: 
As per the owner, although the car does not have ABS but it stays steady, if its brakes are applied at high speed. "I have had one experience, where I applied emergency brake on 145km/hour, but the car didn't get out of control or waved on the road, which is a great positive point of this vehicle," the owner told us.

Known Fault of Mitsubishi Pajero: 
The only issue the owner has faced is that its steering has a little bit of play, but he doesn't want to take it to the workshop because he fears it can create new vehicle problems.
Furthermore, the diesel engine of this car had a known fault of seizing at constant high speed on highways, but the petrol engine is more reliable.
Oil Change Charges: 
The owner gets its Mobil oil changed after 4,000 kilometers, and it cost him Rs6,000. "If I get its oil and filters changed, then it cost around Rs7500," the owner said.
Customs/Legal issues: 
The 1992-96 model Pajero is notorious for facing customs and other legal problems. The reason behind this is that a large number of unpaid custom fees were present in Pakistan at one point. However, the owner said he hasn't faced this issue because he has all the papers of this car. 
Final Verdict on Mitshubishi Pajero: 
The Mitsubishi Pajero still got its fan following in Pakistan, as a specific group of people still drives it and loves this car. If you can maintain this car properly, this is an excellent vehicle because of its powerful engine, small size, and reliability. The diesel engine of this car creates issues on long routes, but the petrol engine is comparatively reliable.
Watch video: 
You can buy Mitsubishi Pajero at PakWheels Used Cars Section.
Recommended For You: