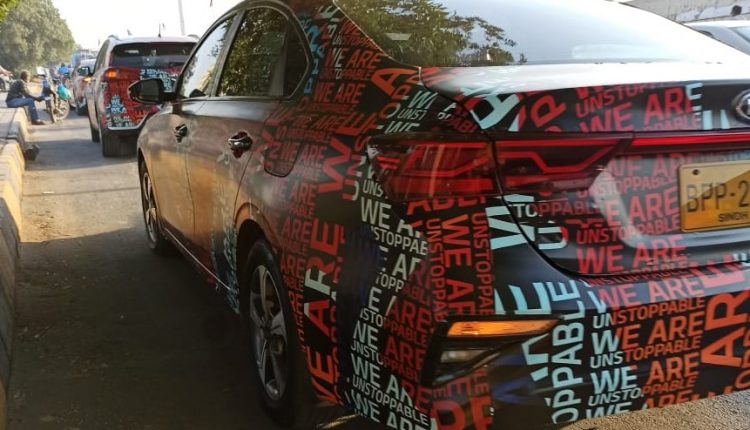 4 Wrapped KIA Cars Seen in Karachi, What's Cooking?
The Korean automobile brand in the market, KIA, recently had a four-car convoy driving around in Karachi. It has alarmed all petrol heads. Curiosity, thoughts, guesses and opinions discussing the convoy created a buzz across social media platforms within minutes. Images and videos on Facebook groups started conversations out of curiosity. The fans are with hoping for their entry in the local market, while some debated on the prices and fuel economy.
The people have spotted "We Are Unstoppable" branded vehicles driving around Shahra – E – Faisal back and forth.
Rumours of New Car Launches:
Since the end of 2019, rumours were circulating among car enthusiast groups about KIA is bringing its new variants to Pakistan. The Korean automotive giant entered the market back in 2018. The made an entery under the "Yunus Brothers Group," also known as "Lucky Group." KIA entered the local market with its renowned hatchback, Picanto. The car is giving a tough competition to its local and Japanese competitors in the 1000cc bracket.

Already Launched Cars by KIA:
In 2019 Pakistan Auto Parts Show (PAPS), KIA stole the limelight. The company displayed an array of jaw-dropping vehicles. It included Grand Carnival, Rio, Sportage and Picanto. Right after the event, people flooded the social media platforms. The car enthusiasts have high hopes that KIA will now launch Rio in Pakistan.  As the people had only two options to choose from in the local market.
Although compact SUVs weren't acceptable to the Pakistani market at one time. However Sportage has created a remarkable benchmark in its league. Sportage has made people switch from a midsize sedan to the compact/crossover SUV. These new variants, spotted in Karachi, would be exciting addition. It would be interesting to see if people would alter their purchase decision, as they had only three local car brand options for almost over 15 years.