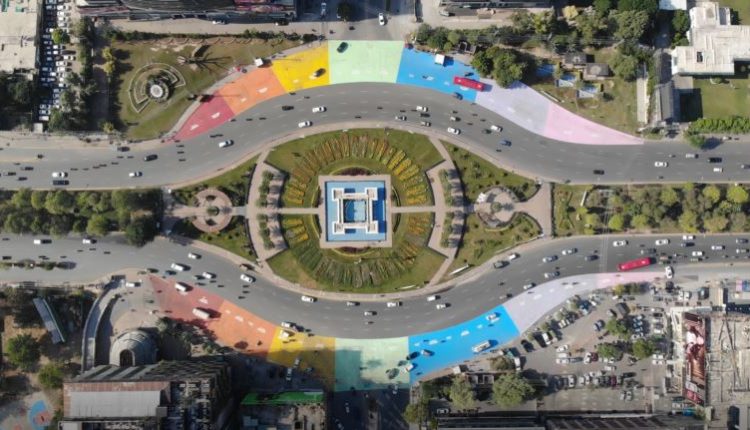 The Lahore City district administration has decided to change the name of Lahore's famous point, Liberty Chowk. According to Lahore Deputy Commissioner Mudassar Riaz Malik, Liberty's new name is 'Rainbow Square'.
According to media reports, the authorities have taken the step under ongoing 'Sohna Lahore' drive. Furthermore, the authorities have painted the Liberty Chowk with colourful paints. The birds eye view indeed gives a beautiful scenery of the place.
The district management has suggested the new name after colours give it a beautiful vibe, the DC Lahore told media. The reports stated that the authorities have decided to paint all major chowks of the country under this drive.
Public Reaction on New Name of Liberty Chowk: 
Meanwhile, civil society has rejected the proposal by the government. Talking to media, the citizens said that Liberty Chowk is located for 50 years in Gulberg. "The place is famous both locally and internationally and changing its name is a surprising but wrong decision," the citizens said. They also said the place is a success story of many shopkeepers, and this is like snatching their identity from them.
The civil society also raised the issue that name changing will not give any relief to the masses. "The people have never acknowledged new names of places," the public said. The public thinks that the government should focus on activities which improve the economic situation of the masses. The further suggest the government to work on unemployment and inflation issues in the province.
The public has urged Punjab government not to accept Lahore district authorities proposal of changing the name of Liberty Chowk.
Should the Lahore City district administration change the name of Liberty Chowk or will they cave in to Public Reactions? Share your thoughts on this development in comments section.
For more news, views and reviews, keep visiting PakWheels Blog.