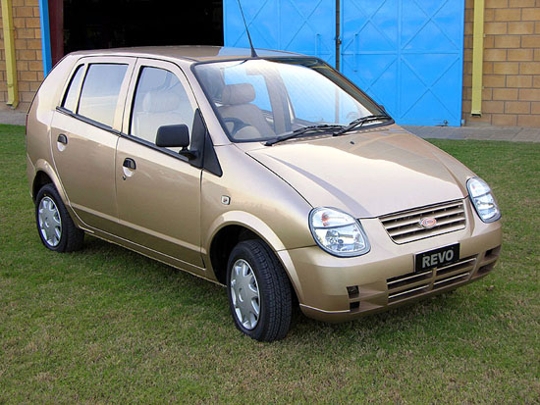 Adam Revo's creator thinking to bring Revo back
We all know what went wrong with Adam Revo, it was a simple case of political corruption which the then government of Shaukat Aziz who promised to buy Revo as government vehicles instead of Mehran but didn't, however, the simple gentleman, Feroz Khan did produce in such numbers to cater the demand of government orders for when they came but they didn't, debt turned up in huge numbers (which now has almost been paid off) and the company eventually had to shut down.
During the recent PAPS Exhbition at Lahore Expo Center, Prime Minister Nawaz Sharif expressed his interest and ambition to have a 'Made in Pakistan' car, but little did he know that Pakistan had already accomplished that in 2005 without government support.
What was even more sad was that none of the attendees stood up to tell the PM that Pakistan had already accomplished that, the creator of Adam Motors and Revo, Feroz Khan sat in the crowd and expressed how hurt and disappointed he was when no one told the PM that we already made a 'made in Pakistan' car.
Talking to Express Tribune, we quote directly from ET:
"I felt hurt when none of my life-long friends stood up and informed the prime minister that Pakistan had already succeeded in producing a local car in 2005," Khan told The Express Tribune in an interview. "Add to this the maker of that car was sitting right before him in the audience."
But after just selling 600 cars from a plant which had a capacity of about 10,000 units per year, Adam had to shut down as debt piled and working capital disappeared.
Now though, during the interview with ET, Feroz Khan said that they could start producing the Revo within 15 months after studying the current needs of the market.
He further said that although he is fearful of re-launching Revo due to the country's politics however, he said that this is a better time to produce a local car as prices are way too high due to expensive imported parts.
Revo was cheaper from Mehran by 46,000 rupees at a price of 269,000 and Khan believes that after adjusting for rupee depreciation and inflation, Revo would today be around 600,000 rupees against Mehran's 686,000 rupees.
You can read the full story here because we want to comment on Revo, the car itself.
If you pick up the first car any country made, China and India will be the best examples as their industry's initiation isn't that long ago but everyone's first attempt was ridiculous. It had flaws, even today, China is doing reverse engineering to strengthen its automotive industry and still their products aren't well received and given Pakistan's industry's standing, we can do it as well if we focus on design, research and development.
Revo was a spacious car but its tail light came from the first three-wheeler Van China ever made and it was horrible. But taking off-the-shelf parts is a neat idea. You don't need to focus your R&D budget on things such as head and tail lights, American Local Motors is a classic example of such a company.
If Adam plans to come back and they do eventually come back then they need to hire some good automotive designers before engineers to design a cheap hatchback with parts that are cheaply available. Those automotive designer must be allowed to be free, wild and passionate with whatever they design but the car has to be cheaper than Mehran and they will accomplish a car people will find beautiful to behold as engineers figure how to put the damn thing together.